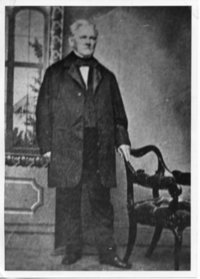 Source: Link
GOODHUE, GEORGE JERVIS, merchant, landowner, and politician; b. 1 Aug. 1799 at Putney, Vt, son of Josiah Goodhue, a prominent physician in both Vermont and Massachusetts, and Rachel Burr; d. 11 Jan. 1870 at London, Ont.
George Jervis Goodhue was one of three brothers who immigrated to Canada. Charles Frederick Henry went to Sherbrooke, Lower Canada, and Josiah Cosmore settled in the St Thomas, Upper Canada, area before moving on to Chicago, where he sat on the first city council in 1835.
George Jervis received some education at Amherst, Mass., before coming to the London District in 1820 at the age of 21. He soon became a general merchant, distiller, and pearl-ash maker in Westminster Township. By 1827 he had a branch at Ancaster from which he brought most of his supplies. In 1825 he had returned to New England to marry Maria Fullerton of Chester, Vt; she died in 1828 leaving an infant daughter. In 1831 he married Louisa Matthews, the daughter of Captain John Matthews*, former member of the House of Assembly for Middlesex; they had two sons and four daughters. One daughter was to marry a son of Bishop Benjamin Cronyn* and another married Francis Wolferstan Thomas, general manager of Molsons Bank.
The establishment of London as the district capital in 1826 presented Goodhue with the opportunity of becoming a really wealthy man. By 1830 he was located on the Court House square where he "sold everything the settlers wanted and bought everything they had to sell." Two years later he formed a profitable partnership with Laurence Laurason* as "Laurason and Co.," general merchants, and, for a short period before 1836, agents for the Bank of Upper Canada (Goodhue and Laurason were later both directors of the bank, the former holding that office from 1848 to 1854). The partnership was dissolved amicably in 1840, Goodhue reportedly receiving $40,000 for his share of the store. During the 1830s he was also involved in railway speculation, being one of the incorporators in 1834 of the London and Gore Railroad Company (later revived as the Great Western Railway), along with Allan MacNab, Dennis O'Brien, and Laurason, and in 1836 of the Niagara and Detroit Rivers Rail Road Company. Neither venture was successful and his losses may have been the reason for his lack of interest in developmental projects at a later date.
Goodhue had held some minor offices in Westminster and London townships; he was made postmaster of London in 1830, although not naturalized until 1834, and kept the appointment until 1852. When London was incorporated as a village in 1840, he was elected to the council for St George's ward and became the first village president by vote of the councillors. He did not run for re-election, but was appointed one of the district magistrates after the union of 1841. Then, in 1842, when Louis-Hippolyte La Fontaine and Robert Baldwin* needed a member from western Upper Canada for the Legislative Council, Goodhue's pro-reform attitudes, or rather those of his brother Josiah Cosmore and of his father-in-law, stood him in good stead. Further, in spite of his Congregational background, he had become a member of the Church of England. The stumbling block to his appointment to the upper house was the need for the approval of the local Methodists. Goodhue accordingly attended a Methodist missionary meeting and poured the contents of his purse, reported as $50, on the table; the appointment duly followed. In the upper house he played a merely nominal role until ill health prevented his attendance in the mid 1860s. He was not appointed to the Senate in 1867.
After 1840 he concentrated on land speculation and mortgages, and, to quote the family biographer, "the care of his estate became the occupation of his life." Goodhue's interest in land speculation had begun as early as 1830 when he purchased 30 acres north of the settlement and opened this land as London's first subdivision. In the years following, his operations rapidly expanded. Profiting from the rebellion of 1837 he acquired in 1841 some of the lands confiscated from the rebel Anthony Van Egmond*. He also purchased crown lands, particularly in Huron County, and acquired other property by purchase and foreclosure of his mortgages, on which he charged interest rates which varied from 6 per cent in prosperous times to 24 per cent in the depression years after 1857. When he died he had interests in London itself and in the counties of Elgin, Grey, Huron, Kent, Lambton, Middlesex, Oxford, Perth, and Simcoe. The value of his estate was about $650,000.
Just before he died, Goodhue dictated his will to one of London's best-known lawyers, Henry Corry Rowley Becher*. It provided that the bulk of his estate would not be distributed until after his wife's death. The family unanimously opposed this clause and at their request the mpp for London, John Carling*, had a private bill passed in the Ontario legislature breaking the will. Another member, Edward Blake*, realizing that this bill set a precedent for legislative interference with estates, immediately introduced another bill which provided that in future any such measure would be referred to the appropriate legal authorities for advice before legislative action was taken. Both bills became law in 1871. Becher still refused to distribute the estate and on appeal the case was heard before a committee of nine judges, including William Henry Draper*, John Godfrey Spragge*, Oliver Mowat*, and John Hawkins Hagarty*. Their 1873 judgement supported Becher. The heirs then attempted to have a second statute passed to circumvent the judicial objections. Because of the Blake act this second bill was referred to a group of the same judges, who reported against it. The estate was only distributed after Louisa's death in 1880.
Clarence T. Campbell correctly stated that Goodhue was "a man of business, who thought of little else than business." In his activities he was neither better nor worse than any of the other Upper Canadian pioneer merchants who rose to wealth as their region opened up. London was one of the last areas of the province to be settled, however, and in his case the memory of his great wealth and the tales of the harshness of his business activities have not yet died. Indeed the legend of Goodhue as a sort of tight-fisted Midas has become deeply rooted in western Ontario folklore.
Middlesex County Surrogate Court (London, Ont.), no.668 (will of G. J. Goodhue); no.1980 (will of Louisa Goodhue). PAO, RG 8, I-7-F-2, box 20, nos.9, 68; box 25, nos.157, 158. UWO, 128 (George J. Goodhue papers). E. J. Carty, "The diary of H. C. R. Becher," London Advertiser, 6 Nov.–24 Dec. 1926. Daily Advertiser (London), 12, 15 Jan. 1870. London Free Press, 17 Jan. 1870, 2 Aug. 1880. "Re Goodhue [in appeal]: Tovey v. Goodhue; Goodhue v. Tovey," Reports of cases adjudged in the Court of Chancery of Ontario, reporter Alexander Grant (29v., Toronto, 1861–83), XIX, 366–455. C. T. Campbell, Pioneer days in London; some account of men and things in London before it became a city (London, Ont., 1921), 29–33, 68, 84–85, 88, 91, 119. J. E. Goodhue, History and genealogy of the Goodhue family in England and America to the year 1890 (Rochester, N.Y., 1891), 40–41, 71–73, 144–45. History of the county of Middlesex (Brock), 71, 74, 112, 140, 195, 216, 221, 225, 231, 258–59, 264, 340, 568, 573. F. H. Armstrong, "Depression of 1857," London Free Press, 5 May 1971; "George Jervis Goodhue: pioneer merchant of London, Upper Canada," OH, LXIII (1971), 217–32.
© 1976–2023 University of Toronto/Université Laval
Image Gallery

Cite This Article
Frederick H. Armstrong, "GOODHUE, GEORGE JERVIS," in Dictionary of Canadian Biography, vol. 9, University of Toronto/Université Laval, 2003–, accessed December 11, 2023, http://www.biographi.ca/en/bio/goodhue_george_jervis_9E.html.
The citation above shows the format for footnotes and endnotes according to the Chicago manual of style (16th edition). Information to be used in other citation formats:
| | |
| --- | --- |
| Permalink: | http://www.biographi.ca/en/bio/goodhue_george_jervis_9E.html |
| Author of Article: | Frederick H. Armstrong |
| Title of Article: | GOODHUE, GEORGE JERVIS |
| Publication Name: | Dictionary of Canadian Biography, vol. 9 |
| Publisher: | University of Toronto/Université Laval |
| Year of publication: | 1976 |
| Year of revision: | 1976 |
| Access Date: | December 11, 2023 |