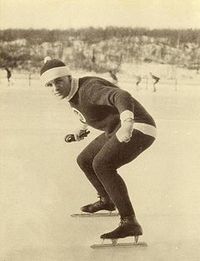 Source: Courtesy of Wikimedia Commons
GORMAN, CHARLES INGRAHAM, athlete, soldier, railway brakeman, and businessman; b. 6 July 1897 in Saint John, son of William John Gorman and Mary Ann Ingraham; d. there unmarried 11 Feb. 1940.
The son of a marine engineer, Charlie Gorman grew up in Saint John's north end, which had been a centre of speed skating for many years. After minimal education in the local public schools, he took employment as a clerk. Gorman was a natural-born, all-round athlete who excelled as a sprinter and baseball player. In 1925 he was offered but declined an opportunity to play baseball professionally with the New York Yankees' farm team, the Hartford Senators. Though Gorman continued throughout his sporting career to play semi-professional baseball at home, it was his skill at speed skating that made him world-famous. For early-20th-century Maritime Canadians, indoor and outdoor speed skating was as popular a winter sport as ice hockey would soon be. Gorman skated competitively as a child and is said to have won his first event at age 10; in later years a friend would observe that Gorman "often told me the echo of the starter's gun that night never left his ear." In 1912, though only a boy of 15, Gorman won the Maritime speed-skating championship held in Saint John.
Inevitably the outbreak of World War I in August 1914 arrested Gorman's development as an athlete. In November 1915 he enlisted in the 140th Battalion (Saint John's Tigers) of the Canadian Expeditionary Force, which sailed for England in September 1916. His battalion was soon absorbed into other units, and Gorman, as a corporal with the 6th Canadian Machine Gun Company, saw considerable front-line action in France. In September 1918 he was gassed and sustained shrapnel wounds to his right leg and foot. Hospitalized in England, Gorman was invalided home and discharged in May 1919. He then went to work as a brakeman for Canadian National Railways.
Within a year, defying the medical prognosis, Gorman resumed his career as a speed skater. In February 1920 he competed in the Maritime championship, winning two events. He went on to the international outdoor meet at Lake Placid, N.Y., but was not a medal contender. In January 1921 he skated at the Canadian outdoor championship in Montreal, placing third; afterwards, he raced again at Lake Placid, where he tied the world record for the 440-yard outdoors. That February he competed once more at the international outdoor championship and finished second. Gorman returned from Lake Placid in time for the Maritimes championship at Saint John, where he was the overall winner. Then and afterwards his career was sponsored and financially supported by the city's Commercial Club.
In January 1922 the Canadian national speed-skating championship was held on Saint John's Lily Lake. Though Gorman trained thoroughly, and was likened to a "streaking bullet" by a newspaper reporter, he failed to win a single point. Immediately afterwards he resumed skating on the international circuit in the United States, where he competed in several outdoor meets much more successfully. In the spring of 1922 he was invited to Milwaukee, Wis., for an indoor event. Indoor skating was not Gorman's forte, but the opportunity to train with and be coached by the world professional champion, Arthur Nels Staff, was not to be missed. If, as sports historian Brian Flood asserts, the Milwaukee trip was "perhaps the turning point in [Gorman's] career," the good results were not apparent right away. The international outdoor championship at Saint John in February 1923 saw Gorman place fourth, 40 points behind the winning American, Charles Henry Jewtraw Jr.
Despite this lacklustre performance, Gorman was selected to skate for Canada in the first Winter Olympics at Chamonix-Mont-Blanc, France, in January 1924. The European style of competitive speed skating, in which two skaters simultaneously raced against the clock, was not to Gorman's liking; he preferred the North American style of having the whole field compete at once – which placed a greater premium on strategy and better suited his combative nature. Still, Gorman would probably have defeated Jewtraw (with whom he was matched and whom he was leading) for the gold medal in the 500-metre event had his right leg not given way near the end of the race. He fared worse in the 1,500 (coming 11th) and in the 5,000 (which he did not finish).
Undeterred by his Olympic failure, in February 1924 Gorman captured the United States national outdoor championship. He then went on to victory in the international competition. These triumphs notwithstanding, Gorman lacked consistency; he seemed unable to sustain momentum between or even within races. In 1925 he failed to defend successfully either of the major titles he had won in 1924. Nevertheless, he placed second in the Canadian nationals. At the internationals in Saint John in January 1926, Gorman redeemed himself, reclaiming the world title lost in 1925 and defeating the Olympic champion, Clas Thunberg, who had been highly favoured to win. A proud and grateful Saint John awarded him the freedom of the city.
The year 1927 was Gorman's annus mirabilis: he won every major national and international title, save one. In 11 days and 2 countries he competed in 23 events, winning 16 of them. He took part in 5 meets, gaining 4 major titles, including the world championship, and tying in the fifth; he also broke two world records and equalled a third. For the first and only time he won the Canadian national indoors. Sadly, however, the greatest disappointment of his career followed hard upon his greatest achievement. At the 1928 Winter Olympics in St Moritz, Switzerland, much was expected of Gorman and he expected much of himself. During the 500-metre event his skating partner fell in front of him; Gorman, alleging interference, protested and demanded in vain that the race be done over. Distraught at his seventh-place finish, he left the games in a huff – only to return for the 1,500-metre, in which he placed a dismal twelfth.
Gorman's failure at St Moritz prompted him to retire from competitive sport immediately. A frustrated and resentful man, in 1929 he went into the gasoline-retailing business, operating three outlets in Saint John; his partner was the fast-rising entrepreneur Kenneth Colin Irving*. In 1935 Gorman developed Hodgkin's disease, which a few years later caused his premature death at age 42. His passing was overshadowed by that of the governor general, Lord Tweedsmuir [Buchan], the same day.
In 1955 Gorman was among the first inductees to Canada's Sports Hall of Fame. An imposing monument in his memory, designed by New Brunswick artist and architect Claude Roussel and erected in 1962 in King Square, Saint John, records that Gorman won eight meets (1924–27), and broke six outdoor records (1921–27) and three indoor ones (1925–27). His success was the product of frequent competing, a burning desire to succeed, rigorous physical training (especially bicycling, both stationary and mobile), aggressive tactics, and a technique that optimized his natural abilities and experience as a fast runner (he initially had a choppy skating style but later abandoned this in favour of long, smooth strides).
In his own lifetime, Gorman enjoyed a celebrity status that was out of all proportion to his brief career at the international level, which, though brilliant, lasted just nine years. He retired prematurely in a fit of pique, at the top of his form and before he needed to. Gorman never attempted to mount a comeback, despite efforts led by the Toronto Daily Star to recruit him for the 1932 Winter Olympics at Lake Placid. There, another speed skater from Saint John, William Frederick (Willie) Logan*, won two bronze medals. Not even Logan's achievement – he was the first New Brunswicker to bring home an Olympic medal – was enough to displace the Gorman myth. Underlying it was the unique career of the athlete aptly nicknamed "the Nonpareil." Described by historian Colin Desmond Howell as "one of the finest athletes that the Maritimes ever produced," Gorman lives on in the collective memory of Saint Johners. A street and an arena are named after him, and the 113th anniversary of his birth, on 6 July 2010, was marked by a civic ceremony dedicating an elaborate gravestone in honour of "the Human Dynamo." The original modest flat stone marker – "Charlie" – had long since disappeared.
Charles Ingraham Gorman's papers are not known to have survived. Most of his 131 medals and 21 trophies for speed skating are in N.B. Museum (Saint John), Gorman, Charles Ingraham fonds. The best account of his career is W. D. F. Smith, "Charles Ingraham Gorman," N.B. Hist. Soc., Coll. (Saint John), no.17 (1961): 62–73.
LAC, RG 150, Acc. 1992–93/166, box 3657-45. N.B. Sports Hall of Fame (Fredericton), Charles Gorman records. PANB, RS71A, file 1940-71, Charles Gorman; RS141A2/2, F14954, 1-2-150-860; RS141C5, F19357, no.25752. Daily Telegraph and the Sun (Saint John), 1920–23. Evening Times and Star (Saint John), 1920–23. Evening Times-Globe (Saint John), 1927–40. Evening Times Star (Saint John), 1923–27. Saint John Globe, 1920–27. Telegraph-Journal (Saint John), 1923–40. "1940 Charles Gorman funeral": www.youtube.com/watch?v=YoerRt0gLfk (consulted 8 Nov. 2016). Amateur Skating Union of the United States, Official handbook ([Chicago], n.d.). Robert Ashe, Even the Babe came to play: small town baseball in the Dirty 30s (Halifax, 1991). Comité Olympique Français, Les jeux de la VIIIe olympiade, Paris 1924: rapport officiel (Paris, [1924?]). Comité Olympique Suisse, Résultats des concours des IImes jeux olympiques d'hiver ([Switzerland, 1928]). John DeMont, Citizens Irving: K. C. Irving and his legacy: the story of Canada's wealthiest family (Toronto, 1991). Nathan Dreskin, "The legend of Lily Lake," Reader's Digest (Montreal), February 1976: 42–47. Brian Flood, Saint John: a sporting tradition, 1785–1985 ([Saint John], 1985). C. S. Grafton, The Canadian "Emma Gees": a history of the Canadian Machine Gun Corps (London, Ont., 1938). Douglas How and Ralph Costello, K. C.: the biography of K. C. Irving (Toronto, 1993). C. D. Howell, Northern sandlots: a social history of Maritime baseball (Toronto and Buffalo, N.Y., 1995). International achievements of Canadians in speed skating, 1897–1979, comp. John Hurdis (Toronto, 1980). F. G. O'Brian, "The human dynamo: Charles Gorman," Atlantic Advocate (Fredericton), 56 (September 1965–August 1966), no.7: 24–28. L. P. Pye, The life of Charles I. Gorman (in verse) ([Saint John, 1961]). Speedskating in Canada, 1854–1981: a chronological history, comp. John Hurdis (Montreal, 1980). S. F. Wise and Douglas Fisher, Canada's sporting heroes (Don Mills [Toronto], 1974).
© 2020–2023 University of Toronto/Université Laval
Cite This Article
Barry Cahill, "GORMAN, CHARLES INGRAHAM," in Dictionary of Canadian Biography, vol. 16, University of Toronto/Université Laval, 2003–, accessed September 24, 2023, http://www.biographi.ca/en/bio/gorman_charles_ingraham_16E.html.
The citation above shows the format for footnotes and endnotes according to the Chicago manual of style (16th edition). Information to be used in other citation formats:
| | |
| --- | --- |
| Permalink: | http://www.biographi.ca/en/bio/gorman_charles_ingraham_16E.html |
| Author of Article: | Barry Cahill |
| Title of Article: | GORMAN, CHARLES INGRAHAM |
| Publication Name: | Dictionary of Canadian Biography, vol. 16 |
| Publisher: | University of Toronto/Université Laval |
| Year of publication: | 2020 |
| Year of revision: | 2020 |
| Access Date: | September 24, 2023 |