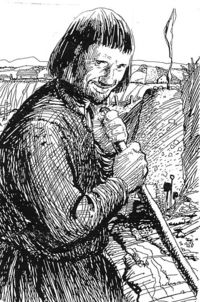 Source: Link
GUYON DU BUISSON, JEAN (senior), master mason, pioneer at Beauport; baptized 18 Sept. 1592 at Tourouvre (Orne, France), son of Jacques Guyon and Marie Huet; m. 2 June 1615 Mathurine Robin at Mortagne-au-Perche (Orne); d. 30 May 1663 at Quebec and was buried there the next day.
On 14 March 1634, at Mortagne, Guyon and his fellow-countryman Cloutier signed an undertaking with Robert Giffard. Guyon settled at Beauport that year with his wife and most of their children, of whom there were at least eight. When he received from Giffard an arriere-fief near the Rivière du Buisson, he assumed that nobiliary surname. Several of his descendants now bear the name Dion.
ASQ, Document Faribault, passim.; Séminaire, LVII. JR (Thwaites), XXVII, 314. JJ (Laverdière et Casgrain), passim. BRH, XLIX (1943), 268–72. Louis Guyon, Étude généalogique sur Jean Guyon et ses descendants (Montréal, 1927). É.-Z. Massicotte, "Les arpenteurs de Montréal sous le régime français," BRH, XXIV (1918), 304. [Mme Pierre [F. L.] Montagne, Tourouvre et les Juchereau ... (Québec, 1965).]
Revisions based on:
Arch. Départementales de l'Orne (Alençon, France), "État civil (1552–1902)," Mortagne-au-Perche, paroisse Saint-Jean et Saint-Malo, 2 juin 1615; Tourouvre, 18 sept. 1592: archives.orne.fr/consultez/consultez.html (consulted 7 Sept. 2012). Bibliothèque et Arch. Nationales du Québec, Centre d'arch. de Québec, CE301-S1, 31 mai 1663.
© 1966–2021 University of Toronto/Université Laval
Citations
EN:UNDEF:public_citation_style_default
Information to be used in other citation formats
Permalink: http://www.biographi.ca/en/bio/guyon_du_buisson_jean_1663_1E.html
| | |
| --- | --- |
| Author of Article: | Honorius Provost |
| Title of Article: | GUYON DU BUISSON, JEAN (d. 1663) |
| Publication Name: | EN:UNDEF:public_citation_publication, vol. 1 |
| Publication Details: | EN:UNDEF:public_citation_publisher, 1966 |
| Year of publication: | 1966 |
| Year of revision: | 2017 |
| Access Date: | October 17, 2021 |