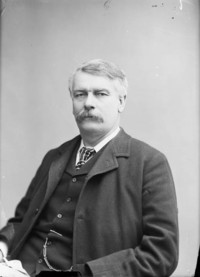 HAGGART, JOHN GRAHAM, mill owner, politician, and militia officer; b. 14 Nov. 1836 in Perth, Upper Canada, son of John Haggart and Isabella Graham; m. there 26 May 1861 Caroline Douglas, and they had two children; d. 13 March 1913 in Ottawa and was buried in Perth.
John Haggart Sr arrived in the Canadas in the 1820s from Breadalbane, Scotland, and was engaged as a stonemason on the Welland Canal and as a contractor on the Rideau Canal. He married a native of the Isle of Skye, Scotland, in 1836. In partnership with George Buchanan in 1832, he had acquired a lease to operate Alexander Thom*'s grist mill in Perth, on what came to be known as Haggart's Island in the Tay River. By 1840 he had erected there a cluster of carding, flour, and sawmills and a finely crafted stone house of Regency design.
Educated in the public and grammar schools of Perth, John Graham Haggart was studying law under John Deacon when, after his father's death in 1855, he took over the family business. For the rest of his life Haggart would be involved in milling. Through various partnerships, he developed the Perth Mills; in 1870–71 the flour mill was rebuilt and in 1886 he converted it to roller-mill technology. By 1896 he had become as well president of the Tay Electric Light Company Limited.
Haggart's true calling, however, was politics. He sat on the town council, was mayor of Perth in 1861–62, 1863–64, and 1871–72, and tried twice, unsuccessfully, to win election to the Ontario legislature for Lanark South. He withdrew as a coalition candidate before final balloting in a by-election in 1869. Despite his claims to be a Conservative, he ran as a Liberal two years later but he finished second.
The opportunity for federal nomination came in 1872, when the sitting member, Alexander Morris*, resigned to become chief justice of the Court of Queen's Bench in Manitoba. Haggart won both the Conservative nomination and the election that year, and he would serve as the mp for Lanark South until his death 41 years later. In the late 1870s he replaced Senator Alexander Campbell* as the leader of eastern Ontario Tories in the House of Commons. Following the appointment of Mackenzie Bowell to the Senate in 1892, he would assume leadership of all Ontario Conservatives in the house. He was to be elected chair of the Liberal-Conservative Union of Ontario in 1896. It was not until 1888 that Haggart was elevated to cabinet, as postmaster general. From 1892 to 1896 he was minister of railways and canals. On the deaths of prime ministers Sir John Joseph Caldwell Abbott* in 1893 and Sir John Sparrow David Thompson* in 1894, Haggart was considered briefly for the national leadership. He may have suffered, however, from innuendo relating to his difficult marriage and his womanizing on Parliament Hill, and from his reputation as an idler and "a Bohemian," as Lady Aberdeen [Marjoribanks*] viewed him in 1894. (Haggart and his wife may have been living apart since as early as 1871.) He will be best remembered as one of the seven men, the "nest of traitors" Bowell called them, who resigned briefly from Bowell's cabinet in January 1896. All thought Bowell was inept. One of the leaders of this withdrawal, Haggart earned Bowell's particular enmity for bluntly declaring that the prime minister, "from day to day, from time to time, like a sick girl hanging on to life, had refused to resign."
Haggart won local distinction in Perth and, later, national ridicule for his role in promoting the construction of the second Tay Canal. In 1880–82, with the aid of Francis Alexander Hall, mayor of Perth, and Manotick businessman Moss Kent Dickinson*, who sought a better water supply for the Rideau Canal system, Haggart pressed a sceptical Department of Railways and Canals for a new branch canal. It would consist of a cut from Beveridge Bay on Lower Rideau Lake to the Tay River above Port Elmsley and a deepening of that part of the route originally created by the private Tay Navigation Company in 1831–34 between the Rideau Canal and Perth. The new public venture fed on the excitement over proposed mining developments in phosphate, mica, and iron ore. The canal was erected in three stages between 1882 and 1891. The final stage exposed Haggart's self-interested manipulation of funds in creating a waterway, sarcastically named Haggart's Ditch, that would be over budget and under utilized. Construction was halted after he was found using unexpended funds from a previous contract to extend the canal to his flour mill in Perth just before the general election of 1891. As minister of railways and canals, Haggart was none the less valued by Thompson. He was credited with improving the financial status of the Intercolonial Railway and with overseeing the completion of the Sault Ste Marie Canal, the last link in the chain of Canadian canals connecting the Great Lakes with the St Lawrence. Following the Conservatives' defeat in 1896, he became a vigorous critic of Liberal railway policy.
As a young man, Haggart had been active in both sports and the militia. After the Trent affair in 1861 [see Sir Charles Hastings Doyle*], he raised a company of infantry in Perth and served in it as a captain at least until the Fenian scare of 1870 [see John O'Neill*]. At his death in 1913, after a long illness, he was given a full military funeral by the 42nd (Lanark and Renfrew) Regiment. He had been predeceased by his wife, in 1900, and by their two children: one child died in infancy and their son Duncan A., a champion sculler, succumbed to typhoid fever in 1885 while working in the law office of D'Alton McCarthy*. Haggart left all of his property to his widowed sister, Isabella Maxwell Millar. He had been a Presbyterian in religion. Practical and businesslike as a miller, and tough, able, and unpolished as a politician, he was described by the Toronto Globe as one who played "the game of politics like a sportsman."
Portraits of John Haggart Sr and John Graham Haggart by an anonymous artist are hanging at the Archibald M. Campbell Memorial Museum (Perth, Ont.), and photographs of the subject are available in NA, Documentary Art and Photography Div., PA-25679 and PA-26382.
AO, RG 22-168, no.2786. Elmwood Cemetery (Ottawa), Tombstone inscriptions. NA, RG 31, C1, 1871, Perth, div.2: 31; div.3: 11; schedule 6: 5. Old Burying Ground (Perth), Haggart family plot. Perth Courier, 22 Jan., 5 Feb. 1869; 24, 31 March 1871; 14, 21 March 1913. Perth Expositor, 7 May 1885, 22 Oct. 1891, 14 May 1896. Canadian directory of parl. (Johnson). Canadian men and women of the time (Morgan; 1898 and 1912). Ont., Chief election officer, Hist. of electoral districts (1969), 187; Ministry of Culture and Recreation, Heritage administration branch, Historical sketches of Ontario ([Toronto]), 1976: 12–13. Larry Turner, The second Tay Canal in the Rideau corridor, 1880–1940 (Parks Canada, National hist. parks and sites branch, Microfiche report ser., no.295, Ottawa, 1986). Larry Turner with J. J. Stewart, Perth: tradition & style in eastern Ontario (Toronto, 1992). Waite, Man from Halifax.
© 1998–2023 University of Toronto/Université Laval
Cite This Article
Larry Turner, "HAGGART, JOHN GRAHAM," in Dictionary of Canadian Biography, vol. 14, University of Toronto/Université Laval, 2003–, accessed June 7, 2023, http://www.biographi.ca/en/bio/haggart_john_graham_14E.html.
The citation above shows the format for footnotes and endnotes according to the Chicago manual of style (16th edition). Information to be used in other citation formats:
| | |
| --- | --- |
| Permalink: | http://www.biographi.ca/en/bio/haggart_john_graham_14E.html |
| Author of Article: | Larry Turner |
| Title of Article: | HAGGART, JOHN GRAHAM |
| Publication Name: | Dictionary of Canadian Biography, vol. 14 |
| Publisher: | University of Toronto/Université Laval |
| Year of publication: | 1998 |
| Year of revision: | 1998 |
| Access Date: | June 7, 2023 |