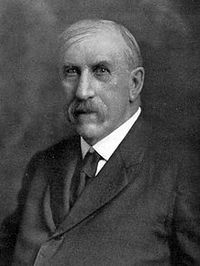 Source: Courtesy of Wikimedia Commons
HAM, GEORGE HENRY, journalist, office holder, author, and railway publicity manager and lobbyist; b. 23 Aug. 1847 in Trent Port (Trenton), Upper Canada, son of John Vandal Ham and Eliza Anne Eleanor Clute; m. 24 Dec. 1870 Martha Helen Blow in Shannonville, Ont., and they had two daughters and three sons; d. 16 April 1926 in Montreal and was buried in Whitby, Ont.
George Ham was the son of a country doctor of United Empire Loyalist stock who gave up his medical practice to study law. In 1851 the Hams took up residence in Whitby, where George attended the Henry Street School and then the Whitby Grammar School. Dr Ham wanted his son to become a lawyer, but George baulked at the idea because, in his words, few of the lawyers he knew "had achieved high distinction and greatly accumulated wealth." Instead, he took up journalism, obtaining his first employment at the Whitby Chronicle in 1865. As a reporter, he showed considerable enterprise and talent. Failing health, however, prompted him to try his hand at a variety of other pursuits, one of which involved a stint as a sailor on schooners operated by his father-in-law in the early 1870s. In this, as in other lines of work, the gregarious Ham did not find what he was seeking. Nevertheless, the wide experience that he acquired would prove an invaluable asset.
After working briefly for newspapers in Guelph and Uxbridge and serving as a correspondent for the Toronto press, Ham set off in May 1875 for Winnipeg. There he obtained a job at the Manitoba Free Press as a compositor and began to write unsigned humorous articles. These attracted the attention of the paper's editor, William Fisher Luxton*, who, on learning the author's identity, promoted Ham to the editorial department. Ham soon rose to become city editor.
In late October 1879 Ham launched his own paper, the Winnipeg Daily Tribune. When it amalgamated a few months later with the Daily Times, another Winnipeg paper, he became managing editor of the joint publication. Ill health forced him to leave regular newspaper work in 1882 and to take up the less demanding occupation of registrar of deeds for Selkirk. He served in this capacity until about 1885. That year he acted as war correspondent for the Toronto Daily Mail during the North-West rebellion [see Louis Riel*]. Since he was invariably the first reporter to file his copy, his articles were the most widely quoted of any that originated from the front. In 1886 he was admitted to the Parliamentary Press Gallery in Ottawa as correspondent for the Daily Times. When parliament was in session, he would regularly attend the gallery's Saturday night banquets until their discontinuance in 1914. For 16 years he would sit beside Sir Wilfrid Laurier*, who became a great friend and admirer.
A pillar of the Winnipeg community, Ham had been elected to Winnipeg City Council as alderman for Ward 1 in 1883, 1884, and 1887. During the 1880s he also served as a school trustee and for some time between 1883 and 1885 as a commissioner under the McCarthy Act, the federal liquor licensing act. In 1888 Ham wrote and published his first book, The new west, a description of the region's potential. It and two subsequent works – The flitting of the gods (1906) and Reminiscences of a raconteur (1921) – are notable for the glimpses that they provide of his wit and philosophy.
It was not until he joined the Canadian Pacific Railway, however, that Ham found his true calling, that of "Ambassador-At-Large," one of several unofficial titles by which he became known. He was lured away from Winnipeg and his job with the Manitoba Free Press, which he had taken on in the late 1880s, by CPR president William Cornelius Van Horne*. On meeting Ham in July 1891, Van Horne hired him on the spot as a general passenger agent, to be based at CPR headquarters in Montreal. Two years later Ham was assigned the newly minted position of journalist – the inception of what would become known as the Canadian Pacific Press Bureau.
In his work for the CPR, Ham accompanied parties of newspaper reporters and other excursions across Canada, entertained special guests, spoke at public functions, and represented the company at expositions and fairs. He was particularly adept at the promotion of tourism and he became one of the most popular and best-known men in Canada. In 1904 he was elected honorary president of the newly founded Canadian Women's Press Club after he had arranged for the CPR to provide free transportation to 16 Canadian women journalists attending the Louisiana Purchase exposition. In later years he would quip that his job kept him "in umbrellas and valises [gifts from the groups he escorted]." He continued to fill publicity positions at the CPR's Montreal headquarters until 1913, when he was appointed special assistant to the president, acting as a lobbyist for the CPR. He remained with the railway until his death in 1926.
George Ham, with his large frame, trademark slouch hat, ill-fitting suit, and brilliant wit was one of the most colourful figures of his day. He was also a big-hearted, clever man, whose many talents found their fullest expression in the work that he did for the CPR. By just being himself he won many friends for the company and Canada and at the same time made his name synonymous with CPR tourism.
George Henry Ham is the author of: The new west: extending from the Great Lakes across plain and mountain to the golden shores of the Pacific: wealth and growth, manufacturing and commercial interests, historical, statistical, biographical (Winnipeg, 1888); Our western heritage ([Toronto, 1895?]); The flitting of the gods: an authentic account of the great trek from Mount Olympus to the Canadian Rockies ([Toronto?], 1906); All's well, no blue ruin (Montreal, [1914?]); Reminiscences of a raconteur, between the '40s and the '20s (Toronto, [1921]); and The miracle man of Montreal [biography of Alfred Bessette*, named Brother André] (Toronto, 1922).
AO, RG 22-264, no.376; RG 80-5-18, 17: 111. Canadian Pacific Arch. (Montreal), Newton MacTavish, "George Ham: sketch of a gentleman on whom the sun never sets" (typescript). Gazette (Montreal), 16, 19 April 1926. Manitoba Free Press, 17 April 1926. Montreal Daily Star, 16 April 1926. Vancouver Daily Province, 18 April 1926. Canadian Railway and Marine World (Toronto), May 1926. E. J. Hart, "See this world before the next," in The CPR west: the iron road and the making of a nation, ed. H. A. Dempsey (Vancouver and Toronto, 1984), 151–69; The selling of Canada: the CPR and the beginnings of Canadian tourism (Banff, Alta, 1983). Standard dict. of Canadian biog. (Roberts and Tunnell).
© 2005–2023 University of Toronto/Université Laval
Image Gallery

Cite This Article
Valerie Knowles, "HAM, GEORGE HENRY," in Dictionary of Canadian Biography, vol. 15, University of Toronto/Université Laval, 2003–, accessed December 4, 2023, http://www.biographi.ca/en/bio/ham_george_henry_15E.html.
The citation above shows the format for footnotes and endnotes according to the Chicago manual of style (16th edition). Information to be used in other citation formats:
| | |
| --- | --- |
| Permalink: | http://www.biographi.ca/en/bio/ham_george_henry_15E.html |
| Author of Article: | Valerie Knowles |
| Title of Article: | HAM, GEORGE HENRY |
| Publication Name: | Dictionary of Canadian Biography, vol. 15 |
| Publisher: | University of Toronto/Université Laval |
| Year of publication: | 2005 |
| Year of revision: | 2005 |
| Access Date: | December 4, 2023 |