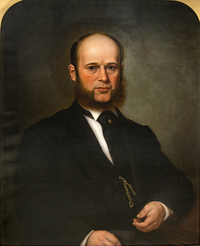 Source: Link
HARRIS, JOHN LEONARD, merchant, landowner, and entrepreneur; b. 27 Sept. 1833 in Norton, N.B., second son of Michael Spurr Harris* and Sarah Ann Troop; m. 11 Aug. 1864 Mary Cowie in Moncton, N.B., and they had one son and one daughter; d. there 10 Jan. 1898.
The Harris family moved to the Bend of Petitcodiac (Moncton) in 1836, and it was here that John Leonard received his education and spent the rest of his life. He entered the mercantile and shipbuilding firm of G. and J. Salter and soon became its bookkeeper. In 1856 he was joined by his younger brother Christopher Prince. Two years later the brothers formed a partnership known as J. and C. Harris and became general merchants, importing and exporting goods from England, the United States, and the West Indies. In 1857 the Harrises had arranged for the construction of a ship of 1,018 tons; the Caspian, as it was known, was sold in Liverpool, England, at a profit. Despite this experience, the brothers were never more than minority shareholders in ships built subsequently in Moncton, and they usually leased ships for their mercantile operations. Although the economic outlook in the 1860s was poor, Harris built a wharf and warehouse at the end of King Street, a good location in those days. When in 1870 the new Intercolonial Railway chose Moncton as the site for the erection of its principal workshops, he saw the town's future as assured. About this time the Harrises were joined in their enterprises by John Albert Humphrey, who had married their eldest sister in 1855.
The Harris era really began in 1876 when John Harris proposed a water system and a gasworks in the newly reincorporated town. His task was not easy, since the citizens had very little faith in the proposal, and he had to turn to outside sources for the necessary capital. The Moncton Gas Light and Water Company was incorporated by an act of the New Brunswick legislature in 1877. Within three months 30,000 days' labour was performed, and in 1879 the waterworks, which included a reservoir with a capacity of 80,000,000 gallons, was in operation; so too were the gasworks, which later had a system for street lighting. Electricity replaced gas for lighting in 1887, and the utility was taken over by the city on 1 June 1895. The Harris brothers had sold the retail portion of their mercantile business to two of their employees in 1879.
Harris was a staunch supporter of Sir John A. Macdonald's National Policy and his next two projects were in keeping with its objective of the creation and maintenance of local industries. The Moncton Sugar Refinery, incorporated in 1879 and in partial operation by December 1881, dominated the local skyline in the latter year, one of its buildings being eight storeys in height. The refinery, its cooperage, and other buildings were near the wharfs where ships arrived from the West Indies with the raw product. Despite a poor start because of low world prices, the enterprise was considered profitable by 1888, when the daily output was 300 barrels and employment was provided for 150 persons. It was destroyed by fire on 20 Sept. 1896 and was not rebuilt. However, the cooperage continued for the next quarter century as the Moncton Barrel Company. The Moncton Cotton Manufacturing Company followed the refinery, being incorporated in 1881; construction started on a mill the next year and it was operating by early 1883. The mill was situated east of King Street, near the refinery. Over 200 employees, the majority of them young women, handled the 250 looms and 12,000 spindles. In its peak years the mill had a daily capacity of 12,000 yards of twilled goods, sheetings, and warps. Competition was to force the mill to close just before 1914.
In spite of the fact that Harris was the president of three companies and could not spare much time, he accepted an invitation from the town council to act as its chairman for 1881–82; in reality, he was mayor. A project he failed to bring to fruition was that of harbour improvement, for which provincial legislation was secured in 1881. The plan provided for a wet dock and a dry dock within an area of 14 acres; however, neither Ottawa nor Fredericton felt the possible results were worth the costs of construction and the maintenance of the projected locks in Halls Creek, which was filled and emptied by the powerful tides of the Bay of Fundy.
Some time prior to 1890 the Harrises and J. A. Humphrey formed the Moncton Land Company, which soon owned large tracts in what was then the western portion of the town. In 1897, in honour of Queen Victoria's diamond jubilee, the company donated land for a park. In 1908 the company was to give land north of the park site for a street leading to the newly constructed railway repair shops, and it was named John Street in Harris's memory. Harris's last effort was the Moncton Electric Street Railway, Heat, and Power Company, which was finally in operation by 1896; it failed in 1901. One of his few social interests was the masonic organization, in which he held many offices.
Harris's death in 1898 was felt as a personal loss to Moncton, and his funeral was the largest in the city's history, with over 200 sleighs in the cortège. All New Brunswick had reason to mourn, for he had both the foresight and the energy to make the last quarter of the 19th century in Moncton his age; no one did more to make Moncton's new motto of Resurgo (I rise again) come true.
[A large photograph of John Leonard Harris hangs in the lounge of the Masonic Temple in Moncton, N.B. James Henry Holman painted Harris and his wife some time before 1890; Harris's grandchildren presented these fine portraits, with their elegant frames, to the city of Moncton in 1969, and they are now in the Moncton Museum.
In addition to the printed sources cited below, information for the biography has been drawn from the author's interviews with Richard R. Harris of Moncton (a grandson) on 11 Oct. 1971 and 25 April 1972, and with Mrs Catherine Harris (widow of another grandson, John Leonard Whitney Harris) between 1975 and 1979. Mrs Harris served in the Moncton Museum on a part-time basis. c.a.p.]
N.B., Acts, 1877: 77–91. Moncton Times, 11 Dec. 1889, 15 June 1927. Transcript (Moncton), 10, 13 Jan. 1898. Cyclopædia of Canadian biog. (Rose and Charlesworth), 2: 354–55. Centennial, 1870–1970, Botsford Chapter No. 7, Royal Arch Masons ([Moncton], 1970), 19. Esther Clark Wright, Saint John ships and their builders (Wolfville, N.S., [1975]), 24. E. W. Larracey, Chocolate river: a story of the Petitcodiac River from the beginning of habitation in the late 1600s until the building of the causeway at Moncton ([Moncton], 1985), 56, 62, 74, 84–85, 87, app.I. L. A. Machum, A history of Moncton, town and city, 1855–1965 (Moncton, 1965), 69, 109–10, 127–28, 150–53, 174, 181, 207, 262. C. A. Pincombe, "The history of Monckton Township (ca. 1700–1875)" (ma thesis, Univ. of N.B., Fredericton, 1969), 201, 206–7, 210–11, 220, app.R, T, W, X, Z.
© 1990–2023 University of Toronto/Université Laval
Image Gallery

Cite This Article
C. Alexander Pincombe, "HARRIS, JOHN LEONARD," in Dictionary of Canadian Biography, vol. 12, University of Toronto/Université Laval, 2003–, accessed October 4, 2023, http://www.biographi.ca/en/bio/harris_john_leonard_12E.html.
The citation above shows the format for footnotes and endnotes according to the Chicago manual of style (16th edition). Information to be used in other citation formats:
| | |
| --- | --- |
| Permalink: | http://www.biographi.ca/en/bio/harris_john_leonard_12E.html |
| Author of Article: | C. Alexander Pincombe |
| Title of Article: | HARRIS, JOHN LEONARD |
| Publication Name: | Dictionary of Canadian Biography, vol. 12 |
| Publisher: | University of Toronto/Université Laval |
| Year of publication: | 1990 |
| Year of revision: | 1990 |
| Access Date: | October 4, 2023 |