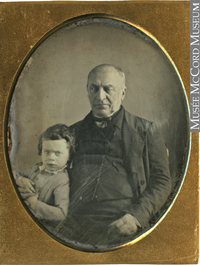 Source: Link
HART, BENJAMIN, businessman, militia officer, and justice of the peace; b. 10 Aug. 1779 in Montreal, eighth surviving child and fourth son of Aaron Hart* and Dorothea Judah; d. 27 Feb. 1855 in New York City.
The son of a prominent merchant of Trois-Rivières, Benjamin Hart was educated privately, first in Philadelphia, where at age 11 he was placed under the supervision of Benjamin Jonas Phillips, and then, three years later, in New York under the care of Eleazar Levy. Although Aaron Hart may have considered a medical career for his son, by 1798 Benjamin had returned to Trois-Rivières to assist his brothers and aged father with the family's extensive business. Two indictments for assault and one for rioting laid against him that year suggest a combative nature. Benjamin held a one-tenth share in the family firm, his father four-tenths, and his brothers Ezekiel* and Moses three- and two-tenths respectively, while another brother, Alexander (Asher), operated on his own in Montreal. Among Benjamin's assignments was that of travelling salesman for the family brewery.
When Aaron died in December 1800 he left to Benjamin the Harts' main store in Trois-Rivières and a two-storey stone house in the commercial heart of Montreal. Benjamin continued operations in the former and opened a mercantile business in the latter, both in copartnership with Alexander, with whom he had allied himself in the prolonged and acrimonious family litigation that preceded settlement of his father's estate. In 1802 Benjamin went to England to make arrangements with Aaron's former suppliers, including the Ellice empire, recently taken over by Edward Ellice*. Advertising themselves as commission merchants, brokers, auctioneers, and cashiers ready to lend money, sell or purchase land and goods, or store merchandise, Benjamin and Alexander Hart traded in anything from pearl ash and lumber to cotton and earthenware, and as far away as Kingston in Upper Canada, Boston, New York, and Belfast. In Montreal they operated as Alexander Hart and Company and in Trois-Rivières, where Benjamin directed the business, as Benjamin and Alexander Hart and Company.
On 1 April 1806, in New York, Hart made an advantageous marriage with Harriot Judith Hart, daughter of Ephraim Hart, a wealthy stockbroker. From her father she brought to the marriage a trust fund of $5,000, provided immediately; Benjamin promised a fund of $3,000 within three years. The couple had 16 children, of whom 8 survived.
Ambitious, hard-working, independent, and aggressive, in the first decade of the 19th century Hart consolidated his position in Trois-Rivières society. He became a grand juror soon after 1800, and in 1811 he was treasurer of the Fire Society. He also joined the early struggles for Jewish civil liberties. In 1807 he urged his elder brother Ezekiel to contest the seat for Trois-Rivières in the House of Assembly and, when the seat was won but Ezekiel prevented from taking it on religious grounds, Benjamin encouraged him to seek re-election. In February 1811 Benjamin petitioned the government for a commission in the Trois-Rivières battalion of militia, but was opposed by Colonel Thomas Coffin*, the unit's commander, who argued that Christian militiamen would not wish to serve with or under a Jew. In response Hart sent to Governor Sir George Prevost* favourable affidavits from leading residents of the town, including Judge Louis-Charles Foucher, who was lieutenant-colonel under Coffin, Roman Catholic vicar general François Noiseux, and the Anglican priest at Trois-Rivières, Robert Quirk Short*, as well as 47 militiamen. Given Coffin's influence, it is doubtful whether Hart would have received a commission while he remained in Trois-Rivières. In 1812 he lent the military £1,000 to permit immediate establishment of a garrison at William Henry (Sorel), and during the War of 1812 he served as a private in Captain John Ogilvy*'s company of light infantry in the Montreal Incorporated Volunteers. Benjamin believed that Coffin's opposition to him had been personal, and that religion had been merely a pretext. Whatever his motives, Coffin's religious objections were eliminated when Ezekiel joined his unit as a lieutenant around 1813.
Although Benjamin's partnership with Alexander had been dissolved on 1 April 1812, he continued in business in Trois-Rivières as a commission merchant, auctioneer, and broker. That year he seems to have had a short-lived partnership with Jesse Joseph, and in 1813 he was in association at Trois-Rivières with Nicholas Osborne and again with Alexander under the name of Nicholas Osborne and Company. The dissolution of this company in September 1813 may have occurred in a period of financial difficulties; from late 1813 to early 1815 Benjamin was obliged to seize the properties of three debtors, one of whom was Ezekiel.
In 1818 Benjamin moved to Montreal to start up a new business as a general agent and commission merchant, eventually selling everything from sherry to shovels; he retained his business in Trois-Rivières, however, until May 1820. His fortunes did not improve immediately. Defaulting debtors – from 1820 to 1822 he seized the properties of five in the Trois-Rivières area – worsened his situation to a point where, in May 1821, Ezekiel had the sheriff seize 15 lots in Melbourne Township belonging to Benjamin. The death of Benjamin's father-in-law in 1825 and the inheritance of a considerable sum of money by Benjamin's wife seem to have given him the capital necessary to refloat his sinking business. In October 1829 he was among eight men requesting incorporation of the Montreal Savings Bank, founded ten years earlier. By 1831 he also held some 18,000 acres of land in 12 townships of Lower Canada. The following year he held shares in the Champlain and St Lawrence Railroad, at a time when investment in railways was just beginning. He was also a shareholder in the Île Saint-Paul (Île Des Soeurs) toll-bridge and owned interests in ships, one of which, built at Quebec in 1839, bore his name.
The expansion of Hart's business was accompanied by increasing social prominence. In October 1820 he was promoted from ensign to lieutenant in Montreal's 1st Militia Battalion. He contributed generously to the house of industry, founded in 1818, and to the Montreal General Hospital, established the following year. In 1829 he was appointed to the Montreal Board of Examiners of Applicants to be Inspectors of Pot and Pearl Ashes, and the same year he was a director of the Montreal Committee of Trade.
Persistent in his advocacy of Jewish civil liberties, Benjamin contributed to the pressure that produced a law, passed in 1831 and sanctioned the following year, giving Jews equality of civil liberties. Consequently, he, Samuel Becancour Hart, and Moses Judah Hayes* were offered appointments as justices of the peace in 1833, but because the recent legislation had provided only for a Christian oath of office, Benjamin and Hayes refused to accept the appointments until 1837 [see Aaron Ezekiel Hart]. The two men were not long in office before the rebellion of 1837 broke out, and Hart, who was an active constitutionalist and had made no secret of his antipathy to the Patriote cause, claimed to have played a prominent role as a magistrate in receiving intelligence, suppressing violent activities, and warranting the arrest of suspected rebels; indeed, he was suspected by rebel leaders of issuing blank warrants. According to author John Richardson, rumour spread in November 1838 that a rebel plan had been found calling for the disposal of the principal loyal merchants and the proscription of all Jews – "Mr Benjamin Hart, a wealthy merchant of that persuasion, was to have been elevated to a gibbet." Not the least intimidated, in 1838 Hart privately and then publicly campaigned, in vain, to obtain appointment to the Special Council set up to govern the colony in the wake of the 1837 rebellion.
In addition to promoting Jewish civil rights, Hart, whose religious orthodoxy was often scandalized by the heterodox beliefs and practices of his brother Moses, spent much time and money trying to revitalize Montreal's Jewish congregation. Its last resident minister, Jacob Raphael Cohen*, had departed in 1782, and in 1825 the land on which Shearith Israel Synagogue stood reverted to the heirs of David David*, depriving the Jews of their place of worship. In July 1826 Hart made a passionate printed appeal to his co-religionists of the city to reorganize Shearith Israel. A trustee of the congregation, he initiated a subscription campaign to finance construction of a new synagogue and was himself the third largest contributor to it. Meanwhile, he opened a room adjoining his home for religious services. In 1830 the congregation obtained government authorization to hold civil registers. The construction of the new synagogue was not completed until 1838. By-laws were adopted by the congregation at a meeting on 3 July over which Hart presided. At his insistence they provided that the Sephardic ritual, traditional in the congregation, would be observed even though the membership, including the Hart family, was largely of Ashkenazic origin.
By 1840 Hart was among the leading Jews in Montreal. He was the city's agent for Minerva Life of London in 1843. Benjamin Hart and Company was one of Montreal's more active import firms in 1844, and by that year Benjamin's energetic son Theodore* had joined it as a partner. In the late 1840s, however, the company may have been caught up in a general trade collapse, which Benjamin, like other Montreal merchants, blamed on British trade policies; in 1848 he declared bankruptcy at the same time as his wife sued him for the financial support guaranteed by their marriage contract. His disappointment at not obtaining public favours for his loyalty in 1837–38 festered; as early as 1840 in Liverpool, England, he had published a broadside ridiculing former governor Lord Gosford [Acheson*] for presenting to the House of Lords a mammoth petition from Lower Canada against the union of the Canadas. The Rebellion Losses Bill of 1849 [see James Bruce*] was the last straw. That year Hart signed the Annexation Manifesto, advocating economic and political union with the United States. When, in consequence, he was stripped of his magisterial and militia commissions (by 1846 he had become lieutenant-colonel, commanding Montreal's 3rd Militia Battalion), he moved to New York, in failing health. In this city, where his wife had property inherited from her father, Hart lived out his last years in retirement near his son Arthur Wellington. He died in 1855 in St George's Hotel on Broadway.
ANQ-M, CL, 1827–29, 13 mai 1828; CN1-175, 10 juill. 1837. McCord Museum, Gerald Hart papers, folders 1, 7, 14, 15. PAC, RG 68, General index, 1651–1841: 60, 296, 392, 644. L.C., House of Assembly, Journals, 1828–29, app.EE; Statutes, 1831–32, c.58, art.1. "Benjamin Hart and 1829," comp. David Rome, Canadian Jewish Arch. (Montreal), no.24 (1982): 4–6. William Berczy, "William von Moll Berczy," ANQ Rapport, 1940–41: 39, 42. "On the early Harts – their contemporaries, part 5," comp. David Rome, Canadian Jewish Arch., no.23 (1982): 92, 98, 100–4, 111, 113–15, 117. "On the Jews of Lower Canada and 1837–38,"comp. David Rome, Canadian Jewish Arch., nos.28–30 (1983): 284. [John] Richardson, Eight years in Canada, embracing a review of the administrations of Lords Durham and Sydenham, Sir Chas. Bagot and Lord Metcalfe, and including numerous interesting letters from Lord Durham, Mr. Chas. Buller and other well-known public characters (Montreal, 1847), 62. "Samuel Becancour Hart and 1832," comp. David Rome, Canadian Jewish Arch., no.25 (1982): iii, 34–36, 38, 40, 51–53, 55–64, 69–71, 73–74, 79, 82, 89. Montreal Gazette, 3 April 1834. Montreal Transcript, 23 Feb. 1837. Quebec Gazette, 13 June 1799; 11 June, 13 Aug. 1801; 4 Nov. 1802; 26 Nov. 1807; 14 Dec. 1809; 7 Feb. 1811; 9 Jan., 23 April, 4 June, 12 Nov. 1812; 14 Oct., 2 Dec. 1813; 12 Jan., 9 Feb. 1815; 16 Jan. 1817; 14 May, 30 July 1818; 13 April, 18 May, 17, 20 July, 10 Aug., 7 Sept., 26 Oct., 28 Dec. 1820; 3 Jan., 24 May, 2 Aug., 13 Sept., 8 Nov. 1821; 20 June, 19 Dec. 1822; 27 March 1823. Quebec Mercury, 9 Dec. 1805. Ivanhoë Caron, "Inventaire des documents relatifs aux événements de 1837 et 1838, conservés aux Archives de la province de Québec," ANQ Rapport, 1925–26: 271; "Papiers Duvernay conservés aux Archives de la province de Québec," ANQ Rapport, 1926–27: 152, 181, 186, 188. Montreal directory, 1842–44; 1850–51. "The record book of the Reverend Jacob Raphael Cohen," ed. A. D. Corré and M. H. Stern, American Jewish Hist. Quarterly (New York), 59 (1969): 36. Terrill, Chronology of Montreal. S. E. Rosenberg, The Jewish community in Canada (2v., Toronto and Montreal, 1970–71), 1: 37–38. G. J. J. Tulchinsky, "Studies in the development of transportation and industry in Montreal, 1837 to 1853" (phd thesis, Univ. of Toronto, 1971), 480. Raymond Douville, "Années de jeunesse et vie familiale de Moses Hart," Cahiers des Dix, 23 (1958): 198–201, 213–14. Gérard Malchelosse, "Les Juifs dans l'histoire canadienne," Cahiers des Dix, 4 (1939): 184. Albert Tessier, "Deux enrichis; Aaron Hart et Nicolas Montour," Cahiers des Dix, 3 (1938): 232.
© 1985–2023 University of Toronto/Université Laval
Image Gallery

Cite This Article
Carman Miller, "HART, BENJAMIN," in Dictionary of Canadian Biography, vol. 8, University of Toronto/Université Laval, 2003–, accessed November 29, 2023, http://www.biographi.ca/en/bio/hart_benjamin_8E.html.
The citation above shows the format for footnotes and endnotes according to the Chicago manual of style (16th edition). Information to be used in other citation formats:
| | |
| --- | --- |
| Permalink: | http://www.biographi.ca/en/bio/hart_benjamin_8E.html |
| Author of Article: | Carman Miller |
| Title of Article: | HART, BENJAMIN |
| Publication Name: | Dictionary of Canadian Biography, vol. 8 |
| Publisher: | University of Toronto/Université Laval |
| Year of publication: | 1985 |
| Year of revision: | 1985 |
| Access Date: | November 29, 2023 |