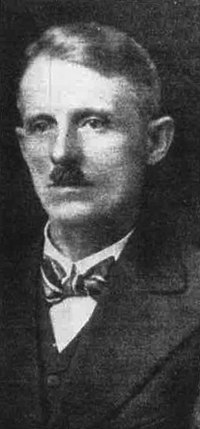 Source: Courtesy of Wikimedia Commons
HÉBERT, GAUDIOSE, shoemaking machine operator and trade union leader; b. 27 Sept. 1866 at Quebec, son of Alexandre Hébert, a rigger, and Philomène Lortie; m. there 2 July 1894 Malvina Laroche, and they had three children; d. there 17 Feb. 1923.
Gaudiose Hébert was born in Saint-Roch ward, to a French father and a French Canadian mother. One of 16 children in a family of modest means, he attended school until the age of 12, when he went to work in one of the many shoe and boot factories in Quebec's Lower Town and began to learn how to operate a shoemaking machine. At the end of the century he joined the Union des Cordonniers-Machinistes, a strong union which in 1899 became a member of the Fraternité des Cordonniers Unis de la Puissance du Canada. This exclusively Quebec federation also included the Montreal and Saint-Hyacinthe unions of shoemaking machine operators. Hébert was convinced that unions had to be organized to stop workers from being exploited. In the personal notebook in which he set down his impressions, he noted, "We had reached such a level of exploitation that we would have risked our lives in order to unite." He was a member of the union when the footwear manufacturers at Quebec, who were exasperated at having to negotiate with unions, declared a lockout in October 1900, demanding that all their employees appear before a notary to renounce membership in a labour organization. Some 3,850 men and women, including 1,800 union members, found themselves out of work.
Since the dispute was dragging on, Archbishop Louis-Nazaire Bégin of Quebec agreed to intervene, provided the two parties would undertake to abide by his decision. The ruling he handed down in January 1901 stipulated that the manufacturers must recognize the workers' right of association, the unions must let their constitutions be revised, and both parties must agree to bring future disputes to arbitration. The Union des Cordonniers-Machinistes, to which Hébert belonged, proved especially unwilling to submit its constitution to the archbishop for examination. It even called on the federal government to denounce this "abuse of power" [see Arthur Marois]. In the face of this refusal, Bégin released the manufacturers from their obligations, whereupon they issued an ultimatum to the machine operators: they would lose their jobs if their union did not revise its constitution. The union members gave in and could go back to work, but only after each had signed a notarized affidavit promising that they would no longer belong to any labour organization which did not have the archbishop's approval. All the unions also had to agree to have a chaplain attend their meetings. While it did recognize the workers' right of association, Bégin's verdict was the first step in the process of Catholicizing the Quebec boot and shoe workers' unions.
Hébert acceded to the notion of increasing clerical influence in union affairs. At the beginning of the 20th century he served on his union's executive and later as a delegate to the Central Trades and Labor Council of Quebec, the coordinating body of unions in the city. Around 1910 the question of uniform textbooks for public schools was creating sharp divisions in these unions; traditionally the national trade unions at Quebec (those not affiliated to an international union of American origin) and the international ones (those affiliated to an international union), which were non-denominational bodies, had always demanded that the government prescribe such books. They saw this requirement as a considerable saving for working-class families, who often had to buy new texts when their children changed schools. The Roman Catholic clergy were strongly opposed to uniformity, fearing it would lead to a situation where textbooks were chosen by the state. Hébert, who was a delegate from the Fraternité des Cordonniers to the Canadian Federation of Labor convention in Ottawa in 1910, defended the clerical position. The question was a significant factor in the split that occurred in the Central Trades and Labor Council of Quebec the following year. The Fraternité des Cordonniers joined the new Conseil Central National du District de Québec et de Lévis, which adopted a constitution specifying that its demands would be based on the directives of the Catholic Church. In a leaflet distributed during a strike in 1914, Hébert repeated that his union wanted above all to "act as a Christian subject to the church."
Following the establishment of an international union at Thetford Mines in the fall of 1915, the religious authorities at Quebec wanted to strengthen their hold on the city's unions. Abbé Maxime Fortin*, a young priest keenly interested in social questions, undertook to turn them into true Catholic unions. He wisely deemed it necessary, as a first step, to impress upon certain labour leaders the principles of the church's social doctrine. To this end in November and December 1915 he organized a study circle open only to an elite group of union leaders, including Hébert. A year and a half later, judging that his teaching had borne fruit, he convened a meeting on 10 May 1917 of the members of the councils from most of the city's national unions with a view to their revising their constitutions and agreeing to the presence of a chaplain. The Central Trades and Labor Council gave its consent on 5 Feb. 1918 and a number of unions followed its example. Shortly thereafter the council merged with the district council to form the Conseil Central National des Métiers du District de Québec.
In order to broaden the reach of Catholic unionism, the council decided in 1918 to appoint a general organizer (probably paid by Action Sociale Catholique [see Paul-Eugène Roy]), and its choice fell on Hébert because of his skills as a speaker, his character, his experience, and "the Catholic way of thinking that inspired him." In two years, he reportedly brought more than 30 new unions into the fold of Catholic unionism. He was firmly convinced that the future of trade unionism lay in its religious orientation. "This is the kind of union that, where we are, has brought about our prosperity. We owe our entire success to the benevolent support of the church, acting through our devoted chaplains," he said in 1920. "Without the church, we have no one to guide us, and in our union the church is the chaplain." He believed that the church's assistance to the trade union movement might foster its development, especially in a context in which employers were fighting against its very existence.
In September 1918 the council held a three-day study session at Quebec to which all the Catholic and national trade unions of the province were invited. The meeting turned into a deliberative assembly, and Hébert was elected its chairman. He made a motion opposing uniform textbooks and free and compulsory schooling. The resolution, which repeated in its preamble some of the principles advocated by the Catholic clergy, objected to "any attempt to impose a system of secular schools on the province of Quebec," and expressed "confidence in the present direction of the department of public instruction." Adopted unanimously, the motion certainly gave great comfort to the religious authorities, who could now impress upon the government the fact that labour unions were no longer unanimous in supporting free and compulsory schooling. Moreover, a few months later a delegation from the Catholic unions presented the resolution to the government on the very day when delegates from the international unions were urging it to pass legislation to the opposite effect.
On 23 Sept. 1919 Hébert was elected president of the Conseil Central National des Métiers du District de Québec and general president of the Catholic trade unions at their convention in Trois-Rivières. The 120 delegates, who came from every part of the province, were working towards the formation of a central provincial body. Not only did they elect a permanent executive and vote on resolutions, but they gave their leaders the power to issue affiliation charters and to require a fee from the affiliated unions. As president, Hébert was a member of the delegation that went to Ottawa in January 1920 to meet with the federal minister of labour, Gideon Decker Robertson*, who did not look favourably upon Catholic unions. The fact that those unions had not been invited to take part in the National Industrial Conference of Dominion and Provincial Governments organized a little earlier by the federal government was described by Hébert as an offensive oversight. Robertson replied with a long diatribe in which he questioned the need for denominational unions and suggested working in harmony with the other labour organizations in the country. The fiery chaplain of the Catholic unions, Abbé Fortin, riposted that religion must be the cornerstone of unionism.
In June 1920 Hébert took part in the great labour demonstration in Parc Lafontaine in Montreal as part of the meetings of the Semaines Sociales du Canada begun by the Jesuits [see Joseph-Papin Archambault*]. Invited to speak along with Victor Morin, Henri Bourassa*, and Abbé Fortin, he stressed the two original principles of Catholic unionism: unions must not be run from outside the country and it was essential for them to reflect the religious ideals of the populace. At the convention of Catholic unions in Chicoutimi in July 1920, which was attended by more than 200 delegates, Hébert gave an account of his administration. After expressing his pleasure at the progress of Catholic unionism, he paid tribute to the beneficent influence of the chaplains and to the courage of the lay pioneers.
In the course of that year Gaudiose Hébert's health deteriorated. He put in an appearance at the founding convention of the Canadian and Catholic Confederation of Labour in Hull from 24 to 28 Sept. 1921, but only to announce his retirement. Had it not been for this decision, he would probably have been elected the first president of the new trade union organization. On 19 Aug. 1921 he had been named by the provincial government inspector of industrial establishments and public buildings for the Quebec region, but because he was suffering from asthma and general bronchial infection, he held this office only a few months. Before his death in 1923, the federal government appointed him to the Canadian committee at the League of Nations.
ANQ-Q, CE301-S22, 27 sept. 1866; S96, 2 juill. 1894. L'Action catholique (Québec), 3 sept. 1918, 21 juill. 1920, 19 févr. 1923. Le Soleil, 19 févr. 1923. J.-P. Archambault, Figures catholiques (Montréal, 1950), 153–92. M.-A. Bluteau et al., Les cordonniers, artisans du cuir (Montréal, 1980). Confédération des Travailleurs Catholiques du Canada, Programme-souvenir du deuxième congrès . . . (Québec, 1923). Aubert du Lac [Maxime Fortin], L'œuvre d'une élite (Québec, 1918). Jacques Rouillard, Les syndicats nationaux au Québec, de 1900 à 1930 (Québec, 1979). Semaines Sociales du Canada, Section française, Semaine sociale du Canada (Montréal, 1920), 162–64.
© 2005–2023 University of Toronto/Université Laval
Image Gallery

Cite This Article
Jacques Rouillard, "HÉBERT, GAUDIOSE," in Dictionary of Canadian Biography, vol. 15, University of Toronto/Université Laval, 2003–, accessed October 2, 2023, http://www.biographi.ca/en/bio/hebert_gaudiose_15E.html.
The citation above shows the format for footnotes and endnotes according to the Chicago manual of style (16th edition). Information to be used in other citation formats:
| | |
| --- | --- |
| Permalink: | http://www.biographi.ca/en/bio/hebert_gaudiose_15E.html |
| Author of Article: | Jacques Rouillard |
| Title of Article: | HÉBERT, GAUDIOSE |
| Publication Name: | Dictionary of Canadian Biography, vol. 15 |
| Publisher: | University of Toronto/Université Laval |
| Year of publication: | 2005 |
| Year of revision: | 2005 |
| Access Date: | October 2, 2023 |