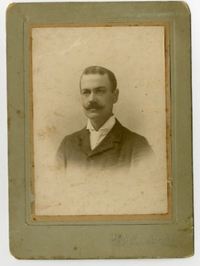 Source: Link
HERBIN, JOHN FREDERIC, jeweller, author, optometrist, politician, historian, and promoter of Acadian heritage; b. 8 Feb. 1860 in Windsor, N.S., son of John Herbin and Marie-Marguerite Robichaud; m. 3 June 1897 Minnie Rounsefell Simson in Grand Pré, N.S., and they had five children, of whom two sons and two daughters survived infancy; d. 29 Dec. 1923 in Wolfville, N.S.
John Frederic Herbin's professional life was influenced by his Huguenot father, who, in the early 1850s, immigrated to Nova Scotia from Cambrai, France, allegedly because of political difficulties. Herbin's father was a watchmaker in Bedford and then in Windsor until 1870, when he moved with his family to Halifax to establish himself as a goldsmith. John Frederic had left school to assist in the family trades, reputedly making his first gold wedding band at age nine. The family returned to Windsor in 1877, where both father and son were watchmakers. In December 1882 Herbin followed his father to Colorado and New Mexico. After teaching school there until April 1884, he moved to Wolfville, N.S., where in 1885 he established Herbin Jewellers, a family business that would mark its 120th anniversary in 2005. He continued his studies, earning a ba degree at Acadia College in Wolfville from 1886 to 1890 and graduating with honours. In addition to running his business, he began teaching shorthand in 1891 and, after placing first in his class during a brief course at the Ontario Optical Institute in Toronto in 1896, added optometry to his professional ventures. Always public spirited, he served as a town councillor of Wolfville and in 1902–3 as its mayor.
It was as an author and public advocate of Acadian history and nationalism that Herbin best caught the imagination of his time. While at Acadia he had already begun publishing poetry and prose in the college paper, the Acadia Athenæum, and in local newspapers. Reputedly influenced by his Acadian mother's stories of her people's exile and return after the deportation of 1755 [see Charles Lawrence*], he began to make it his "mission to work and write," as he would explain to a Boston reporter in 1905, "to preserve for the interested the name and memory of my people, the terribly wronged Acadians." "I imagine," he noted, "the anguish of my great-great-grandfather as he was made to leave . . . and go away to a strange land. I can almost hear the crying of the mothers separated from their children, and I realize . . . the injustice and the awfulness of it all."
Canada, and other poems (Windsor, 1891), Herbin's first volume of poetry, struck a note of Canadian nationalism characteristic of other post-confederation poets. That year the literary editor of the New York Independent, poet William Bliss Carman, included Herbin's work in his periodical and wished "that every man in [Canada's] far borders should be as sturdy and loyal a son as you are." The marshlands: a souvenir in song of the land of Evangeline, which first appeared in Windsor in 1893, focused more intimately on the dykelands, seasonal rhythms, and Acadian iconography of the region. Subsequent editions, bound with Herbin's The trail of the tide, would be published by William Briggs of Toronto in 1899 and 1909.
Poets Charles George Douglas Roberts*, Theodore Harding Rand*, and Carman praised Herbin's handling of the sonnet form. American philosopher William James discerningly wrote from Cambridge, Mass., in 1897, "I don't know that I have ever met so complete a marriage of a man's soul with the land which he inhabits." Herbin most effectively translated to a wide reading public his personal research on Acadian genealogy, archaeological sites, roadways, aboiteau (dyke) systems, and artefacts through a series of local histories such as Grand-Pré: a sketch of the Acadian occupation of the shores of the basin of Minas (Toronto and Montreal, 1898), The history of Grand-Pré: the home of Longfellow's "Evangeline" (Toronto, 1900), and The land of Evangeline: the authentic story of her country and her people (Toronto, 1921). Publishing records for Briggs reveal 500 copies (400 paper, 100 cloth) of The marshlands for distribution in 1900 and runs of 1,000 copies of The history of Grand-Pré for the first edition in 1900 and the third in 1907. The land of Evangeline, bound with a copy of Longfellow's Evangeline and brought out by the Musson Book Company Limited, went through five editions and sold 15,000 copies in 1921. Herbin's romantic fiction, The heir to Grand-Pré, had a more modest run of 500 copies when published with Briggs in 1907 and the account was closed in 1914. His novel Jen of the marshes, which appeared in Boston in 1921, echoed his earlier local colour fiction by reconceptualizing the Evangeline figure as a modern heroine firmly rooted in the pastoral heritage of latter-day Grand Pré. Herbin's star-crossed English-French lovers are symbolically united at the conclusion of both novels, but his more obvious intention was to exploit romance so as to highlight the memory of his dispossessed ancestors.
By far the most enduring of Herbin's contributions to preserving the memory of pre-deportation Acadian culture was his success in 1907 in securing 14 acres of land on which the original Grand Pré community had stood and in spearheading the movement to establish a memorial park. Included among the list of projects which he had drawn up the previous year for the proposed park were the enclosing of the grounds, the erection of memorials to Longfellow, the Acadians, and Evangeline, the rebuilding of the Acadian church on its original site, the restoration of the priest's house, the Acadian well, and "the burying ground," the protection of the original Acadian willows, and the erection of bronze description plates. In a letter to Prime Minister Sir Wilfrid Laurier* on 25 June 1906, Herbin had explained that "international interest," "amity between our two leading Canadian peoples," and "pride and gratification" were the catalysts for the proposed $50,000 project and he invited Laurier to be a patron (with politicians Robert Laird Borden* and Sir Frederick William Borden*, both from the Minas Basin deportation area). Although F. W. Borden acknowledged Herbin to be a "thoroughly honest and honorable" man, he advised Laurier to withhold his patronage until he could assess the degree to which the restoration scheme was directed at attracting American tourists.
In November 1917, having also failed "to get the Acadians interested in the project," and concerned about potential desecration of the site, Herbin sold the land for $1,650 to the Dominion Atlantic Railway (leased to the Canadian Pacific Railway) for the creation of a park, stipulating that the location of the original Saint-Charles-des-Mines church be deeded to the Acadians for the erection of a memorial to their past. On 28 May 1919 the Société l'Assomption [see David-Vital Landry] took possession of the church site. The DAR, which as early as the 1890s had exploited the anti-modernism of the Evangeline myth for purposes of tourism, unveiled a statue of Evangeline (conceived by Louis-Philippe Hébert*) in the park in 1920. Herbin's poetic tribute to his ancestors, "The returned Acadian," had become the signature promotional poem of the DAR under the title "Evangeline's return." Before his sudden death in 1923 Herbin had an opportunity to witness the evolution of his dream when construction of the memorial church began (on completion it would include his collection of Acadian artefacts in its museum).
Perhaps because of his Protestant English-speaking background (he read French, but did not speak it) Herbin had difficulty throughout his life attracting Acadian support for his endeavours. He was finally recognized in an article published in L'Évangéline (Moncton) in 1924 and by a plaque added in 1925 to the commemorative stone cross that he had placed in the park in 1909. His promotion of the Grand Pré area (including postcards that he had produced commercially) continued to inform the marketing of tourism in the region as late as the 1930s, but it is as a torch keeper of the Acadian past through his literary work and his endeavours to promote a park at Grand Pré that he most effectively contributed to the nation-building spirit of both Acadians and Canadians during his lifetime.
Acadia Univ., Vaughan Memorial Library, Esther Clark Wright Arch. (Wolfville, N.S.), John Frederic Herbin fonds. Centre d'Études Acadiennes, Univ. de Moncton, N.-B., Fonds Placide Gaudet, 1.70-8. LAC, MG 26, G: 111544–48. UCC-C, Fonds 513/1, 83.061c, file 43-1os. "Dette de reconnaissance," L'Évangéline (Moncton), 7 mai 1925. L'Évangéline, 3 janv. 1924. Sunday Herald (Boston), 20 Aug. 1905. Blodwen Davies, "Wanted: a literary executor," New Outlook (Toronto), 30 Nov. 1927. Barbara Le Blanc, Postcards from Acadie: Grand-Pré, Evangeline & the Acadian identity (Kentville, N.S., 2003). Ian McKay, The quest of the folk: antimodernism and cultural selection in twentieth-century Nova Scotia (Montreal and Kingston, Ont., 1994). Harry Piers and D. C. Mackay, Master goldsmiths and silversmiths of Nova Scotia and their marks, ed. U. B. Thomson and A. M. Strachan (Halifax, 1948). L. D. Storr, "John Frederic Herbin: the re-creation of the past" (ma thesis, Acadia Univ., 1995).
© 2005–2023 University of Toronto/Université Laval
Cite This Article
Gwendolyn Davies, "HERBIN, JOHN FREDERIC," in Dictionary of Canadian Biography, vol. 15, University of Toronto/Université Laval, 2003–, accessed September 24, 2023, http://www.biographi.ca/en/bio/herbin_john_frederic_15E.html.
The citation above shows the format for footnotes and endnotes according to the Chicago manual of style (16th edition). Information to be used in other citation formats:
| | |
| --- | --- |
| Permalink: | http://www.biographi.ca/en/bio/herbin_john_frederic_15E.html |
| Author of Article: | Gwendolyn Davies |
| Title of Article: | HERBIN, JOHN FREDERIC |
| Publication Name: | Dictionary of Canadian Biography, vol. 15 |
| Publisher: | University of Toronto/Université Laval |
| Year of publication: | 2005 |
| Year of revision: | 2005 |
| Access Date: | September 24, 2023 |