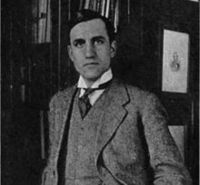 Source: Courtesy of Wikimedia Commons
HEWITT, CHARLES GORDON, entomologist, civil servant, conservationist, and author; b. 23 Feb. 1885 near Macclesfield, England, son of Thomas Henry Hewitt and Rachel Frost; m. 11 Oct. 1911 in Canning, N.S., Elizabeth Borden, daughter of Sir Frederick William Borden; they had no children; d. 29 Feb. 1920 in Ottawa.
Educated at King Edward VI Grammar School in Macclesfield, Gordon Hewitt subsequently studied zoology at the Victoria University of Manchester (bsc 1902, msc 1903, dsc 1909). In 1902 it made him assistant lecturer in zoology, and in 1904–9 he was lecturer in economic zoology.
In May 1909, at 24, Hewitt was selected to succeed James Fletcher* as dominion entomologist of Canada; in September he arrived and was officially appointed. During his 11 years in the Department of Agriculture, he developed the entomological service from a small division attached to the experimental-farms branch into a separate branch (from 1915) with four divisions headed by qualified entomologists: systemic entomology (taxonomy and identification), field-crop and garden insects (economic entomology and control), forest insects, and foreign-pest suppression (quarantine). Twelve field laboratories were established across Canada to investigate insect problems and outbreaks and to implement practical controls. In building up the service, Hewitt demonstrated a remarkable ability to attract the best people, among them Norman Criddle*, Edgar Harold Strickland, and Reginald Charles Treherne. Hewitt himself was instrumental in initiating and drafting the Destructive Insect and Pest Act of 1910, which allowed for increased research, inspection, and control. As a result of the act, a massive number of the insect-pest problems that beset agriculturists and foresters were solved. More broadly, under Hewitt entomology became entrenched as an economically viable science in Canada, which emerged as a leader in the field. In 1916 he became consulting zoologist as well as dominion entomologist.
A devoted student of nature and resolute crusader for the well-being of wildlife, Hewitt was deeply interested in the development of game preserves, bird sanctuaries, and other means to protect wildlife. To this end he worked closely with other pioneering civil servants, many, including James Bernard Harkin*, from the parks and forestry branches of the Department of the Interior. From December 1916 he was secretary of an interdepartmental advisory board on wildlife protection.
Hewitt's most outstanding contributions to science are his departmental publications, chiefly those dealing with honey-bees and the larch sawfly, and his books, notably those on houseflies, on their link to public health, and on wildlife conservation. His scientific acumen and administrative talent were widely recognized. During his brief but brilliant career, he became a fellow of the Entomological Society of London, a corresponding member of the Zoological Society of London, an honorary fellow of the Royal Society for the Protection of Birds, a fellow of the Entomological Society of America (1913), president of the Entomological Society of Ontario (1913), a fellow (1913) and honorary treasurer (1914–20) of the Royal Society of Canada, president of the American Association of Economic Entomologists (1915), and president of the Ottawa Field-Naturalists' Club (1918–19). He received the gold medal of the RSPB in 1918 for his role in negotiating the Migratory Birds Treaty of 1916 between Canada and the United States and in extending the protection of northern wildlife by means of the Northwest Game Act of 1917.
In other affairs Hewitt was president of the Ottawa Boys' Home, a councillor of the Ottawa Humane Society, a supporter of the Boy Scout movement, and founding president in 1920 of the Professional Institute of the Civil Service of Canada. The variety of his interests, which included home-gardening, literature, art, and music, and his charm endeared him to many friends. On 20 Feb. 1920, after returning from the meetings of the federal Commission of Conservation in Montreal, he became seriously ill with influenza. It developed into pleural pneumonia and he died on 29 February at the age of 35.
Charles Gordon Hewitt is the author of 130 monographs, reports, and articles on various scientific subjects, dealing primarily with the biology and control of pest insects, especially those related to medical entomology. A comprehensive bibliography, "The writings of the late C. Gordon Hewitt," was compiled shortly after his death by C. B. Hutchings of the entomological branch and appears in the Canadian Entomologist (London, Ont.), 52 (1920): 100–5.
Prominent among Hewitt's publications are several books, including The housefly, Musca domestica, Linnæus: a study of its structure, development, bionomics and economy (Manchester, Eng., 1910), also issued in an expanded edition with the subtitle its structure, habits, development, relation to disease and control (Cambridge, Eng., 1914); House-flies and how they spread disease (Cambridge, 1912); and The conservation of the wild life of Canada (New York, 1921). His output includes various publications for the federal Department of Agriculture, among them several issues of the Div. of entomology Bull. (Ottawa) and his reports as dominion entomologist, 1910–1918/19 (those for 1910–14 were issued with the Reports of the experimental farms, and appear in Can., Parl., Sessional papers, 1911–15; the remaining reports were issued by the entomological branch). In his official capacity, Hewitt oversaw the preparation of the volume on Insects (vol.3, published in 1922) for the Report of the Canadian Arctic Expedition, 1913–18 (14v. [i.e., vols.3–16], Ottawa, 1919–46).
AO, RG 22-354, no.9671. Ottawa Evening Journal, 1 March 1920. Can., Parl., Sessional papers, 1911, no.30: 265; 1916, no.15: 65. Canadian Entomologist, 52 (1920): 97–99 (obit. by Arthur Gibson and J[ames] M[alcolm] Swaine, and photo of Hewitt facing p.97). Canadian Field-Naturalist (Ottawa), 34 (1920): 174–76 (obit. by Norman Criddle). Canadian men and women of the time (Morgan; 1912). Canadian who's who (1910). Janet Foster, Working for wildlife: the beginning of preservation in Canada (Toronto, 1978). L. O. Howard, A history of applied entomology (somewhat anecdotal) (Washington, 1930). H. E. M. Kensit, "The inception of the institute," Professional Institute of the Civil Service of Canada, Institute Bull. (Ottawa), 10 (1931), no.2: 1–6. P. W. Riegert, From arsenic to DDT: a history of entomology in western Canada (Toronto, 1980). RSC, Trans., 3rd ser., 14 (1920), proc.: vi–viii. T. J. Spilman, "Vignettes of the presidents of the Entomological Society of America, 1889–1989," Entomological Soc. of America, Bull. (Lanham, Md), 35 (1989), no.3: 40–41. Who's who (London), 1910.
© 1998–2023 University of Toronto/Université Laval
Image Gallery

Cite This Article
Paul W. Riegert, "HEWITT, CHARLES GORDON," in Dictionary of Canadian Biography, vol. 14, University of Toronto/Université Laval, 2003–, accessed October 2, 2023, http://www.biographi.ca/en/bio/hewitt_charles_gordon_14E.html.
The citation above shows the format for footnotes and endnotes according to the Chicago manual of style (16th edition). Information to be used in other citation formats:
| | |
| --- | --- |
| Permalink: | http://www.biographi.ca/en/bio/hewitt_charles_gordon_14E.html |
| Author of Article: | Paul W. Riegert |
| Title of Article: | HEWITT, CHARLES GORDON |
| Publication Name: | Dictionary of Canadian Biography, vol. 14 |
| Publisher: | University of Toronto/Université Laval |
| Year of publication: | 1998 |
| Year of revision: | 1998 |
| Access Date: | October 2, 2023 |