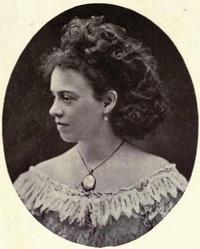 Source: Courtesy of Wikimedia Commons
HOLMAN, SARAH (Dalton) (known as Sallie Holman), singer and actress; b. probably 24 June 1849 at Lynn, Mass., daughter of George W. Holman and Harriet Phillips, née Jacobs (Jackson); m. in 1879 James T. Dalton; d. 7 June 1888 in London, Ont.
Sallie Holman was the undisputed star of the Holman opera company which toured the eastern United States and Canada from the late 1850s to the early 1880s. Her parents were active in the theatre in New York throughout the 1840s and 1850s. By 1858 the four Holman children were touring as members of the Holman Juvenile Opera Troupe. Sallie, the elder daughter, was the leading lady in all of the Holman productions; an attractive girl, she won the hearts of audiences with her pleasing soprano voice and her dramatic skills. Benjamin Phillips Holman, Harriet's son by an earlier marriage, was the comedian of the group, while Alfred took the dramatic male roles. Julia, the youngest, sang the contralto roles and Harriet Holman served as coach, accompanist, and musical director.
One of the Holmans' earliest Canadian performances, in August 1858, was in London, Canada West, George's home since the 1830s as well as the Holmans' summer home for many years. In its early years the company appeared at Barnum's Museum and the Hope Chapel Theatre in New York (1859 and 1860), at the Prince of Wales Theatre in Toronto (May 1860), and in Montreal (1861). During the 1860s, the company's tours extended south to Nashville and west to St Louis. Following Benjamin's untimely death in 1864, his place was taken by William Henry Crane, who became one of America's best-loved comedians.
In 1867 George Holman took over the management of the Royal Lyceum Theatre in Toronto. The Holmans performed there until 1872, while continuing to tour, under the name the Holman English Opera Troupe; the company changed names repeatedly, however, with eight variations recorded between 1858 and 1878. Their repertoire consisted primarily of English versions of French operettas in vogue during the period, such as Offenbach's La grande-duchesse de Gérolstein and Lecocq's Giroflé-Girofla. Other favourites included Balfe's The Bohemian girl, Auber's Fra Diavolo, and Donizetti's La fille du régiment. The Holmans also performed farce as well as dramatic works, such as The streets of New York, Under the gaslight, and The coleen Bawn. The company was composed of actors, comedians, and singers, including Canadian comedian Harry Lindley, Joseph Brandisi, a French Canadian, and Blanche Bradshaw, the wife of Alfred Holman. Sallie, however, was the main attraction. One Toronto critic described her as "the bright star of the constellation"; others noted her sprightly manner, finely expressive face, and "the thorough abandon with which she entered the spirit of the role."
In 1872 the company moved to Montreal where George took over the management of the Theatre Royal. One year later he bought the Music Hall in London, renovated it, and renamed it the Holman Opera House; the company opened there on 25 Dec. 1873, performing La grande-duchesse. Until 1880 the Holmans opened each season in London before setting out on tour. Other engagements included the opening of Gowan's Opera House in Ottawa in February 1875 and the Canadian première of Gilbert and Sullivan's H.M.S. Pinafore at the Royal Opera House in Toronto on 13 Feb. 1879. Sallie played the role of Josephine; Captain Corcoran was played by James T. Dalton, an English baritone who had joined the Holmans around 1877. Dalton and Sallie Holman were married during 1879.
Following Julia Holman's death in the same year, the troupe's success began to wane; Sallie's death in June 1888 was the final blow to the company. She had fallen ill in February of that year prior to an evening performance at Glencoe, Ont., and after a brief recovery suffered a relapse. Her father died four months after her death.
An obituary which appeared in the Montreal Gazette bears witness to Sallie Holman's successful career. She is referred to as "the soul" of her company and "one of the most amiable and gifted of Canadian artists." William Henry Crane considered her to be an exceptional performer yet one born perhaps too early to receive the recognition which she deserved.
Murray D. Edwards and Frances R. Hines
MTL, Theatre Dept., Vertical file, Royal Lyceum file. Gazette (Montreal), 12 June 1888. Globe, 8 Oct. 1867, 14 Feb. 1879. London Advertiser (London, Ont.), 23 Dec. 1873, 24 Sept. 1877, 7 June 1888, 24 Feb. 1936. London Free Press (London, Ont.), 20 Aug. 1858, 27 Dec. 1873, 18 Feb. 1888. G. C. D. Odell, Annals of the New York stage (15v., New York, 1927–49). Types of Canadian women and of women who are or have been connected with Canada, ed. H. J. Morgan (1v. publ., Toronto, 1903), I: 161. W. H. Crane, Footprints and echoes (New York, 1927). Franklin Graham, Histrionic Montreal; annals of the Montreal stage with biographical and critical notices of the plays and players of a century (2nd ed., Montreal, 1902; repr. New York and London, 1969). Carl Morey, "Canada's first opera ensemble," Opera Canada (Toronto), 11 (1970), no. 3: 15, 75.
© 1982–2023 University of Toronto/Université Laval
Cite This Article
Murray D. Edwards and Frances R. Hines, "HOLMAN, SARAH," in Dictionary of Canadian Biography, vol. 11, University of Toronto/Université Laval, 2003–, accessed September 26, 2023, http://www.biographi.ca/en/bio/holman_sarah_11E.html.
The citation above shows the format for footnotes and endnotes according to the Chicago manual of style (16th edition). Information to be used in other citation formats:
| | |
| --- | --- |
| Permalink: | http://www.biographi.ca/en/bio/holman_sarah_11E.html |
| Author of Article: | Murray D. Edwards and Frances R. Hines |
| Title of Article: | HOLMAN, SARAH |
| Publication Name: | Dictionary of Canadian Biography, vol. 11 |
| Publisher: | University of Toronto/Université Laval |
| Year of publication: | 1982 |
| Year of revision: | 1982 |
| Access Date: | September 26, 2023 |