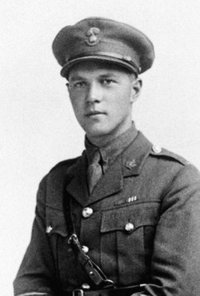 Source: Courtesy of Wikimedia Commons
HONEY, SAMUEL LEWIS, teacher, soldier, and officer; b. 9 Feb. 1894 in Conn, Ont., eldest child of the Reverend George Edward Honey and Metta Blaisdell; d. unmarried 30 Sept. 1918 in Bois de Bourlon, France.
At the time of Lewis Honey's birth, his father served several Methodist churches in the area around Conn. Though a diligent student, Lew, as the family called him, found time to take part in outdoor sports. He also took a great interest in photography and music.
In common with other clergymen's families, the Honeys moved at frequent intervals. Lew was attending school at Drayton when in 1908 his father was transferred to Princeton, in Oxford County. After graduating with junior matriculation from the Princeton Continuation School in July 1910, with permission to teach, Lew took charge that fall of a school on the Six Nations Reserve near Brantford. In the spring of 1911 he briefly taught near Drumbo. The teacher had left because of obstreperous students, but Lew held his ground, and on account of his success was allowed to enter teachers' college at a young age.
Honey enrolled in the autumn of 1911 in the Normal School at London and graduated the following June with a public-school teaching certificate. After a year at Londesborough school in western Huron County, he resigned to take his senior matriculation at Walkerton High School, from which he graduated in June 1914. Honey then completed a course as a cadet instructor. In the autumn he returned to teaching in Whitchurch Township, York County.
Plans to enrol in Victoria College at Toronto to take his arts degree were brought to an end by his enlistment in late January 1915 at Walkerton with the 34th Infantry Battalion. He disembarked at Devonport, England, on 31 Oct. 1915. As an acting sergeant, Honey was chosen to take special courses at Aldershot in physical training and bayonet fighting. From January to August 1916 he was an instructor in those disciplines at Bramshott camp. During the summer he was officially taken on strength as a sergeant by the 78th Infantry Battalion, part of the 4th Division, and he proceeded to France on 12 August.
Honey won the Military Medal for gallantry during a raid on German trenches on 22 Feb. 1917. The citation read in part, "He did most excellent work in clearing an enemy's communication trench and establishing a block in spite of heavy opposition. He personally covered the withdrawal of his own and another squad under a very heavy grenade fire." Honey was modest about his achievement and wrote home, "I think the rest of the party deserved recognition as much as I did. . . . What I did, didn't amount to much." He added, "The biggest part of my job was leading the party across; and it really isn't as easy as one would think. But my bump of locality is pretty well developed, and . . . I struck our objective within ten yards."
Honey was awarded the Distinguished Conduct Medal for gallant leadership during the battle of Vimy Ridge in April. After his platoon commander had been wounded he "assumed command, leading his men forward in face of terrific fire, until compelled by casualties to dig in. He held his position for three days, encouraging his men by his splendid example." Honey's comment on winning the second distinction was, "I guess I'm a pretty lucky boy." After Vimy Ridge he was recommended for a commission. In early May he became an instructor at Bramshott pending the opening in July of the officers' training course at Bexhill. Honey rejoined his unit as a lieutenant on 14 Oct. 1917.
In August 1918 the Canadian Corps was given the task of dislodging the enemy from a maze of defensive positions considered to be almost impregnable, those east of Monchy-le-Preux, the Fresnes-Rouvroy Line, the Drocourt-Quéant Line, and the Canal du Nord. Through a series of determined attacks the Canadians pierced the first three systems during the latter part of August and early September. On 27 September they crossed the Canal du Nord, overran the heavily fortified German positions in Bois de Bourlon, and beat off every counter-attack. It was in this operation that Honey won the Victoria Cross. After all other officers of his company had become casualties, Honey "took command and skilfully reorganised under severe fire. He continued the advance with great dash and gained the objective. Then finding that his company was suffering casualties from enfilade machine-gun fire he located the machine-gun nest and rushed it single-handed, capturing the guns and ten prisoners." After repulsing four counter-attacks he went out alone after dark, located a German post, and took a party to capture it. On the 29th he led his company against a strong enemy position and continued to display "the same high example of valour and self-sacrifice." He died of wounds received on the last day of the 78th's attack.
Honey's commanding officer wrote to his family, "Nowhere have I seen such gallant work as this boy of yours displayed. . . . He was the first to reach the final objective during the first day and throughout the days that followed he was an example of grit and determination that was the talk of the whole command. The men idolized him, and as they bore him by me that morning there was a tenderness in their care that only strong men can show."
He was buried in Quéant Communal Cemetery British Extension. In accordance with his parents' wishes, there was no investiture of his Victoria Cross. A plaque in Honey's honour was unveiled by the Archaeological and Historic Sites Board of Ontario beside Westcott United Church, Conn, in 1964. The family presented his medals without fanfare to the Canadian War Museum in 1975.
[The author wishes to thank Edith and Isabel Honey of Toronto, sisters of Samuel Lewis, for providing copies of his documents and his letters from overseas, and Mrs Jean Honey Lennie of Dundas, Ont., daughter of Samuel Lewis's brother George, for making available Honey's overseas diary. The boards of education for Huron, Oxford, and Wellington counties, and that for York Region, in Clinton, Woodstock, Guelph, and Aurora, Ont., respectively, searched their files for material. Particular thanks are extended to Jacquie Brown of the Huron County Pioneer Museum, Goderich, Ont., for thoroughly checking the records of the county board of education. f.g.]
Can., Dept. of National Defence, National Defence Headquarters, Directorate of Hist. (Ottawa), Biog. file. Canadian War Museum Arch. (Ottawa), Biog. file. Commonwealth War Graves Commission (Maidenhead, Eng.), Cemetery reg., index no.Fr.686 (Quéant Communal Cemetery British Extension) (copy at the Commonwealth War Graves Commission, Canadian Agency, Ottawa). NA, RG 9, III, 4943–44; RG 150, Acc. 1992–93/166. G.B., Imperial War Graves Commission, War graves of the British empire; the register of the names of those who fell in the Great War and are buried in Quéant Communal Cemetery British Extension . . . (London, 1928). London Gazette, 26 April, 16 Aug. 1917; 6 Jan. 1919. G. C. Machum, Canada's V.C.'s; the story of Canadians who have been awarded the Victoria Cross . . . (Toronto, 1956). Nicholson, CEF Ont., Dept. of Education, Annals of valour; Empire Day, Friday, May 23rd, 1919 (Toronto, 1919). Norman Robertson, The history of the county of Bruce . . . , ed. N. R. Shaw (Toronto, 1906); continued by Norman McLeod, The history of the county of Bruce . . . 1907–1968 . . . (Owen Sound, Ont., 1969). Valiant men: Canada's Victoria Cross and George Cross winners, ed. John Swettenham (Toronto, 1973) (includes photo of Honey).
© 1998–2023 University of Toronto/Université Laval
Cite This Article
Fred Gaffen, "HONEY, SAMUEL LEWIS," in Dictionary of Canadian Biography, vol. 14, University of Toronto/Université Laval, 2003–, accessed September 22, 2023, http://www.biographi.ca/en/bio/honey_samuel_lewis_14E.html.
The citation above shows the format for footnotes and endnotes according to the Chicago manual of style (16th edition). Information to be used in other citation formats:
| | |
| --- | --- |
| Permalink: | http://www.biographi.ca/en/bio/honey_samuel_lewis_14E.html |
| Author of Article: | Fred Gaffen |
| Title of Article: | HONEY, SAMUEL LEWIS |
| Publication Name: | Dictionary of Canadian Biography, vol. 14 |
| Publisher: | University of Toronto/Université Laval |
| Year of publication: | 1998 |
| Year of revision: | 1998 |
| Access Date: | September 22, 2023 |