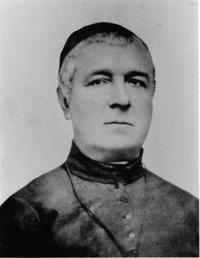 Source: Courtesy of Wikimedia Commons
HONORAT, JEAN-BAPTISTE (baptized Jean-Baptiste-André-Pascal), priest, Oblate of Mary Immaculate, missionary; b. 18 May 1799 at Aix-en-Provence, France, son of Jacques-Christophe Honorat, candlemaker, and Marie-Thérèse Bremond; d. 23 Dec. 1862 at Notre-Dame de l'Osier (dept of Isère), France.
Jean-Baptiste Honorat belonged to a Catholic family which remained faithful to religion in spite of the Revolution of 1789. His father desired to take him into the family business, but at age 18 he entered the Oblates and was ordained priest in 1821. During his first 20 years as a priest, he lived in close association with the founder of the community, Bishop Charles-Joseph-Eugène de Mazenod, and proved an obedient, almost excessively zealous missionary. As a result, although he had little inclination for administration, he was called upon to occupy important offices. He was fourth assistant general and was superior first (1825–27) of the house of Notre-Dame-du-Laus (dept of Hautes-Alpes), of Nîmes (1827–30), of Marseille (1830–37), and then (1837–41) of Notre-Dame-des-Lumières (dept of Vaucluse) which he founded. On 13 Aug. 1841, in response to the invitation of Bishop Ignace Bourget*, Mazenod entrusted him with the founding of the first Oblate establishment in Canada.
On 2 December Father Honorat arrived at Montreal, with fathers Pierre-Antoine-Adrien Telmon, Jean-Fleury Baudrand, and Lucien-Antoine Lagier*, and the lay brothers Basile Fastray and Pierre-Jean-Louis-François Roux. Two days later Bishop Bourget appointed Honorat parish priest of Saint-Hilaire (Mont-Saint-Hilaire), the first base of the Oblates in Canada. The following summer (August 1842), the community moved to Longueuil to be closer to the bishopric of Montreal. As first superior of the Oblates in Canada, Honorat took an active part in setting up Oblate missions in the Montreal region, the Eastern Townships, and the areas of the Ottawa, Saint-Maurice, Saguenay, and Red rivers. Nevertheless, in 1844 Mazenod wanted to entrust the direction of the young, expanding community to a more skilful administrator and a more adaptable leader. Father Honorat bowed willingly to this decision. He handed over his office to his confrère and friend Father Joseph-Bruno Guigues*, and became superior of the new Saguenay mission of Saint-Alexis-de-la-Grande-Baie.
On 15 Oct. 1844 Honorat arrived in the Saguenay region, accompanied by fathers Augustin-Médard Bourassa, Pierre Fiset, and Flavien Durocher*. The Oblates' responsibility was to lay the foundations of an organized church in this forest region, which had been opened to settlement only six years earlier. While his missionaries carried on their ministry among the native peoples of this vast area, Honorat endeavoured to organize the religious life of the new settlers by creating parishes and building churches and schools.
The society that was developing in the Saguenay area with a mixture of agriculture and timber as its base had a strong effect on Honorat. Because of its monopoly of lumbering the Price Company was ensured control of the region. The population, poor and still sparse, was under the domination of Peter McLeod*, partner of William Price and chief of operations in the region. McLeod, an unbending advocate of Protestantism, represented in Honorat's eyes a grave threat to the Catholics there. Moreover, to him McLeod symbolized economic dictatorship, for not only did the company pay employees with vouchers redeemable in goods in its stores, but it also resorted to intimidation to enslave the population. The ministry of the Oblate superior in the Saguenay rapidly became a social commitment, a struggle against exploitation and poverty. His opposition to McLeod was so violent that the two men barely avoided coming to blows. Honorat, a man of action, resolved to pursue the struggle along another line. In 1846, believing that settlement based on agriculture was the way to protect the population from the monopoly in the lumber trade and to do away with poverty, he founded an agricultural parish, Le Grand-Brûlé (Laterrière). He invested the meagre resources at his disposal in this "liberating" venture, as he liked to call it.
Laterrière was a veritable financial abyss for the little community and a cause of great irritation among the Quebec diocesan clergy. Several priests who thought the Oblates already occupied too big a place in the Saguenay did not forgive Honorat, a Frenchman, for pushing his action so far, and for compromising the relations of the church with the masters of the region through open conflict. The archbishopric of Quebec, thinking his management overbold, sought his recall. Father Guigues finally yielded to repeated pressure from Quebec. In August 1849 Father Honorat left the Saguenay, leaving behind him an Oblate house in serious difficulty. Lacking financial means, and increasingly isolated, it had to close its doors some time later, to the great relief of champions of clerical-capitalist collusion in the Saguenay.
On his return to Montreal, Father Honorat gave his attention to preaching and spiritual exercises. On 26 July 1850, at Montreal, he founded the Community of the Sisters of St Ann. During the next eight years, Father Honorat was a member of the provincial council, a bursar, and, after a short period as director of the house at Plattsburgh, N.Y., in late 1856 and early 1857 he went to Ottawa as superior of the bishop's palace, the residence of Bishop Guigues. On 27 Oct. 1858 he was recalled to France. He died there four years later, at age 63, following an apoplectic seizure.
Jean-Baptiste Honorat, one of the men responsible for increasing the role played by the Oblates in Canada, is still remembered as a distinctive figure of the Saguenay region in the 19th century. Throughout his life he was an authentic missionary who was more concerned with men than with things.
AAQ, 71 CD, Oblats de Marie-Immaculée, I. Archives de l'évêché de Chicoutimi (Chicoutimi, Qué.), Paroisse 9, Cote 5, 3, RR. PP. Oblats. Archives générales O.M.I. (Rome), Correspondance Jean-Baptiste Honorat, 1841–1852 (photocopy at AHO). Archives provinciales O.M.I. (Montréal), Ancienne maison, Saguenay, région de Grande-Baie et de la Côte-Nord, 1844–52; Correspondance des autorités ecclésiastiques, Diocèse de Québec, 1844–1904; Correspondance des autorités oblates, Autorités générales, 1848–69; Correspondance des autorités oblates, Procure générale, 1848–92. Notices nécrologiques des O.M.I., I, 69–76. Gaston Carrière, Hist. des O.M.I., I–V; Planteur d'églises; J.-B. Honorat, oblat de Marie-Immaculée (Montréal, 1962). J.-P. Simard, "Une fondation pas comme les autres: le Grand-Brûlé," Protée (Chicoutimi, Qué.), 1 (décembre 1970), 31–36.
© 1976–2023 University of Toronto/Université Laval
Image Gallery

Cite This Article
Normand Séguin, "HONORAT, JEAN-BAPTISTE," in Dictionary of Canadian Biography, vol. 9, University of Toronto/Université Laval, 2003–, accessed December 9, 2023, http://www.biographi.ca/en/bio/honorat_jean_baptiste_9E.html.
The citation above shows the format for footnotes and endnotes according to the Chicago manual of style (16th edition). Information to be used in other citation formats:
| | |
| --- | --- |
| Permalink: | http://www.biographi.ca/en/bio/honorat_jean_baptiste_9E.html |
| Author of Article: | Normand Séguin |
| Title of Article: | HONORAT, JEAN-BAPTISTE |
| Publication Name: | Dictionary of Canadian Biography, vol. 9 |
| Publisher: | University of Toronto/Université Laval |
| Year of publication: | 1976 |
| Year of revision: | 1976 |
| Access Date: | December 9, 2023 |