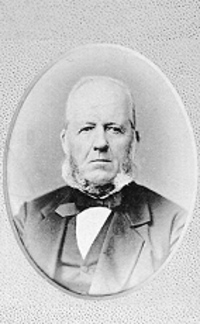 Source: Courtesy of Wikimedia Commons
HOPE, ADAM, merchant and politician; b. 8 Jan. 1813 at West Fenton, Dirleton parish (Lothian), Scotland, son of Robert Hope and Christian Bogue; m. in 1840 at St Thomas, Upper Canada, Hannah White (1821–1916), and they had three sons and one daughter who survived infancy; d. 7 Aug. 1882 at Hamilton, Ont.
Adam Hope came from a well-known Scottish agricultural family; his father's farm, Fenton Barns, was noted as a model of progressive agriculture, and his older brother George was a prominent agricultural writer, opponent of the Corn Laws, and defender of the rights of tenants. Adam Hope, however, pursued a career in trade. Following education at Dirleton Parish School and in Edinburgh, he spent six years in a mercantile firm in Leith. In 1834 he came to Upper Canada and soon secured employment at Hamilton in the firm of Young and Weir [see John Young*] which handled dry goods, groceries, and hardware. After three years he took the course of many ambitious young mercantile clerks at the time and opened his own general store and produce business at St Thomas. He operated it in partnership with Thomas Hodge and with the support of John Young and, after 1840, of Young's new firm, Buchanan, Harris and Company [see Isaac Buchanan].
With the encouragement of Buchanan, Harris and Company, Hope dissolved the St Thomas business in 1845 and moved to London to become a partner in the general store of John Birrell*, under the name of Hope, Birrell and Company. Hope and Birrell drew heavily on their credit to become Buchanan, Harris and Company's largest customer and London's leading general merchants. Indeed, the account became so large that Peter Buchanan* and Robert William Harris* of the Hamilton firm decided to transform their advances into majority ownership and to use Hope's business as a base to expand their wholesaling activities in the rapidly developing London region. The Hope-Birrell partnership was dissolved in 1851; Birrell kept the retail dry goods business, and Hope opened London's first essentially wholesale business, selling dry goods, groceries, and hardware (the last department, managed by his younger brother Charles James, sold also at retail). Adam Hope and Company quickly developed a large clientele in the small centres north and west of London, and by 1856 Hope estimated the net value of his capital in the business at £10,000. Like most Upper Canadian businesses, this one suffered reverses in the 1857 depression, but Hope proved a canny manager, writing off many bad debts, scouring the countryside for new accounts, and closely scrutinizing his costs and profit margins.
By 1865 Hope, still with the support of Buchanan, Harris and Company, had put his London business on an excellent footing. But Isaac Buchanan, whose Hamilton business had not recovered as had Hope's, offered the latter a partnership in his Hamilton and Glasgow firms; Hope's job was to do for the Hamilton business what he had done in London since 1857. He leapt at the chance of a partnership in what had long been Canada West's largest wholesale house. Only after he had liquidated most of his London business, become a partner in Buchanan, Hope and Company of Hamilton and in Peter Buchanan and Company of Glasgow, and moved the retail hardware department to Hamilton, did he discover that he had been misled by Isaac Buchanan's usual business optimism and his own ambition. Despite his best efforts, he could not avert bankruptcy. Buchanan, Hope and Company failed in 1867, with fierce quarrelling among its partners. Hope, his brother Charles, and Robert Wemyss (who had been Isaac Buchanan's and Hope's Glasgow partner) acted to keep Adam Hope and Company, the hardware firm, which legally was partially distinct, from failing as well. They were obliged to pay $95,000 owed to Buchanan, Hope and Company and bills of Peter Buchanan and Company. The bills, which totalled nearly £35,000 sterling, were due mainly to the Union Bank of Scotland, and Adam Hope and Company stood as their guarantor. The only resources left to Adam Hope and Company were Charles Hope's modest capital, established customers in western Ontario, and the high confidence of another creditor, Henry Rogers, Sons and Company, hardware merchants of Wolverhampton, England, in the Hope brothers now that their operations were divorced from Isaac Buchanan's.
Remarkably, the Hopes and Wemyss paid all their debts, though the brothers eventually broke with Wemyss. They were fortunate that the iron and hardware business would be the strongest trade in the next phase of Hamilton's development, yet even so their recovery was a great achievement. They opened a branch in Toronto in 1868, but closed it in 1871; a Montreal branch, A. and C. J. Hope and Company, also opened in 1868, did better. When he died, Hope was able to leave to his brother and sons a successful iron and hardware firm.
Adam Hope shared the liberal outlook and Unitarian religion of his family. After the Upper Canadian rebellion of 1837 in which he fought as a private in the St Thomas Volunteers, he became an influential figure in the developing Reform party in western Upper Canada, though he never stood for election. It was a fitting climax to a lifetime of committed party activity in London and Hamilton that he was named to the Senate in 1877. There he was a partisan Liberal who spoke mainly on business issues. He denounced the National Policy with special passion; a lifelong free trader, he had remained true to his faith even through his long association with and dependence on that ardent protectionist, Isaac Buchanan.
Despite breaks in his career caused by changes in location and bankruptcy, Hope was an important figure in the business communities of London and Hamilton. He was president of the City of London Building Society throughout its existence, and, before leaving London in 1865, was briefly president of the newly organized Huron and Erie Savings and Loan Society, later to be one of the principal business institutions of western Ontario. He was first president in 1857 of the London Board of Trade. In 1872 he helped found and became first president of the Hamilton Provident and Loan Society, a mortgage and savings company that, by drawing on British capital, grew rapidly into one of the largest of the almost 50 such companies then operating in Ontario. He remained president until his death. In 1874 he was elected a director of the Canadian Bank of Commerce, a post he also held until he died; he was the bank's vice-president from 1876 to 1879.
Having come to Canada alone and without capital, Adam Hope had made his own way by hard work, ability, and integrity. His life was a clear affirmation of the liberal values in which he so strongly believed.
HPL, Adam Hope letters, 1834–37 (typescript); Hamilton biog., Adam Hope; Hope family. PAC, MG 24, D16. Can., Senate, Debates, 1877–82. The Canadian Bank of Commerce: charter and annual reports, 1867–1907 (2v., Toronto, 1907), I. Evening Times (Hamilton, Ont.), 8 Aug. 1882. Globe, 9, 11 Aug. 1882. Monetary Times, 1868–82. CPC, 1880. Cherrier & Kirwin's Hamilton directory for 1872–73 . . . (Montreal, 1872). City of Hamilton directory for 1871–2 . . . , comp. H. N. McEvoy (Hamilton, 1871). DNB (entry for George Hope). Dominion annual register, 1882: 346. Railton's directory for the city of London, C.W. . . . 1856–1857 (London, [Ont.], 1856). Sutherland's city of Hamilton and county of Wentworth directory for 1868–9, comp. James Sutherland (Hamilton, n.d.). History of the county of Middlesex, Canada . . . (Toronto and London, Ont., 1889; repr. with intro. D. J. Brock, Belleville, Ont., 1972). P. D. W. McCalla, "The Buchanan businesses, 1834–1872: a study in the organization and development of Canadian trade" (dphil thesis, Univ. of Oxford, 1972).
© 1982–2023 University of Toronto/Université Laval
Image Gallery

Cite This Article
Douglas McCalla, "HOPE, ADAM," in Dictionary of Canadian Biography, vol. 11, University of Toronto/Université Laval, 2003–, accessed December 3, 2023, http://www.biographi.ca/en/bio/hope_adam_11E.html.
The citation above shows the format for footnotes and endnotes according to the Chicago manual of style (16th edition). Information to be used in other citation formats:
| | |
| --- | --- |
| Permalink: | http://www.biographi.ca/en/bio/hope_adam_11E.html |
| Author of Article: | Douglas McCalla |
| Title of Article: | HOPE, ADAM |
| Publication Name: | Dictionary of Canadian Biography, vol. 11 |
| Publisher: | University of Toronto/Université Laval |
| Year of publication: | 1982 |
| Year of revision: | 1982 |
| Access Date: | December 3, 2023 |