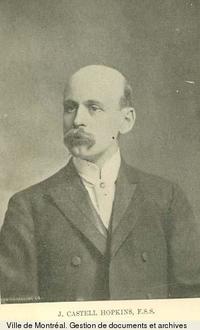 Source: Link
HOPKINS, JOHN CASTELL, bank clerk, author, and imperialist; b. 1 April 1864 in Dyersville, Iowa, eldest son of John Castell Hopkins and Triandra Phelia Boyd Heu-de-Bourck; m. 2 Oct. 1906 Annie Beatrice Mary Bonner in Toronto, and they had two daughters; d. there 5 Nov. 1923.
Of British parentage, Castell Hopkins moved as a child with his family to Bowmanville, Ont., where he completed his education. Between 1883 and about 1891 he worked as a clerk with the Imperial Bank of Canada, first in Bowmanville and from 1889 in Toronto. During the mid 1880s the British imperial tie became one of his abiding passions: in Ingersoll on 28 May 1886 he played a key role in the formation of the Ontario branch of the Imperial Federation League and in November 1888 he became an honorary secretary of the dominion League. During this period he set his sights too on a literary career; in February 1887 Goldwin Smith* of Toronto had applauded, but declined to contribute to, Hopkins's planned project to "diffuse correct information about the Colonies." Hopkins left banking to join the strongly imperial Toronto Empire, where he quickly moved from clerk to associate editor, a position he relinquished in 1894 to freelance full-time.
Hopkins did not possess a "hardy physique" but he was a fast writer, one who allowed few distractions. An Anglican, he did not marry until 1906 (Annie Bonner, a Roman Catholic, was half his age). According to one biographer, his "life was one of great nervous activity" and "his literary output was probably larger than any other publicist in the Dominion." In a writing career that spanned three decades, he produced some 40 books and pamphlets, wrote extensively for newspapers, journals, and other publications in Canada and abroad, and coordinated and edited a number of series, including the first encyclopedia on Canada. Produced in six volumes between 1898 and 1900, this work, a good deal of it prepared by Hopkins himself, was meant to document authoritatively Canada's past and present; Canada "requires only to be known in order to be great," he wrote. In addition, each year between 1901 and 1923 he edited and wrote much of the ambitiously conceived, massively detailed, and still widely consulted Canadian annual review of public affairs, which he intended to be an impartial compendium of statistics, current events, speeches, and press opinions. He was assisted in this project by his wife.
A good deal of Hopkins's work reflected his strong attachment to British imperialist philosophy, a gospel that had a wide audience. Closely related and also evident was a romanticized sense of history and an acceptance of the popular idea of progress. For Hopkins these strands came together in a view of national development that stressed Canada's advancement under British guidance. The logical goal was membership in an imperial federation in which Canada would play a key role. Like most imperialists, Hopkins was suspicious of possible aggression by the United States and he loathed what he saw as its excessive democracy and materialism. He provided hagiographical depictions of groups who championed the British connection, such as the United Empire Loyalists and Canada's defenders in the War of 1812; chosen individuals such as Prime Minister Sir John Sparrow David Thompson* were squeezed into an imperial mould, regardless of their true sentiments. Similarly, in well-meant but condescending caricature, French Canadians were cast as loyal habitants. Hopkins took his imperialism very seriously, and did not hesitate to publicize its trappings. In 1910, for example, he issued a pamphlet on the origins of Empire Day in Canada (in which he gave credit to Sir George William Ross*, thus undermining the claim of Hamilton imperialist Clementina Fessenden [Trenholme*]).
Whatever the imperial crusade, Hopkins offered unqualified support. In South Africa and the Boer-British war . . . (Brantford, Ont., 1900) he upheld the cause by defending the liberty of Anglo Uitlanders against autocratic and cruel Dutch Boers. He went on to portray World War I as a struggle between British civilization and German authoritarianism, so that in such works as The province of Ontario in the war . . . (Toronto, 1919) he used his pen as a sword to rally Canadians. He came to celebrate the war years as Canada's coming of age within the international community, something demonstrated, he said, by the acceptance of Canadian delegations at the Paris Peace Conference in 1919 and the League of Nations. However, he insisted that this new status had been attained with Britain's support and thus did not adversely affect the dominion's commitment to the empire. He could not recognize that the nationalism generated by the war had, in fact, moved Canada away from Britain, a trend reinforced during the 1920s by a desire to avoid costly involvement in another European conflict. Furthermore, the United States had become Canada's pre-eminent trading partner. The declining influence of imperialism was also reflected in scholarly works that explained the essence of Canada by reference to theories centred on North America.
Most of Hopkins's work thus fell into obscurity after his death in 1923, little of it sustained by literary merit. Much had been written in haste, the result of professional need and journalistic energy. In a patronizing critique of one of his books, academic historian William Stewart Wallace* said its only use was "to lend an air of refinement to the parlours of many farmhouses throughout the countryside." Referring to Hopkins's deferential treatment of Thompson, which came out within two months of his death, historian P. B. Waite finds its language "flat, even flatulent" and the biography "for most purposes dead."
If, as Carl Berger suggests, Hopkins did not mix easily with such elite imperialists as George Taylor Denison, he did correspond with most of Canada's leading imperialist thinkers, and important links were maintained through his many associations. A member of the Orange order, the Sons of England, and the council of the British Empire League, he was president in 1891–92 of the Toronto Young Men's Liberal Conservative Association and in 1910–11 of the Empire Club of Canada, which he had helped found in 1903. Connections were no doubt made too through his memberships in major historical societies and the Toronto-based Albany Club, Rosedale Golf Club, and Royal Canadian Yacht Club. He was, as well, a fellow of the Royal Statistical Society, the Royal Geographical Society, and the Royal Society of Literature of the United Kingdom.
Hopkins's books, pamphlets, and articles provide considerable insight into the imperialist mindset that so profoundly affected Canadian politics and society during the late 19th and early 20th centuries. Longer lasting in impact was the meticulous effort made by Hopkins to record contemporary history in his Canadian annual review, a project that was carried on by his wife from 1923 to 1936 and, after a long hiatus, was reborn in 1960.
There is no comprehensive listing of John Castell Hopkins's publications, but partial ones appear in Middleton, Municipality of Toronto, vol.2: 32–33, and in an ma paper prepared by the author, "The policies of Canada's chief press censor during the Great War" (ma memoir, Carleton Univ., Ottawa, 1986). Most of Hopkins's books and pamphlets have been made available on microfiche by the CIHM and are listed in its Reg.
Representative publications include Canada and the empire; a study of imperial federation (Toronto, 1890); Canada and American aggression ([Montreal, 1892]); The maple leaf and the Union Jack: a brief study of the imperial connection (Toronto, 1892); the entries for "D'Alton McCarthy," "Wm. Ralph Meredith," and "Charles H. Tupper," in Men of the day: a Canadian portrait gallery, ed. L.-H. Taché (32 ser. in 16v., Montreal, 1890–[94]), 14th, 20th, and 24th ser., respectively; Life and work of Mr. Gladstone; a great and varied career (Toronto and Brantford, Ont., 1895); Life and work of the Rt. Hon. Sir John Thompson . . . (Toronto, 1895); Queen Victoria: her life and reign . . . (Toronto and Brantford, 1896; another ed., Toronto, 1901); The sword of Islam; or, suffering Armenia . . . (Brantford and Toronto, 1896); Progress of Canada in the nineteenth century . . . (Toronto and Brantford, 1900); The story of the dominion: four hundred years in the annals of a continent . . . (Philadelphia and Toronto, 1901); The origin and history of Empire Day (Toronto, 1910); French Canada and the St. Lawrence; historic, picturesque and descriptive (Toronto, 1913; repr., 1974); "The war of 1812–15," OH, 12 (1914): 42–57; and Canada at war, a record of heroism and achievement, 1914–1918 (Toronto, 1919).
Hopkins also edited Canada, an encyclopædia of the country: the Canadian dominion considered in its historic relations, its natural resources, its material progress, and its national development (6v., Toronto, 1898–1900), to which he contributed numerous articles, among them "The imperial federation movement in Canada," 6: 53–57.
AO, F 102; RG 80-2-0-227, no.45365; RG 80-5-0-344, no.3324. LAC, MG 29, D35. Globe, 7 Nov. 1923. Toronto Daily Star, 6 Nov. 1923. World (Toronto), 3 Oct. 1906. Carl Berger, The sense of power; studies in the ideas of Canadian imperialism, 1867–1914 (Toronto and Buffalo, N.Y., 1970). Canadian men and women of the time (Morgan; 1898 and 1912). Canadian who's who, 1910. Directory, Toronto, 1889–1900. Encyclopaedia of Canadian biography . . . , vol.3: 55. The Oxford companion to Canadian history and literature, ed. Norah Story (Toronto, 1967). Standard dict. of Canadian biog. (Roberts and Tunnell), vol.2. P. B. Waite, The man from Halifax: Sir John Thompson, prime minister (Toronto, 1985). Who's who in Canada, 1922.
© 2005–2023 University of Toronto/Université Laval
Cite This Article
Jeffrey A. Keshen, "HOPKINS, JOHN CASTELL," in Dictionary of Canadian Biography, vol. 15, University of Toronto/Université Laval, 2003–, accessed November 30, 2023, http://www.biographi.ca/en/bio/hopkins_john_castell_15E.html.
The citation above shows the format for footnotes and endnotes according to the Chicago manual of style (16th edition). Information to be used in other citation formats:
| | |
| --- | --- |
| Permalink: | http://www.biographi.ca/en/bio/hopkins_john_castell_15E.html |
| Author of Article: | Jeffrey A. Keshen |
| Title of Article: | HOPKINS, JOHN CASTELL |
| Publication Name: | Dictionary of Canadian Biography, vol. 15 |
| Publisher: | University of Toronto/Université Laval |
| Year of publication: | 2005 |
| Year of revision: | 2005 |
| Access Date: | November 30, 2023 |