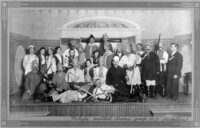 HUMENILOVYCH, ANNA (Bochovs'kyy; Yonker), homemaker and community activist; b. 8 Dec. 1891 in Kalush, Galicia (Ukraine), daughter of Dmytro Humenilovych and Anna Sorochtiw (Sorokhtiv); m. first Stepan Bochovs'kyy, and they had a son and a daughter; m. secondly 25 April 1918 Dr Henry Lambert Yonker (d. 1968) in Chicago, Ill., and they had a daughter; d. 6 May 1936 in Winnipeg.
It is unclear whether Anna Humenilovych came to Canada alone or with a relation. Her biographer, Irena Knysh, writing in 1964, surmised that she was about 17 when she and her father joined family members already in Winnipeg, but since she arrived in 1905 or earlier, she was probably closer to 13 or 14 years old. Her education in Galicia had not gone beyond the elementary level, so at first she attended school, where she learned English. Her father soon left for their native Kalush while Anna stayed on in Canada; she planned to earn money and return later to Galicia. For unknown reasons her plans changed and on 4 May 1908 she became a naturalized citizen.
After her first marriage Anna lived for a time in Edmonton, Alta, where she gave birth to a son and a daughter. On the dissolution of this marriage, she moved back to Winnipeg with the children, perhaps to be with members of her family. Yonker family lore tells of the Cinderella-like romance that developed between Anna and the dashing physician Henry Lambert Yonker (of Dutch American descent) while she worked as a domestic in his home. They were married in 1918.
An intelligent and refined woman, Anna had volunteered in Ukrainian Canadian organizations since her arrival in Canada. Marriage to an affluent physician gave her the financial means and moral support she needed to intensify her involvement in community activities. Primarily engaged in the work of the Ukrainian Red Cross Society in Canada, established in 1919, she was one of those who headed its relief efforts for Ukrainian victims of World War I. She served on the society's central committee, set up early in 1921 to coordinate the endeavours of the two major Ukrainian organizations in Canada, the Ukrainian Canadian Citizens' League and the Ukrainian National Council. The committee provided material and political support for an independent Ukraine. She was also a generous benefactor of the Ukrainian Red Cross. Her sizeable personal donations, though largely to Ukrainian Canadian causes, and her remarkable fund-raising capabilities in arranging door-to-door campaigns, bazaars, teas, and a music festival in a predominantly working-class environment attracted attention beyond the Ukrainian Canadian community. In 1927 she sat on a national committee to aid victims of floods in what is now western Ukraine.
In 1922 Anna had been a co-founder of a local Ukrainian women's group and she was president of its successor, the Association of Canadian Ukrainian Women of Winnipeg, established in 1928 to foster socio-cultural and educational activities. She represented the new body on the Local Council of Women and would be one of its leaders until her death. She was also an active member of the important Ukrainian National Home Association, which functioned as the hub of Ukrainian activity in Winnipeg. Her interests were diverse: she supported the St Petro Mohyla Institute in Saskatoon, the first permanent student residence and cultural centre for Ukrainians in the country; funded the publication of Ukrainian Canadian books; and encouraged amateur-theatre productions and social clubs for young Ukrainians.
Anna's efforts on behalf of an independent Ukraine and Ukrainian Canadians drew admiration from many, including Ukrainian politician Olena Kysilevska and social activist Milena Rudnytska. According to her biographer, she impressed Senator Cairine Reay Wilson [Mackay*] with her work. In 1930 Anna attended the meeting of the International Council of Women, held in Vienna. She is said to have interested its president, Lady Aberdeen [Marjoribanks], in the Ukrainian cause.
In 1936 Anna succumbed to kidney failure. Her funeral and her interment in Winnipeg's Elmwood Cemetery were attended by hundreds of mourners, both Ukrainian and non-Ukrainian. In her biographical monograph Patriotyzm Anny Ionker/The patriotism of Anna Yonker, Irena Knysh lauds her subject as an advocate of solidarity for Ukrainian women. Historian Frances Swyripa sees her as a pioneer in the forging of links between Ukrainian women and representatives of the mainstream community. While Anna Yonker primarily promoted and influenced the activities and interests of Ukrainian Canadian women, her efforts were not confined to women's concerns alone. She fought for issues that affected the entire Ukrainian Canadian community, issues that were important not only to her homeland, Ukraine, but also to her adopted home, Canada.
Anna Yonker is the author of "Moi vrazhennia z podorozhi do Halychyny i z pobutu na mizhnarodnim zhinochim kongresi u Vidni" [My impressions of a trip to Galicia and of my participation in the international congress in Vienna], Kanadyiskyi farmer/Canadian Farmer (Winnipeg), 4, 11 Feb. 1931; extracts from this work have been published in Irena Knysh et al., Na sluzhbi ridnoho narodu/In service of our homeland (2v., Winnipeg, 1955–84).
Private arch., G. H. Myers (Lethbridge, Alta), Passports of Anna and H. L. Yonker. Winnipeg Free Press, 6 May 1936. June Dutka, "Anna Yonker (née Humenilovych), 1888–1936: activist, philanthropist, patriot," in Extraordinary ordinary women: Manitoba women & their stories, ed. Colleen Armstrong (Winnipeg, 2000), 83–84. Encyclopedia of Ukraine, ed. Volodymyr Kubijovyc (5v. in 6, Toronto, 1984–93). Irena Knysh, Patriotyzm Anny Ionker/The patriotism of Anna Yonker (Winnipeg, 1964). M. H. Marunchak, The Ukrainian-Canadians: a history (2nd ed., Winnipeg and Ottawa, 1982). Frances Swyripa, Wedded to the cause: Ukrainian-Canadian women and ethnic identity, 1891–1991 (Toronto, 1993).
© 2013–2023 University of Toronto/Université Laval
Cite This Article
Alexandra Pawlowsky, "HUMENILOVYCH, ANNA (Bochovs'kyy; Yonker)," in Dictionary of Canadian Biography, vol. 16, University of Toronto/Université Laval, 2003–, accessed May 29, 2023, http://www.biographi.ca/en/bio/humenilovych_anna_16E.html.
The citation above shows the format for footnotes and endnotes according to the Chicago manual of style (16th edition). Information to be used in other citation formats:
| | |
| --- | --- |
| Permalink: | http://www.biographi.ca/en/bio/humenilovych_anna_16E.html |
| Author of Article: | Alexandra Pawlowsky |
| Title of Article: | HUMENILOVYCH, ANNA (Bochovs'kyy; Yonker) |
| Publication Name: | Dictionary of Canadian Biography, vol. 16 |
| Publisher: | University of Toronto/Université Laval |
| Year of publication: | 2013 |
| Year of revision: | 2013 |
| Access Date: | May 29, 2023 |