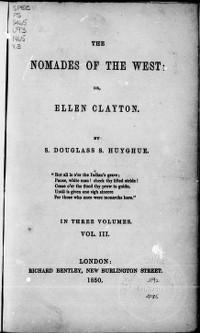 Source: Link
HUYGHUE, SAMUEL DOUGLASS SMITH, writer, office holder, civil servant, and artist; b. 23 April 1816 in Charlottetown, son of Samuel Huyghue, an officer in the British army, and Isabella Clarke Totten; d. 24 July 1891 in Melbourne (Australia).
Lieutenant Samuel Huyghue's regiment was on garrison duty in Charlottetown at the time his first son was born, and the child was christened Samuel Douglass Smith Huyghue in honour of the lieutenant governor of Prince Edward Island, Charles Douglass Smith*. By 25 Oct. 1817 Lieutenant Huyghue was a half-pay officer living in Saint John, N.B. Samuel Douglass Smith may have been educated at the Saint John Grammar School. He began to emerge as a literary man in the period from November 1840 to May 1841, when he used the pseudonym Eugene in sending poetry from Halifax to the Halifax Morning Post & Parliamentary Reporter. By October 1841 he was back in Saint John, publishing an essay on insect life, short fiction, poetry, and the novel Argimou: a legend of the Micmac in the Saint John periodical the Amaranth between that date and January 1843. Although his occasional pieces frequently reveal an interest in native peoples, it is the novel that best illustrates his concerns about the cultural deracination occurring as Europeans pushed the Micmac and Malecite nations toward economic and social assimilation. "We are the sole and only cause of their overwhelming misery, their gradual extinction," he notes in the opening chapter, and in the succeeding adventure story, set in 18th-century New Brunswick, he compares the virtues of natural man "unrestrained by penal codes, or chains, or strong dungeons" with the hypocrisy and luxury of western civilization. The first Canadian novel to describe the Acadian expulsion of 1755 and one of the first novels of social conscience in Canada to explore the fate of native peoples, Argimou enjoyed enough popularity to be reissued in book form in Halifax in 1847 and in serial form in the Saint John Albion in 1859–60.
Huyghue's activities in Saint John in the early 1840s included assisting the province's commissioner of Indian affairs, Moses Henry Perley*, in arranging an exhibition of Indian artefacts for display at the grand bazaar of the mechanics' institute in May 1843. His interest in native peoples and his knowledge of the Saint John River area were further enhanced in these years by his appointment as a commissary agent for the boundary commission that began surveying the line between New Brunswick, Lower Canada, and Maine in 1843 [see James Bucknall Bucknall Estcourt*]. A Fredericton diary indicates that on 28 Aug. 1846 Huyghue talked with friends there "till near 11 . . . about poets and poetry," but by the late 1840s he seems to have left New Brunswick for London, England. There, in 1849 and 1850, Bentley's Miscellany published his vivid account of his 1843–44 sojourn in northern New Brunswick and his sketches entitled "Recollections of Canada: the scenery of the Ottawa" and "Forest incidents: recollections of Canada."
The London census shows him living on Great Russell Street in lodgings on 30 March 1851. His description of himself as a novelist in the census was reinforced by the publication in 1850 of Nomades of the west; or, Ellen Clayton, a novel of Indian life described by the London Morning Post as "a very pleasant book, with some vivid sketches of Indian life, many interesting adventures, and much delightful description of scenery in Canada so early as the year 1690." In his preface Huyghue repeated his message that the Indian was rapidly becoming extinct under the pressure of western civilization. "Now I have lived in the wigwam of the Red Man; I have smoked, talked, and hunted with him," he noted, "[and] . . . for me he ever appeared less a savage than a high-souled and religious being." This combination of primitivism and social conscience had probably attracted publisher Richard Bentley to the novel. The contract he offered Huyghue allowed him half the profits after expenses but the book lost £34 3s. 0d. It seems to have marked the end of Huyghue's attempt to be a professional writer in London.
Huyghue sailed for Australia, arriving in Melbourne, Victoria colony, on 4 Feb. 1852. Having joined the permanent staff of the civil service, on 27 Aug. 1853 he was appointed a clerk in the Office of Mines at Ballarat. In December 1854 he was an eyewitness to the Eureka uprising on the goldfields there and under the pseudonym Pax wrote one of the first accounts of it. He remained at Ballarat until 1872 and then held clerkships elsewhere in the colony until his retirement on 9 Jan. 1878. Throughout Huyghue's period in Australia, he demonstrated some skill as an artist and illustrator. Drawings of his were published in a history of Ballarat, and a water-colour of The Eureka stockade hangs in the Ballarat Art Gallery. He also maintained his interest in scientific subjects, anthropology, and literature. Although he considered his career "chequered," his concern with these subjects provides a thread of continuity. In 1988 a Micmac chief's outfit acquired by Huyghue in New Brunswick in 1840 was returned to Canada from Australia and toured nationally as part of the exhibition "The spirit sings: artistic traditions of Canada's first peoples."
Poems written by Samuel Douglass Smith Huyghue under the pseudonym Eugene were published in the Halifax Morning Post & Parliamentary Reporter, 19, 27 Nov., 5, 26 Dec. 1840, and 16 Jan., 25 May 1841. Stories, articles, and poems presented under the same pseudonym appeared in the Amaranth (Saint John, N.B.), October–November 1841, January–May 1842, and January 1843. His novel Argimou: a legend of the Micmac was serialized in that periodical between May and September 1842; it has been republished, with an introduction by Gwendolyn Davies (Sackville, N.B., 1977; 2nd ed., [1979]). Only one copy of the 1847 Halifax edition has been located; it is preserved in the library of the PANS. Like most of the articles which appeared in Bentley's Miscellany (London), Huyghue's Nomades of the west; or, Ellen Clayton (3v., London, 1850), was published under his own name.
British Library (London), Add. mss 46560–652. N.B. Museum, C11: 35. PANB, MC 300, MS16, no.8, 28 Aug. 1846. PRO, HO 107/1509: 37 (mfm. at Greater London Record Office). St Paul's Anglican Church (Charlottetown), Reg. of baptisms, 12 May 1816 (mfm. at PAPEI). State Library of Victoria (Melbourne), Australian ms Coll., File information concerning S. D. S. Huyghue; R. E. Jones papers, S. D. S. Huyghue, notes, corr, and diaries; "Political dismissals of 1878." Victoria, Legislative Assembly, Votes and proc., with copies of various docs. (Melbourne), 1856–57, paper C43; 1864, papers 3, 43. Morning News (Saint John), 23 March 1850. New-Brunswick Courier, 20 May, 25 Nov. 1843
© 1990–2023 University of Toronto/Université Laval
Image Gallery

Cite This Article
Gwendolyn Davies, "HUYGHUE, SAMUEL DOUGLASS SMITH," in Dictionary of Canadian Biography, vol. 12, University of Toronto/Université Laval, 2003–, accessed November 29, 2023, http://www.biographi.ca/en/bio/huyghue_samuel_douglass_smith_12E.html.
The citation above shows the format for footnotes and endnotes according to the Chicago manual of style (16th edition). Information to be used in other citation formats:
| | |
| --- | --- |
| Permalink: | http://www.biographi.ca/en/bio/huyghue_samuel_douglass_smith_12E.html |
| Author of Article: | Gwendolyn Davies |
| Title of Article: | HUYGHUE, SAMUEL DOUGLASS SMITH |
| Publication Name: | Dictionary of Canadian Biography, vol. 12 |
| Publisher: | University of Toronto/Université Laval |
| Year of publication: | 1990 |
| Year of revision: | 1990 |
| Access Date: | November 29, 2023 |