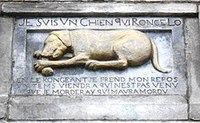 Source: Courtesy of Wikimedia Commons
JACQUIN, dit Philibert, NICOLAS, merchant trader, hero of the legend of the Golden Dog; b. 1700 in the small market-town of Martigny (Martigny-les-Bains, dept. of Vosges, France), son of Jean-Claude Jacquin, a merchant, and Anne Perrot, d. 21 Jan. 1748 in Quebec.
We do not know when Nicolas Jacquin, dit Philibert, came to live in New France. In 1733 he was already in business in Quebec; there on 23 November he married Marie-Anne Guérin, daughter of the tailor Louis Guérin. Of this marriage four children were born, the eldest of whom, Pierre-Nicolas, became one of the characters in William Kirby*'s famous novel, The Golden Dog. As a well-to-do merchant – he had eight domestic servants – Nicolas Jacquin seems to have been rather well known among the ruling class; he was purveyor to the troops for several years, and according to certain documents he is believed to have been king's purveyor. But it was first and foremost through the legend about his name that he passed into history.
On 20 Jan. 1748 the bourgeois Philibert had a violent altercation with Pierre-Jean-Baptiste-François-Xavier Legardeur* de Repentigny, an officer in the colonial regular troops, over a billeting order the latter had received, authorizing him to be lodged by Philibert. Being unwilling to take him, Philibert is supposed to have gone to the home of a certain Mme Lapalme (perhaps Marie-Geneviève Pelletier, the widow of Pierre Janson, dit Lapalme), where the officer was already living, and to have asked her to keep the Sieur de Repentigny in her home. Having been unable to come to an agreement over the price of the room, he is supposed to have told the woman that he was going to have the order changed. Thereupon the officer intervened and told the merchant, among other things, "that he was a fool to want to make this change." Philibert was much offended, and "not content with uttering the most vulgar insults . . . struck him with his cane." Losing his temper, the officer is supposed to have "drawn his sword and wounded the aforementioned Philibert, who died as a result some time later." That is the version that can be read in the reprieve given the assailant by the king the following year. Another version, to be found in a letter sent by the merchants François Havy and Jean Lefebvre to a correspondent in Montreal a week after the incident, gives a quite different account. According to these witnesses, the Sieur de Repentigny had begun heaping insults upon the merchant, and the discussion had continued on a very sharp note. Finally, it was said, the officer shoved the merchant out of the house, then went to his room to get his sword and ran after Philibert to inflict the sword thrust of which he died the following day. When the law proceeded against the Sieur de Repentigny, he fled to Fort Saint-Frédéric (Crown Point, N.Y.); on 20 March 1748 he was condemned by default to be decapitated. In April 1749, after his family had paid the victim's widow 8,675 livres 10 sols in damages and interest, he obtained his reprieve.
It was this incident, later related to an inscription on the façade of his house bearing the date 1736, that is, 12 years before Philibert's death, that gave rise to the legend of the Golden Dog. This inscription, which was accompanied by a bas-relief representing a dog holding a bone between its paws, read as follows:
Je svis vn chien qvi ronge lo
en le rongeant je prend mon repos
vn tems viendra qvi nest pas venv
qve je morderay qvi mavra mordv
and it is translated in Kirby's novel:
I am a dog that gnaws his bone,
I couch and gnaw it all alone –
A time will come, which is not yet,
When I'll bite him by whom I'm bit.
In 1759 the British officer John Knox* made the first allusion to the enigmatic inscription in his Historical Journal. Having been unable to obtain any information about its origins, he ventured an explanation that was, to say the least, fanciful: the dog was supposed to be the symbol of the colony's faithfulness in defending the country against the Indians. In 1829 the clergyman George Bourne published a first account of the legend, which was repeated, with variants, by James Pattison Cockburn* in 1831 and Alfred Hawkins* in 1834. According to this account Philibert had put this inscription on the façade of his house for Intendant Bégon's benefit, according to Hawkins, or for that of Bigot*, according to Bourne and Cockburn. The angry intendant is supposed to have had Philibert murdered by the Sieur de Repentigny, then allowed the officer to flee to India. Later, one of the victim's brothers is supposed to have caught up with the murderer in Pondicherry (India) and killed him in a duel.
In his novel, published in 1877, William Kirby took up the main elements of the legend, which he incorporated into his huge fresco and to which he added certain details borrowed from James MacPherson Le Moine*. Because of the many editions it has gone through, the work has certainly contributed to popularizing the legend of the Golden Dog.
As for the sign, which until this day decorates the façade of the post office located at the corner of Côte de la Montagne and Rue Buade (where Philibert's house stood), the best explanation of its origin is probably that offered by Benjamin Sulte*. Before 1700 the house in question was lived in by the surgeon Timothée Roussel*, who originally came from Montpellier in France. According to Sulte, some 40 kilometres from there, at Pézenas, was an inscription bearing the date 1561 which was nearly identical with the one in Quebec. It may fairly reasonably be supposed that the surgeon had wanted to reproduce the sign he had seen in his childhood and thus keep a memento of his native region. Again according to Sulte, the date 1736 was probably inscribed by Philibert when he made an addition to his new house.
Knox, Historical journal (Doughty), 206–7. "Recensement de Québec, 1744" (APQ Rapport), 22, 29. Tanguay, Dictionnaire. George Bourne, The picture of Quebec (Quebec, 1829). [J. P. Cockburn], Quebec and its environs; being a picturesque guide to the stranger (Quebec, 1831). Alfred Hawkins, Picture of Quebec with historical recollections (Quebec, 1834). William Kirby, The Golden Dog (Rouses Point, N.Y., 1877). P.-G. Roy, Toutes petites choses du régime français (2 sér., Québec, 1944), 2e sér., 79–81. Léonce Jore, "Pierre, Jean-Baptiste, François-Xavier Le Gardeur de Repentigny," RHAF, XV (1961–62), 556–71. "L'origine du 'Chien d'Or'," BRH, XXII (1916), 15. P.-G. Roy, "L'histoire vraie du Chien d'Or," Cahiers des Dix, X (1945), 103–68. Benjamin Sulte, "Le Chien d'Or," BRH, XXI (1915), 270–73.
© 1974–2023 University of Toronto/Université Laval
Image Gallery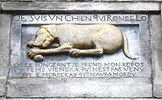 Cite This Article
Jean-Claude Dupont, "JACQUIN, Philibert, NICOLAS," in Dictionary of Canadian Biography, vol. 3, University of Toronto/Université Laval, 2003–, accessed November 30, 2023, http://www.biographi.ca/en/bio/jacquin_nicolas_3E.html.
The citation above shows the format for footnotes and endnotes according to the Chicago manual of style (16th edition). Information to be used in other citation formats:
| | |
| --- | --- |
| Permalink: | http://www.biographi.ca/en/bio/jacquin_nicolas_3E.html |
| Author of Article: | Jean-Claude Dupont |
| Title of Article: | JACQUIN, Philibert, NICOLAS |
| Publication Name: | Dictionary of Canadian Biography, vol. 3 |
| Publisher: | University of Toronto/Université Laval |
| Year of publication: | 1974 |
| Year of revision: | 1974 |
| Access Date: | November 30, 2023 |