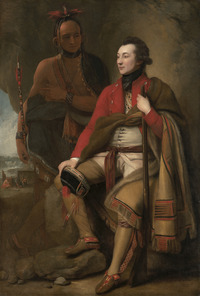 Source: Courtesy of Wikimedia Commons
JOHNSON, GUY, Indian department official; b. c. 1740 in Ireland; d. 5 March 1788 in London, England.

Guy Johnson may have been the midshipman of that name who served on hms Prince in 1755. On arriving in North America Guy claimed that Sir William Johnson, the British superintendent of northern Indians, was his uncle but their relationship was probably more distant. Although young, he served through the Seven Years' War as an officer in the provincial forces, commanding a company of rangers under Jeffery Amherst in 1759 and 1760. He acted as secretary in the northern Indian department until 1762 when Johnson appointed him a deputy agent. In 1763 he married Sir William's youngest daughter, Mary (Polly), and established his home at Guy Park near present Amsterdam, N.Y. While performing his duties in the Indian department, he was also active in military and political affairs, rising to colonel and adjutant-general of the New York militia and being elected to the New York assembly for 1773–75.
Upon Sir William's death in July 1774, Guy was directed by Lieutenant-General Gage to assume the duties of superintendent pending confirmation by the crown. Faced with mounting revolutionary activity, Guy, his brother-in-law Sir John Johnson*, and Christian Daniel Claus attempted to organize resistance in the Mohawk valley to the usurpation of authority by the Tryon County committee of safety. With the beginning of armed rebellion in 1775, he devoted his full energies to retaining the allegiance to the crown of the powerful Six Nations Confederacy. He was unable to fulfil this task in the increasingly hostile environment of the Mohawk valley, and he and a few hundred loyal residents left in May 1775. At Oswego Johnson met with more than a thousand Iroquois and secured their pledge to protect the St Lawrence River–Lake Ontario supply route should the rebels threaten it. He failed, however, to obtain their active support for the crown's effort to suppress the spreading rebellion. At Oswego his young wife died on 11 July, leaving him with two small daughters.
Johnson proceeded to Montreal where he secured assurances of aid from the Canadian Indians, but finding his authority challenged by the newly arrived agent of Indian affairs for the province of Quebec, John Campbell, he left for England in November to clarify the scope of his superintendency. He failed to have the Canadian Indians returned to his jurisdiction, but he accepted appointment as superintendent of the Six Nations and returned to America in the summer of 1776. He joined Sir William Howe's army at New York and, expecting the rebellion in the colony to be crushed by the campaign of 1777, remained in the city until Burgoyne's defeat near Saratoga (Schuylerville) dashed such hopes. He then attempted to reach Canada by ship, but the scarcity of transport, the activity of the French fleet, and bad weather prevented him from reaching Montreal before the spring of 1779. Johnson was criticized for leaving the management of his department to two subordinates, John Butler at Niagara (near Youngstown, N.Y.) and Daniel Claus at Montreal, during the crucial years 1776–79. He maintained that he had kept in contact with his deputies and even claimed credit for planning the devastating raids against the Wyoming valley in 1778 and the Schoharie valley settlements in 1780 [see Kaieñˀkwaahtoñ]. It is clear, however, from the correspondence of Claus, Butler, Sir John Johnson, General Haldimand, and others that he had little or no influence on the operation of the Indian department from 1776 to late 1779. Circumstances may have justified his long stay in New York City, but the regular communications that existed between there and Montreal provided him with the means by which he could have guided departmental policy. His neglect was inexcusable.

Johnson reached Niagara in the autumn of 1779. Despite Haldimand's protests about costs, he succeeded in providing for the thousands of Iroquois driven from their homes by the American campaign of 1779, and he directed large-scale Indian and loyalist raids against the frontier, destroying massive quantities of produce needed by the rebel army. In 1783 he turned over the Indian department to Sir John Johnson, who after 1778 had become Haldimand's chief adviser on Indian affairs, and returned to England to obtain restitution for property confiscated by the rebels. While still pressing his claim, he died in London on 5 March 1788.
There is a portrait of Johnson by Benjamin West in the National Gallery of Art (Washington) and one by an unknown painter in the N.Y. State Hist. Assoc. Museum (Cooperstown). BL, Add. mss 21766; 21769–70; 24323, ff.11, 14, 20, 22, 26. Huntington Library, Loudoun papers, LO 683, LO 2505. PAC, MG 19, F1; RG 10, A2. PRO, Adm. 36/6373, p.42. Johnson papers (Sullivan et al.), I, VIII, XIII. The minute book of the committee of safety of Tryon County . . . , ed. J. H. Hanson and S. L. Frey (New York, 1905). NYCD (O'Callaghan and Fernow), VIII. DNB. Graymont, Iroquois.
© 1979–2023 University of Toronto/Université Laval
Cite This Article
Jonathan G. Rossie, "JOHNSON, GUY," in Dictionary of Canadian Biography, vol. 4, University of Toronto/Université Laval, 2003–, accessed December 4, 2023, http://www.biographi.ca/en/bio/johnson_guy_4E.html.
The citation above shows the format for footnotes and endnotes according to the Chicago manual of style (16th edition). Information to be used in other citation formats:
| | |
| --- | --- |
| Permalink: | http://www.biographi.ca/en/bio/johnson_guy_4E.html |
| Author of Article: | Jonathan G. Rossie |
| Title of Article: | JOHNSON, GUY |
| Publication Name: | Dictionary of Canadian Biography, vol. 4 |
| Publisher: | University of Toronto/Université Laval |
| Year of publication: | 1979 |
| Year of revision: | 1979 |
| Access Date: | December 4, 2023 |