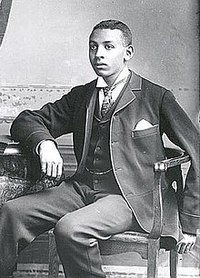 Source: Courtesy of Wikimedia Commons
JOHNSTON, JAMES ROBINSON, lawyer and community leader; b. 12 March 1876 in Halifax, eldest of the five sons of William Johnston, a shoemaker, and Elizabeth Ann Thomas; nephew of Louisa Ann Johnson; m. 26 Feb. 1902 Janie (Jennie) May Allen in Windsor Junction, N.S., and they had one child; d. 3 March 1915 in Halifax.
The nuptials of Elizabeth Ann Thomas, eight months pregnant with James Robinson Johnston, were performed by her father, the Reverend James Thomas, the Welsh-born leader of the black Baptists in Nova Scotia. Although his grandfather died when James was three years old, he benefited from the Thomas family connection, which produced several of the leaders of the Halifax black community in the last quarter of the 19th century. These included William B. Thomas, Thomas's third son, Peter Evander McKerrow*, who married the pastor's eldest daughter, and James's father.
As a result of school reform and his own abilities, Johnston was transferred from the black, inner-city Maynard Street School, where he had enrolled in 1882, to the nearby Albro Street School in 1887, and he finished his public school education at the Halifax Academy before entering Dalhousie University in 1892. His was the first generation of African Nova Scotians to penetrate the province's halls of higher learning. Most blacks did not stay the course or transferred elsewhere. Johnston graduated with a b.litt. in 1896, the first black to earn a Dalhousie degree, and an llb in 1898. In the latter stages of his legal studies he was articled to Frank Weldon Russell. Johnston was admitted to the Nova Scotia bar in July 1900. His legal career was considerably enhanced by the patronage of John Thomas Bulmer*, who had represented many prominent black men in their legal battles with the establishment during the last decades of the 19th century. Bulmer took Johnston into his law firm to complete his studies and begin his practice. Bulmer's early death in 1901 enabled Johnston to take over the firm. He was the only black to practise law in Nova Scotia before World War I.
For 14 years Johnston frequently appeared as counsel in trials in various courts and at military tribunals. Although he represented Nova Scotian blacks in criminal and civil cases and acted as their advocate in property, probate, and rights issues, his clientele was much broader. Indeed it seems unlikely he could have made a living had his career been shaped by service dedicated to the black community. Fortunately, he encountered less racism than was common at that time in Nova Scotia: the quest for respectability by his father's generation had paved the way for his acceptance. His participation in local society was, however, tinged with tokenism. For example, he alone of the Halifax black community was presented to royalty in 1901 when the Duke and Duchess of Cornwall visited the city. In return for personal recognition he was expected by his confrères in the Conservative party to deliver the black vote and by his profession to represent derelict defendants when appointed to do so by the court.
As a lawyer, he participated in a wide variety of cases. He defended a drug addict in police court in 1902 and had charges of rape against black men reduced to attempted rape in the Supreme Court in 1903 and, as assistant to Walter Joseph Aloysius O'Hearn, in the Halifax County Court in 1911. In allegedly the longest court martial held under British regulations he successfully defended a quartermaster against a charge of irregularities in his mess in 1909. Five years later, in the county court, he represented the Intercolonial Railway, the employer of so many men of his race, in prosecutions for stealing.
The impression of a young man on the make with enormous energy emerges from the press, where his social activities, his travels, and even his minor health problems were noted. Within the black community he performed all the important functions save that of preacher, though he often gave ceremonial addresses in the Cornwallis Street Baptist Church. In keeping with family tradition, he was prominent in black associational life. He succeeded Peter McKerrow as secretary of the African Baptist Association of Nova Scotia in 1907, and he followed his uncles into the black freemasons' lodge, Union No.18, becoming a master mason in 1904 and serving as master of the lodge from 1906 to 1908, secretary from 1908 to 1911, and trustee of the hall where the Halifax lodges held their meetings. Similarly, his participation in the Independent Order of Good Templars (Morning Glory Lodge) and the Independent Order of Odd Fellows, Manchester Unity (Wilberforce Lodge), was a foregone conclusion. It was also fitting that he was the major representative of the black lodges in district organizations and activities, as secretary of the Halifax District of the IOGT, associate editor of the Maritime Oddfellow (Halifax), and organizer of his lodge's booth at the masonic fair in 1906.
In addition, Johnston mobilized his people in cultural activities which contributed to the race pride so eagerly advocated around the turn of the century. One expression of black talent was music. Like many of his family and friends, Johnston played the organ, and in 1902 he became president of the newly formed Aetna Club, a black musical organization. Two years later he was secretary to the Colored People's Celebration Committee, formed to mark the 50th anniversity of the establishment of the African Baptist Association. A replica of the public celebrations of Queen Victoria's reign, the jubilee was planned as an annual celebration to bring black Nova Scotians together in an organization which would improve the condition of the black race, but it fell short of its long-term objectives, perhaps because of its Baptist leadership in a period when some prominent blacks belonged to other churches. Johnston also endeared himself to his community by publicly denouncing white racism and attending to individual concerns, as evidenced by the wreaths from the Johnstons that invariably turned up at black funerals. He was perhaps the first in Nova Scotia to advocate the establishment of an industrial school for black children, following the ideas of Booker T. Washington.
No life is perfect, however, and Johnston's had its dark side. As manager of properties left by relatives he occasionally came close to being a slum landlord. He had to meet a constant demand on his patronage from many family members less fortunate than himself. In return for his assistance to his brother-in-law Harry Allen, for whom he secured short-term employment and provided lodging, he was murdered in cold blood in his own home. Allen may have been provoked by Johnston's taunts and criticisms, but five bullets in the head was a hefty revenge to exact. Because the pretext seemed so slight and the defence lawyer was so successful in getting Janie Johnston to claim spousal abuse as a way of exonerating her brother, Johnston's death became "a monumental embarrassment" to the black community. Its leaders rallied to Allen's cause and saved him from the hangman's noose.
Whether or not he had beaten his wife, Johnston had long been familiar with domestic conflict. In his work he was involved in cases brought by the Nova Scotia Society for the Prevention of Cruelty [see John Naylor*], including one for child custody and another for incest. During the sittings of the Supreme Court in Halifax in 1914 he successfully and to great acclaim defended an accused man against a charge of fatally bludgeoning his grandmother-in-law. In his younger days he had witnessed his parents' marital problems. His mother complained to the SPC in 1894 about "ill usage" by his father; by 1901 they had separated, and each claimed to be widowed. Johnston's own marriage appears to have been unhappy, at least according to his widow.
With his reputation besmirched and his financial affairs left in chaos to become the focus of family squabbling, Johnston was soon forgotten. Yet his short career represented the apogee of 19th-century African Nova Scotian ambitions.
[Many of the primary sources available for a study of Johnston's life are cited in [J.] B. Cahill, "The 'Colored Barrister': the short life and tragic death of James Robinson Johnston, 1876–1915," Dalhousie Law Journal (Halifax), 15 (1992): 336–79. In addition, the Acadian Recorder and other daily papers contain numerous references to his work and activities. For context, see Judith Fingard, "Race and respectability in Victorian Halifax," Journal of Imperial and Commonwealth Hist. (London), 20 (1991–92): 169–95; Philip Girard, "'His whole life was one of continual warfare': John Thomas Bulmer, lawyer, librarian and social reformer," Dalhousie Law Journal, 13 (1990): 376–405; Suzanne Morton, "Separate spheres in a separate world: African-Nova Scotian women in late-19th-century Halifax County," Acadiensis (Fredericton), 22 (1992–93), no.2: 61–83; and A. P. Oliver, A brief history of the colored Baptists of Nova Scotia, 1782–1953 . . . ([Halifax, 1953]). j.f.]
© 1998–2023 University of Toronto/Université Laval
Image Gallery

Cite This Article
Judith Fingard, "JOHNSTON, JAMES ROBINSON," in Dictionary of Canadian Biography, vol. 14, University of Toronto/Université Laval, 2003–, accessed November 29, 2023, http://www.biographi.ca/en/bio/johnston_james_robinson_14E.html.
The citation above shows the format for footnotes and endnotes according to the Chicago manual of style (16th edition). Information to be used in other citation formats:
| | |
| --- | --- |
| Permalink: | http://www.biographi.ca/en/bio/johnston_james_robinson_14E.html |
| Author of Article: | Judith Fingard |
| Title of Article: | JOHNSTON, JAMES ROBINSON |
| Publication Name: | Dictionary of Canadian Biography, vol. 14 |
| Publisher: | University of Toronto/Université Laval |
| Year of publication: | 1998 |
| Year of revision: | 1998 |
| Access Date: | November 29, 2023 |