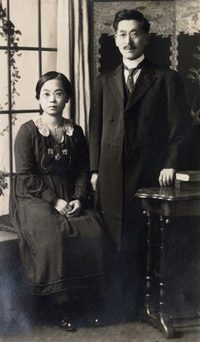 Source: Link
KABURAGI, GORO, Methodist minister and newspaper publisher and editor; b. c. 1854 in Katori county, Chiba prefecture, Japan; m. Kaoru Ishiwara, and they had at least one son; d. 14 May 1926 in Nagoya and was buried in Yamakura village, Chiba prefecture.
Goro Kaburagi's background was quite different from that of most Japanese immigrants to Canada, who were mainly farmers, fishermen, and day labourers. He was likely of the samurai class and had attended the Imperial College of Forestry in Tokyo and Northwestern University in Evanston, Ill. His excellent command of English enabled him to be of considerable assistance to Japanese immigrants in North America.
Admitted to the Methodist ministry in 1879, Kaburagi was leading a congregation of the Methodist Episcopal Church in Columbus, Ohio, in 1896 when he was invited by the Japanese Christian Endeavour Society to minister to Japanese immigrants in British Columbia. The previous year the society had opened a mission at the corner of Pender and Abbott streets in Vancouver. It soon realized the necessity of having a Japanese-speaking minister and approached Kaburagi, who probably returned briefly to Japan before proceeding to Canada in August 1896. Soon after he started his work in 1897, he found the management of an independent mission "difficult," so he appealed successfully to the Methodist Church of Canada for support. In 1903 three city lots were purchased at the corner of Jackson and Powell streets in Vancouver and in September 1906 the Japanese Methodist Church (later Powell Street United Church) was dedicated. It had night-school classrooms as well as dormitories for single men on the upper floors.
Kaburagi's activities went beyond preaching. He led his community in its struggle for civil rights. In 1895 the Legislative Assembly of British Columbia had amended the Provincial Voters' Act and denied the franchise to the Japanese, the Chinese, and East Indians. They were also denied the right to vote in municipal and federal elections since voters' lists for these elections were based on the provincial list. In addition, certain sectors of the provincial civil service and numerous professions required that their members be on the voters' lists, so the amendment effectively barred the Japanese and others from many fields of employment. Kaburagi was a leader of the group that sent Tomekichi Homma to the courts in 1900 to challenge the legislation. Although the Supreme Court of British Columbia and the Supreme Court of Canada ruled that the amendment was ultra vires of the provincial legislature, those decisions were overturned by the Judicial Committee of the Privy Council in 1902.
With the help of the Japanese consul, in 1902 Kaburagi started an elementary school for children of Japanese ancestry. Taught by two trained teachers from Japan, it became the Vancouver Japanese School in 1906 and followed the same curriculum as the schools in Japan, with the addition of courses on the English language.
In order to spread his religious and social beliefs to a greater number of Japanese immigrants, Kaburagi had started the Bankuba Shuho [Vancouver Weekly] on July 1897. It was renamed the Kanada Shinpo [Canada News] in November 1903. On 1 March 1904 it became the first Japanese daily in Canada and Kaburagi was its full-time editor. The paper preached temperance and opposed gambling and prostitution – vices to which many Japanese immigrants had succumbed. It also encouraged assimilation with the mainstream of society. These goals were to be attained by learning English, moving away from the Powell Street community, eating western food, attending church, and competing as equals with white labourers. In the prevailing "boss" system, early immigrants who had some knowledge of English had become labour contractors, providing Japanese labourers to white businesses at lower wages. These contractors had gradually become the elite of the Japanese community. They had also attached themselves to the Japanese consulate in Vancouver. A pacifist who believed in the equality of all peoples, Kaburagi opposed the new imperialism that had developed in Japan after its victory in the Russo-Japanese War of 1904–5 and thus disagreed with the Japanese consulate which espoused it. In 1907 the consulate backed the publication of another Japanese newspaper, the Tairiku Nippō/Continental News to counter the influence of the Kanada Shinpo. In addition to his disagreements with the consul, by mid 1907 Kaburagi was also having differences with his congregation because of his pacifist stance. Kaburagi lost his ministry and the Reverend Yoshi Ono took his place. A number of Kaburagi's friends, including his wife's younger brother, Dr Meinosuke Ishiwara, a popular physician whom he had encouraged to come to Vancouver, left the church with him.
Undaunted by these setbacks, Kaburagi continued publishing his views in the Kanada Shinpo. He also pursued his dream of creating a Japanese garden on a three-acre plot at 21st Street and St George Avenue in North Vancouver. A young Christian student, Senji Yamamoto, spent a summer in 1907 leading a crew that cleared the virgin land. It appears that the project was never completed.
According to Yamamoto, Kaburagi and his wife lived in a "completely western-style house" at 428 Cordova Street East, one block from the commercial centre of the Japanese community. His home was always open to his fellow Japanese, especially to the young. Yamamoto had initially lived with the Kaburagis when he came to Canada and often mentioned their kindness in his diaries and letters to his parents. Kaburagi influenced and assisted many others. Jinsaburo Oikawa, a pioneer immigrant from the Miyagi prefecture who would bring many of his fellow villagers to Canada and set up communal colonies on two islands in the Fraser River, had met Kaburagi aboard ship on his first trip to Canada. Kaburagi had stressed to Oikawa the need to learn English and had begun lessons on board. He later helped Oikawa with his land transactions.
Little is known of Kaburagi's later activities except that he continued his association with the Kanada Shinpo. In 1915 the Canadian Japanese Volunteer Corps was organized for military service overseas [see Yoichi Kamakura*]. Yasushi Yamazaki, chairman of the Canadian Japanese Association and editor of the Tairiku Nippō had persuaded members of the association to sponsor the corps to "bring glory and honour to the Japanese Canadian community and lead to full citizenship rights." When Kaburagi dared to question the efficacy of the program, the volunteers vandalized his newspaper office in March 1916 and forced him to seek the protection of the police.
Although the exact details are not clear, Kaburagi apparently passed on the newspaper to a colleague and went back to Japan. He may have returned to Vancouver for some time during the early 1920s. He died in Japan in 1926 and left an estate, including land and cash in Canada and Japan, evaluated at over $18,000. Although his strong religious, moral, and social opinions were contrary to those held by many of his fellow countrymen, Goro Kaburagi is still remembered as an influential community leader who contributed substantially to the lives of the early Japanese immigrants to Canada.
BCA, GR-1415, file 11774. Ken Adachi, The enemy that never was: a history of the Japanese Canadians (Toronto, 1976). Peter Duus, "The takeoff point of Japanese imperialism," in Japan examined: perspectives on modern Japanese history, ed. Harry Wray and Hilary Conroy (Honolulu, 1983). Roy Ito, Stories of my people: a Japanese Canadian journal (Hamilton, Ont., 1994). Kanada Nikkeijin Godo Kyokai shi, 1892–1959 [A history of the Japanese congregations of the United Church of Canada, 1892–1959] (Toronto, 1961). Kenneth Matsugu, "A brief history of the Japanese United Church of Canada," in A centennial legacy: history of the Japanese Christian missions in North America, 1877–1977, comp. Sumio Koga (Chicago, 1977). Tadashi Mitsui, "The ministry of the United Church of Canada amongst Japanese Canadians in British Columbia, 1892–1949" (m.s.t. thesis, Union College of British Columbia, Vancouver, 1965). Mark Mullins, Religious minorities in Canada: a sociological study of the Japanese experience (Lewiston, N.Y., and Queenston, Ont., 1989). Nakayama Jinshiro, Kanada doho hatten taikan [Encyclopedia of the Japanese in Canada] (Tokyo, [1929]). Nitta Jiro, Mikkosen Suian Maru [The secret journey of the Suian Maru] (Tokyo, 1979). P. E. Roy, A white man's province: British Columbia politicians and Chinese and Japanese immigrants, 1858–1914 (Vancouver, 1989). Sasaki Toshiji, Yamamoto Senji (2v., Tokyo, 1998), 1. Shinpo Mitsuru, Kanada Nihonjin imin monogatari [Tales of Japanese immigrants in Canada] (Tokyo, 1986). Shinpo Mitsuru et al., Kanada no Nihongo shinbun: minzoku ido no shakaishi [Japanese-language newspapers in Canada] (Tokyo, 1991). Toyo Takata, Nikkei legacy: the story of Japanese Canadians from settlement to today (Toronto, 1983).
© 2005–2023 University of Toronto/Université Laval
Image Gallery

Cite This Article
Midge Ayukawa, "KABURAGI, GORO," in Dictionary of Canadian Biography, vol. 15, University of Toronto/Université Laval, 2003–, accessed June 7, 2023, http://www.biographi.ca/en/bio/kaburagi_goro_15E.html.
The citation above shows the format for footnotes and endnotes according to the Chicago manual of style (16th edition). Information to be used in other citation formats:
| | |
| --- | --- |
| Permalink: | http://www.biographi.ca/en/bio/kaburagi_goro_15E.html |
| Author of Article: | Midge Ayukawa |
| Title of Article: | KABURAGI, GORO |
| Publication Name: | Dictionary of Canadian Biography, vol. 15 |
| Publisher: | University of Toronto/Université Laval |
| Year of publication: | 2005 |
| Year of revision: | 2005 |
| Access Date: | June 7, 2023 |