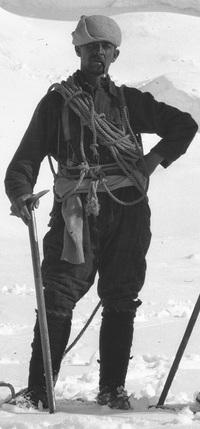 Conrad Kain at Alpine Club of Canada camp at Mount Robson, 1913. Detail of photograph by Bryon Harmon. V263/NA-1046 Whyte Museum of the Canadian Rockies.
Source: Link
KAIN, CONRAD (Konrad), mountain guide, surveyor, trapper, and farmer; b. 10 Aug. 1883 in Nasswald (Austria), eldest child of an Austrian father and an Italian mother; m. June 1917 Henriquita Ferreira (d. 7 Feb. 1933), née Granito, in Wilmer, B.C; they had no children; d. 2 Feb. 1934 in Cranbrook, B.C.
About 80 kilometres southwest of Vienna, Nasswald lies next to a mountain called the Raxalpe. A six-hour walk from the nearest railway, the village – founded by Protestant woodcutters in 1731 – was a place of unremitting poverty in the late 19th century. Early life was not easy for Konrad Kain. His father was killed in a mining accident in 1892, leaving his mother, Franziska, alone with four young children. Konrad was 14 when he left school, having learned little with only 1 teacher for more than 100 students, and he took employment as a goatherd in the local hills. Later, he worked as a quarryman, a livelihood he supplemented by poaching game.
Kain's attraction to climbing mountains grew from his boyhood wanderings. In 1903 he began leading Viennese tourists on venturesome outings. Over the next six years he trained himself as a guide and established a reputation throughout the Alps. Many of the great mountains of Austria, Switzerland, Italy, France, and Corsica were ascended by him. In 1906 he was formally designated a professional guide when the German and Austrian Alpine Club granted him his führerbuch, the official logbook in which he would record his mountaineering activities. Two years later he took a guiding course in Villach to improve his status and began studying English.
Longing for travel and adventure, in 1909 Kain took passage to Canada, where, upon referral by Dr Erich Pistor of Vienna's board of trade, he found work near Banff, Alta, with the Alpine Club of Canada as its first official guide. He soon developed a pattern of seasonal employment: he guided and surveyed in the summer, often with club president Arthur Oliver Wheeler, a dominion land surveyor, and he trapped and farmed during the winter. At the end of 1909 he was able to send money to his mother. The young guide (who now spelled his name Conrad) became popular within the club and impressed the residents of Banff by building a ski-run down the slopes of Tunnel Mountain and onto Cariboo Street in the spring of 1910. One of the earliest promoters of skiing in the Rocky Mountains, he was instrumental in the formation of Banff's first ski club in February 1911.
Over the next 20 years, Kain achieved renown as the outstanding mountaineer of his era in Canada: "the prince of Canadian alpine guides," in the estimate of historian Esther Fraser. He made more than 50 first ascents of named peaks in the Rocky and Purcell mountains, a record surpassed only by Edward Feuz Jr. Kain holds the distinction of having led the first ascent of the highest mountain in each range – Mount Robson, the "monarch" of the Rockies, in 1913 and Mount Farnham in the Purcells in 1914 – and he was the earliest climber to reach the summits of the three loftiest peaks in the Rockies: Robson, Columbia, and North Twin. In 1916, at the pinnacle of his career, he led the first ascent of Bugaboo Spire and Mount Louis, among a dozen others.
Kain made a name for himself as well outside Canada and Europe. His initial venture was modest. In the summer of 1912 he joined a scientific expedition to the Altai Mountains on the Siberian–Mongolian border, where he helped collect small vertebrates for the United States National Museum of Natural History and the Museum of Comparative Zoology at Harvard University. It was a long way to go "to trap mice," Kain thought, but he was unable to resist the call of adventure. Subsequently, after visiting his homeland for the last time, he sailed to Australia and New Zealand. Although he returned to western Canada in 1913, he went back to New Zealand during the Canadian winter of 1913–14 and spent the next three summer climbing seasons there in the Southern Alps. By his count he scaled 59 mountains, with 29 of these climbs being first ascents. His grand traverse in 1916 of Mount Cook, the highest peak in the Southern Alps, with veteran mountaineer Jane Thomson, was described as a "marvellous feat unequalled for daring" in the history of those mountains. Foreign contemporaries credited him with being one of the greatest living mountain guides.
In Canada, Kain had begun working in the spring of 1915 at the ranch of his client and friend Albert Henry MacCarthy, close to Wilmer, B.C. He spent the winter of 1916–17 trapping near the headwaters of the Simpson River, on the western side of the divide. It was during this lonely period that he first considered giving up guiding. In June 1917 he married a Guianese widow, Hetta Ferreira, and later that summer they settled on a small fur farm overlooking the Columbia valley near Wilmer. Although Kain's guiding career was far from over, it had passed its zenith. He continued to climb and guide into the summer of 1933, by which time his ascents were less frequent and challenging. His wife passed away early that year, and not long afterwards he began to suffer from depression. He died alone in a Cranbrook hospital of encephalitis lethargica in 1934.
Accounts of Kain reveal a thoroughly personable and professional guide. Standing five feet five inches, he was stockily built with broad shoulders; his moustache and pipe were constant features. In camp and on the trail he could be charming, harmlessly flirtatious, and an entertaining storyteller. An expert axeman and cook with a great capacity for carrying weight, he was patient with novices and discreet in his treatment of over-zealous climbers disinclined to appreciate natural splendours. In the estimate of mountaineering authority James Monroe Thorington, "On rock, in his prime, Kain was unquestionably a finished performer. On snow and ice his judgment was sound, with step-cutting unfailingly conforming to the needs of his party. The latter factor determined his use or non-use of rope: he had no fixed procedure." His knack for finding routes was "almost unique."
Today five mountains bear the impress of Kain's presence. He himself gave his name to a spire in the Mount Robson area. Nasswald Peak, in the southern Rockies near the Assiniboine group, one of his many first ascents, was named for his birthplace. He climbed Birthday Peak in the Purcells on his 42nd birthday. Another peak there, closer to the Vowell group, bears his Christian name, and Mount Conrad honours his memory in New Zealand.
Conrad Kain's autobiography was published as Where the clouds can go, ed. J. M. Thorington (New York, 1935; 3rd ed., 1979). Kain also wrote "The first ascent of Mt. Robson, the highest peak of the Rockies (1913)," Canadian Alpine Journal (Winnipeg), 6 (1914–15): 19–28.
Bruce Fairley, The Canadian mountaineering anthology (Edmonton, 1994). Esther Fraser, The Canadian Rockies: early travels and explorations (Edmonton, 1969). N. Hollister, "Camps in the Altai," Canadian Alpine Journal, 5 (1913): 73–81. Chris Jones, Climbing in North America (Berkeley, Calif., 1976; new ed., Seattle, Wash., 1997). W. S. Ladd and J. M. Thorington, "A mountaineering journey to the Columbia Icefield," Canadian Alpine Journal (Calgary), 14 (1924): 34–47. A. H. MacCarthy, "First ascents of Mt. Farnham and Mt. Farnham Tower (1914)," "The Howser and Bugaboo spires, Purcell Range," and "The first ascent of Mount Louis," Canadian Alpine Journal (Winnipeg), 6: 112–28, 8 (1917): 17–29, and 8: 79–86, respectively. Zac Robinson, "Storming the heights: Canadian frontier nationalism and the making of manhood in the conquest of Mount Robson, 1906–13," International Journal of the Hist. of Sport (London), 22 (2005): 415–33. Chic Scott, Pushing the limits: the story of Canadian mountaineering (Calgary, 2000). J. M. T[horington], "Conrad Kain, 1883–1934," Canadian Alpine Journal ([Banff?]), 22 (1934): 199–203.
© 2015–2023 University of Toronto/Université Laval
Cite This Article
Zac Robinson, "KAIN, CONRAD (Konrad)," in Dictionary of Canadian Biography, vol. 16, University of Toronto/Université Laval, 2003–, accessed October 2, 2023, http://www.biographi.ca/en/bio/kain_conrad_16E.html.
The citation above shows the format for footnotes and endnotes according to the Chicago manual of style (16th edition). Information to be used in other citation formats:
| | |
| --- | --- |
| Permalink: | http://www.biographi.ca/en/bio/kain_conrad_16E.html |
| Author of Article: | Zac Robinson |
| Title of Article: | KAIN, CONRAD (Konrad) |
| Publication Name: | Dictionary of Canadian Biography, vol. 16 |
| Publisher: | University of Toronto/Université Laval |
| Year of publication: | 2015 |
| Year of revision: | 2015 |
| Access Date: | October 2, 2023 |