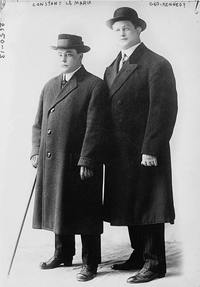 Source: Courtesy of Wikimedia Commons
KENDALL, GEORGE WASHINGTON, named George Kennedy, wrestler and sports promoter; b. 29 Dec. 1881 in Montreal and baptized there 25 Dec. 1882, son of George Hiram Kendall, industrialist, and Jane McClosky (McCluskey, McKlosky); m. 1 June 1907 Myrtle Agnes Pagels in Montreal, and they had two daughters, one of whom died before the age of one; d. 19 Oct. 1921 in Montreal.
The son of a Scottish Protestant father and an Irish Catholic mother, George Washington Kendall studied at the High School of Montreal and then attended the Collège de Saint-Laurent for at least the year 1899–1900. By 1901 he was said to be the Canadian amateur lightweight wrestling champion. Kendall was training at that time in the gymnasium and under the direction of Dr Joseph-Pierre Gadbois, who would become his friend and business partner. Because his father, who was a pillar of the Baptist denomination in Montreal, disapproved of his choice of career, Kendall took the name George Kennedy, under which he would work all his life. From 1901 to 1903 he dominated his class on the Canadian wrestling scene. After losing to Eugène Tremblay on 3 April 1903, he left wrestling for a career as a sports promoter. He became Tremblay's principal trainer, and his skilful direction enabled Tremblay to win the world lightweight championship by defeating the American George Bothner in Montreal in 1905.
That year Kendall and Gadbois founded the Club Athlétique Canadien (CAC), an organization incorporated on 22 Sept. 1908 that had mostly French-speaking shareholders. The club invested first in wrestling and then in hockey, baseball, lacrosse, and other sports. Under Kendall's impetus it became the most powerful professional sports organization in the province, proof of his organizing abilities and business flair. For him, sports were first and foremost a business that had to show a profit. In 1910, when the club's share capital increased from $25,000 to $100,000, it had some 116 shareholders. Kendall managed to combine French Canadian patriotic pride with his own financial interests, and he skilfully joined forces with the press. By 1909 he was busily promoting the construction of a gymnasium in the east end of Montreal. The building opened on 10 March 1911, and besides a modern gymnasium, it had billiard and pool tables, bowling alleys with automatic pinsetters, a handball court, showers, a sauna, and a massage room. A smoking room was added the following year, as well as a reading room with "all the major Canadian and American daily papers and the main sports magazines," as La Presse noted. There were plans to add a swimming pool and to buy land for an automobile racetrack and a baseball and lacrosse field, but they were wrecked when the building was damaged by fire on 21 Jan. 1914. The CAC's financial situation, already weakened by an unfortunate venture into the world of lacrosse, was badly affected. Probably as a result Kendall on 10 March 1916 created the Canadian Hockey Club Incorporated, a new company having the same aims and substantially the same directors as the former CAC, with Kendall as principal shareholder.
Through these two companies and Kendall himself, Montreal became one of the most important wrestling centres in North America from 1905 to 1920. He made contact with the top wrestling promoter in France, Léon Dumont, and became friends with the American promoter Jack Curley, who was nicknamed "the czar of wrestling." He met managers and wrestlers, negotiated contracts, ironed out financial and material difficulties, travelled throughout the United States, and went to Europe and even to Turkey in search of new athletes. His knowledge of French encouraged Belgian and French wrestlers who wanted to break into the North American market to hire him as their manager. On 24 May 1913 Kendall staged a sports event that would stand for years as the most important of its kind in the history of Montreal: the fight between Stanislaus Zbysko of Poland and Constant Le Marin of Belgium for the world heavyweight championship. More than 10,000 people watched the match. That year he set up two American circuits, one in the east and one in the west. In 1913 he also arranged with promoters in Paris to bring the best American wrestlers to the French capital. The war would put a stop to this project. On 22 April 1920 he organized a match in Montreal between the world heavyweight champion, Joe Stecher of the United States, and the European champion, Salvatore Chevalier of France. In Quebec the CAC, and later the Canadian Hockey Club Incorporated, brought the top wrestlers to 20 or more towns and villages, stimulating interest and sparking an increase in the number of wrestlers and wrestling arenas.
In 1908 Kendall had begun investing in boxing, a sport that had a bad press at the time. A Canadian law, passed in 1881, had banned professional fights and Montreal had adopted a similar regulation in 1887. Fights were held in public anyway, but the police were watchful. This situation prompted the CAC to encourage boxing fans to become members of the club, where bouts would be held in private under the guise of exhibition matches. Kendall counted on thereby acquiring the means to hire good American boxers, but the fire at the CAC delayed his plans. The war changed attitudes, however, and boxing was now seen as an excellent way to prepare soldiers for combat. Kendall took advantage of this change and succeeded in attracting "boxers of note" to Montreal including Joe Jeannette of Martinique on 26 Feb. 1915. A few weeks later he obtained from Jack Curley the exclusive distribution rights in Quebec for the film of the fight for the world heavyweight championship between the black boxer John Arthur (Jack) Johnson and Jess Willard, the "white hope." In June 1916, following a match between two professionals held in public in Montreal, the Canadian Vigilance Association lodged a complaint and he had to appear in municipal court. He won his case and, thanks to this victory, boxing was legalized. From 1916 to 1920 Kendall brought in excellent boxers under the auspices of the Canadian Hockey Club Incorporated. The appearance in Montreal on 15 May 1920 of Georges Carpentier of France, the famous European middleweight champion, was his last master stroke.
Of all his many accomplishments, Kendall was best known for his role as manager of the Canadiens hockey club. As early as 1908 he and Gadbois had wanted to organize an exclusively French Canadian senior hockey team. The plan was, however, realized by John Ambrose O'Brien, who in December 1909 founded the Canadiens: the team was immediately accepted into the National Hockey Association of Canada. Nearly a year later Kendall protested on behalf of the CAC, claiming that the name "Canadien" was its property. On 12 Nov. 1910 he purchased the franchise for $7,500. Under his management the reorganized Canadiens showed a profit of $4,000 in their first season, more than was made by any other team in the association. Kendall succeeded in using French Canadian national sentiments to stimulate competition and increase the number of spectators, but the club's main function, in his view, was to pay dividends to its shareholders. In November 1912 he sought and received permission from the association to hire English-speaking players to improve the team's performance; some people accused him of "polluting" the club's distinctive character. A three-time winner of the association championship, the team won its first Stanley Cup in March 1916 [see Georges Vézina]. From 26 Nov. 1917 the team played in the National Hockey League, which replaced the National Hockey Association of Canada and which Kendall had helped organize. Unfortunately, in March 1919, when the Canadiens were playing in Seattle against the Metropolitans for the Stanley Cup, the Spanish influenza took its toll of the players. Defenceman Joseph Henry (Joe) Hall died and Kendall contracted a severe case of the disease. He remained in precarious health, but he would continue to manage the Canadiens until his death in October 1921. On 4 November his widow sold the club's franchise for $11,000 to a financial syndicate consisting of Léo Dandurand, Joseph Cattarinich, and Louis Létourneau.
Apart from wrestling, boxing, and hockey, Kendall had tried, through the CAC, to develop a number of other sports. In 1904 he made an unsuccessful attempt to introduce bullfighting to Montreal. In 1911 he put together a short-lived but powerful baseball team. From 1911 to 1914 he managed the Canadians lacrosse team. Also known as the Irish Canadians, this team played in the Dominion Lacrosse Union, of which he had been a founder. In October 1911 Kendall was among the promoters of one of the first flying competitions held in Quebec. He organized foot races in 1912, and soccer matches in 1913. He had also considered setting up a handball league, and was the owner of the most modern bowling alley in Montreal, the Windsor Bowling Club, which was built in 1914.
George Washington Kendall enjoyed spending summers with his wife and daughter at his farm near Sainte-Agathe-des-Monts. But this dynamic man had never completely recovered from the Spanish influenza and in the spring of 1921 he collapsed. In the hope of restoring his health, he went to his farm and to Atlantic City, N.J., to rest. Excellent American and Canadian doctors tried in vain to come to grips with his baffling illness. The premature death, at the age of 39, of this pillar of professional sport in Canada early in the 20th century left a great hole in the sporting world of that period.
[This article was assembled largely from newspaper accounts, particularly those in La Presse, which was examined systematically for the period 1900–21. Information was also drawn from Le Canada (Montréal), 30 oct. 1910; 13 mars 1911; 3, 13, 15 mai, 27 sept., 10, 28 oct., 5, 20, 22 nov., 2–3, 11 déc. 1918; 15 mars 1919; 20–22, 28 oct., 3 nov. 1921; Le Devoir, 13, 24 janv., 17 févr., 8, 17, 21, 29 mars, 2, 8, 23 avril, 20 oct., 4, 10–11, 14 nov., 9, 13 déc. 1910; 14 févr., 4 mars, 2 nov. 1911; 16 févr. 1912; 23 janv. 1914; 30 sept., 8–9, 19, 26 oct., 11, 20, 25 nov., 5, 10, 12, 16 déc. 1918; 19, 21, 28 oct., 3 nov. 1921; the Montreal Gazette, 31 March 1914; 20, 22 Oct. 1921; Montreal Daily Herald, 7 Oct., 9, 12, 22 Nov. 1910; Montreal Daily Star, 7 Nov. 1908; 30 March 1914; 19–20 Oct. 1921; Montreal Herald, 19–20 Oct. 1921; Le Nationaliste (Montréal), 5, 12, 26 mars 1911; 8 mars 1914; La Patrie, 9–10, 13 mars, 19, 21, 24–25, 28 oct., 3–5 nov. 1921; and Le Soleil, 15 oct. 1908, 26 avril 1909, 18 mars 1911. g.j.]
ANQ-M, CE601-S60, 25 déc. 1882; TP11, S2, SS2, SSS1, dossier 2963 (1908) (C. Y. Rogers c. George Kennedy, alias George Kendall). Arch. des Pères de Sainte-Croix (Montréal), D1 (fonds du collège de Saint-Laurent), annuaires. BCM-G, RBMS, St Patrick (Montréal), 1er juin 1907. Rosaire Barrette, Léo Dandurand, sportsman (Ottawa, 1952), 105–10, 155, 180, 201–2. François Black, Habitants et glorieux: les Canadiens de 1909 à 1960 (Laval, Qué., 1997), 17–47, 133–35. Line Bonneau et Taïeb Hafsi, Sam Pollock et le Canadien de Montréal ([Sainte-Foy, Qué.], 1996), 21–40. [Pat Calabria et al.], The official National Hockey League Stanley Cup centennial book, ed. Dan Diamond (Montreal, 1992). Michel Chemin, La loi du ring ([Paris], 1993), 44–59. Directory, Montreal, 1912–13, 1915–16, 1918–19. Chrys Goyens and Allan Turowetz, Lions in winter (Scarborough [Toronto], 1986). Donald Guay, L'histoire du hockey au Québec; origine et développement d'un phénomène culturel (Chicoutimi, Qué., 1990), 256–74. Graeme Kent, A pictorial history of wrestling (London, 1968), 128–83. Charles Mayer, L'épopée des Canadiens de Georges Vézina à Maurice Richard: 46 ans d'histoire, 1909–1955 (Montréal, [1956?]). Claude Mouton, The Montreal Canadiens: a hockey dynasty (Toronto, 1980). Andy O'Brien, Fire-wagon hockey: the story of the Montreal Canadiens ([Toronto, 1967]). Alexis Philonenko, Histoire de la boxe (Paris, 1991), 155–267. Quebec Official Gazette, 1908: 1601–2; 1916: 880. Maurice Richard and Stan Fischler, The flying Frenchmen: hockey's greatest dynasty (New York, [1971]).
© 2005–2023 University of Toronto/Université Laval
Image Gallery

Cite This Article
Gilles Janson, "KENDALL, GEORGE WASHINGTON, named George Kennedy," in Dictionary of Canadian Biography, vol. 15, University of Toronto/Université Laval, 2003–, accessed December 5, 2023, http://www.biographi.ca/en/bio/kendall_george_washington_15E.html.
The citation above shows the format for footnotes and endnotes according to the Chicago manual of style (16th edition). Information to be used in other citation formats:
| | |
| --- | --- |
| Permalink: | http://www.biographi.ca/en/bio/kendall_george_washington_15E.html |
| Author of Article: | Gilles Janson |
| Title of Article: | KENDALL, GEORGE WASHINGTON, named George Kennedy |
| Publication Name: | Dictionary of Canadian Biography, vol. 15 |
| Publisher: | University of Toronto/Université Laval |
| Year of publication: | 2005 |
| Year of revision: | 2005 |
| Access Date: | December 5, 2023 |