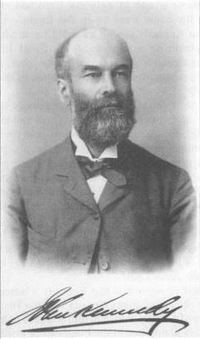 Source: Link
KENNEDY, Sir JOHN, engineer; b. 26 Sept. 1838 in Spencerville, Upper Canada, eldest son of William Kennedy and Agnes Stark; m. 14 Aug. 1865 Louisa Charlotte Scott in Montreal, and they had two sons who predeceased him and two daughters (one of whom married Sir Herbert Brown Ames*); d. 25 Oct. 1921 in Montreal.
The son of a Scottish millwright who came to Upper Canada in 1832, John Kennedy was educated at the grammar school in Bytown (Ottawa), by private tuition, and at McGill College in Montreal. He began his professional career in 1853 under Thomas Coltrin Keefer*, working on channel and harbour improvements, on waterworks in Montreal, Ottawa, and Hamilton, and on other projects. In 1863 he was appointed assistant city surveyor in Montreal and a few years later he was promoted deputy city surveyor. He resigned in 1867 to become manager of the Hull Iron Mining and Manufacturing Company's iron mines and new smelting works at Ironside, Que. Having taught himself chemistry, he ran the company successfully, but concluded that there was no future in smelting iron with wood charcoal. He then joined his family's thriving iron foundry and machine shop, Wm. Kennedy and Sons, in Owen Sound, Ont.
In 1871 Kennedy returned to civil engineering as divisional engineer on the Wellington, Grey and Bruce branch of Canada's largest railway system, the Great Western. Within three years he was promoted chief engineer of the entire railway, then the highest paid engineering position in Canada. He completed a rail link between Fort Erie and Glencoe, Ont. (the Canada Air line), built some minor branches, and laid the first double track in Canada, between Glencoe and Windsor.
In 1875 Kennedy accepted the newly created post of chief engineer of the Montreal Harbour Commission. He would hold this office for nearly 33 years and would make his professional reputation by developing the modern port of Montreal and by deepening the St Lawrence ship channel between Montreal and Quebec. When Kennedy took up the post, the port was small and in poor condition. It had narrow wooden wharves, shallow basins, temporary wooden sheds, and no grain elevators. A plan to improve it was put aside in 1877; approval to enlarge the port was not granted until 1891. A year later Kennedy began construction on a guard pier, or breakwater, which enclosed a mile-and-a-half-wide harbour basin at the mouth of the Lachine Canal. This pier protected the harbour and the city from floods caused by ice jams. Kennedy then deepened the harbour basins to 30 feet and, against strong opposition, built three massive 1,000-foot-long, 300-foot-wide piers – the Jacques Cartier (1898–99), the Alexandra (1899–1901), and the King Edward (1901–2). An elevator, designed to deliver grain directly to ships by an elaborate conveyor system, was erected in the centre of the harbour between 1903 and 1904. Wharves on shore were raised and protected, and 14 steel-and-concrete two-storey freight sheds were built (1904–8). Piers, wharves, and harbour approaches were paved and a modern electric light and telephone system was installed. The Grand Trunk's track on the docks was replaced with the commission's extensive electric railway (1907). Other improvements followed. Kennedy was far-sighted enough to have made allowances for future growth.
For 18 of the 33 years that Kennedy was chief engineer of the harbour commission, he was also chief engineer of the St Lawrence ship channel between Montreal and Quebec. By 1887 he had deepened it from 20 to 27½ feet, employing dredges of his own design, some of which would be used the world over. The deeper channel allowed larger ocean ships to reach Montreal, helping to make the port the biggest and most important in Canada. The improved harbour facilities fostered Montreal's industrialization and made the city Canada's principal transportation centre, as well as the world's largest grain port by the mid 1920s.
In 1899 Kennedy's eyesight began to fail, as his father's had before him. Consultations with specialists in the United States and Great Britain were not encouraging and in 1906 he had an operation to preserve what sight he had; it was not a success and he suffered neuralgic pain for the rest of his life. Totally blind in 1907, he resigned as chief engineer and was appointed consulting engineer to the commission, a post he held until his death. Although blind, he continued to ride his horses and practise engineering, designing, for example, the world's largest dipper dredge for the St Lawrence and Pier No.2 in Halifax harbour for the federal government.
Kennedy had been appointed to a number of federal commissions: on the leasing of water-power on the Lachine Canal (1886); on the causes of the flooding of Montreal the same year; on the advisability of extending the Trent Canal (1887); and on enlarging the Cornwall Canal (1891). A staunch advocate of private enterprise, in 1916 he and other leading engineers from Montreal persuaded the city to abandon plans for an aqueduct and a hydroelectric power scheme. Similarly, a year later, he was among the prominent engineers who advised the government of Ontario not to proceed with an electric railway between Port Credit and St Catharines, Ont. Their report, together with other factors, eventually killed Sir Adam Beck's scheme for a government-owned high-speed radial railway system centred on Toronto. Kennedy also acted as an arbitrator, or consulting engineer, on a variety of engineering projects and gave advice on mining and industrial works.
Kennedy was a member of the leading British and American engineering societies: the Institution of Civil Engineers of Great Britain and, from 1875, the American Society of Civil Engineers. The first Canadian to become a councillor of the ICE, he served for many years as a director of the ASCE. In 1887 he was one of 19 founding members of the Canadian Society of Civil Engineers (renamed the Engineering Institute of Canada in 1918), Canada's first national professional engineering society. He sat for several years on the CSCE's council, was elected president in 1892, and was made an honorary member in 1907.
Together with other older, prominent engineers, Kennedy controlled the CSCE's executive until the end of World War I. A tireless promoter of the welfare of engineers, he had nevertheless opposed Alan Macdougall*'s attempt in 1887 to have the CSCE incorporated as a self-governing licensing and regulatory body. Kennedy believed that the status of engineers could be improved only by raising the standard of engineering practice through the exchange of professional knowledge. Although Macdougall's plan would eventually succeed with the creation of provincial licensing associations, beginning in Manitoba in 1896, Kennedy and his colleagues greatly influenced the style of engineering professionalism in Canada.
In recognition of his service to Canada, Kennedy was made a knight bachelor in 1916. McGill conferred a lld on him the following year and in 1921 McMaster University in Toronto honoured him with a dcl. Kennedy was a member of the University Club in Montreal, a director of the Young Men's Christian Association, and a director of the Montreal Association for the Blind, in which capacity he was a founder of the School for the Blind. He was active in religious and social reform work through the Olivet Baptist Church in Montreal.
A major figure in the professionalization of Canadian engineers, Kennedy had a full and varied career few of his colleagues equalled. With other engineers, he helped transform Canada into a modern, urban-industrial nation by building the country's most important civil and mechanical infrastructures. When he died, the Engineering Institute of Canada referred to him as the "dean of the engineering profession in Canada."
[Sir John Kennedy's publications concern his activities as a professional engineer. These include his reports to the Montreal Harbour Commission, published on an irregular basis between 1875 and 1910 in Can., Parl., Sessional papers. See especially 1900, no.11b; 1903, no.23; 1905, no.23; 1906-7, no.23; and 1910, no.2. Three reports written or co-written by Kennedy on proposed engineering works are available in the CIHM, Reg., and a major article by Kennedy on "The Montreal waterworks" was published in Canadian Engineer (Toronto), 3 (1895-96): 268-72. His presidential address to the Canadian Society of Civil Engineers appears in its Trans. (Montreal), 7 (1895): 12-15.
Although Kennedy was a major figure in Canadian engineering history, there is little source material on him. For instance, his application for membership in the Canadian Society of Civil Engineers is not among the papers of the Engineering Institute of Canada. Articles or obituaries appear in the following engineering journals: Canadian Engineer, 14 (1907): 19-20; 41 (July-December 1921): 6; 45 (July-December 1923): 423-26, 435; Canadian Railway and Marine World (Toronto), November 1921: 582; Contract Record and Engineering Rev. (Toronto), 35 (1921): 962; Engineering Institute of Canada, Journal (Montreal), 4 (1921): 581-82; Engineering Journal (Montreal), 20 (1937): 284; Engineering News-Record (New York), 87 (July-December 1921): 749; L. E. Jones, "Delineations of destiny – John Kennedy," Professional Engineer & Engineering Digest (Toronto), 29 (1968), no.5: 30; Railway and Shipping World (Toronto), December 1899: 363-65; February 1900: 52-53; September 1903: 322-24; November 1903: 395; April 1904: 137.
Additional information can be found in the obituaries which appeared on 25 Oct. 1921 in the Ottawa Citizen, the Montreal Daily Star, and the Toronto Daily Star; in his marriage registration in ANQ-M, CE601-S85, 14 août 1865; in the Standard dict. of Canadian biog. (Roberts and Tunnell); and in J. R. Millard, The master spirit of the age: Canadian engineers and the politics of professionalism, 1887-1922 (Toronto, 1988). j.r.m.]
© 2005–2023 University of Toronto/Université Laval
Image Gallery

Cite This Article
J. Rodney Millard, "KENNEDY, Sir JOHN," in Dictionary of Canadian Biography, vol. 15, University of Toronto/Université Laval, 2003–, accessed December 7, 2023, http://www.biographi.ca/en/bio/kennedy_john_15E.html.
The citation above shows the format for footnotes and endnotes according to the Chicago manual of style (16th edition). Information to be used in other citation formats:
| | |
| --- | --- |
| Permalink: | http://www.biographi.ca/en/bio/kennedy_john_15E.html |
| Author of Article: | J. Rodney Millard |
| Title of Article: | KENNEDY, Sir JOHN |
| Publication Name: | Dictionary of Canadian Biography, vol. 15 |
| Publisher: | University of Toronto/Université Laval |
| Year of publication: | 2005 |
| Year of revision: | 2005 |
| Access Date: | December 7, 2023 |