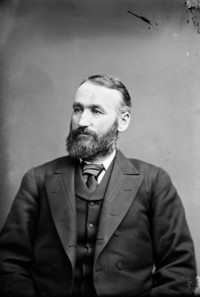 KING, GEORGE GERALD, businessman and politician; b. 11 Dec. 1836 in White's Corner (Springfield, Kings County), N.B., son of Malcolm King and Elizabeth Hickson; m. 28 Oct. 1860 Esther Briggs (d. 29 Jan. 1907), and they had five daughters, two of whom died in infancy, and four sons; d. 28 April 1928 in Edmonton.
After leaving school at 13, George Gerald King was employed by White Brothers of Sussex, where his duties were "to count the eggs and sweep the store." Six years later he decided to seek his fortune in Upper Canada but turned down a job in a grocery store when he learned that he would be required to sell liquor; instead he returned to Sussex. The Whites recommended him to Daniel Briggs of nearby Salmon River, who needed a clerk, and four years after starting work with Briggs, King married his employer's sister. Eventually he took over the business. Realizing that Salmon River was a backwater, he built a general store and a sawmill 12 miles south, at what is now the centre of Chipman. He operated the business as G. G. and W. C. King, in partnership with his brother. After William C. King died, it was reorganized as the King Lumber Company. With coalmines and lumbering operations nearby, in which George King had substantial interests, the settlement of Chipman flourished.
His extensive trade with the United States in shingles, laths, and other wood products made King a supporter of free trade. He built four schooners to facilitate these exports and strongly promoted railway transportation. Through his Liberal connections, he became a commissioner of the Central Railway, which ran through Chipman. King twice served as president of the New Brunswick Liberal Association, in 1887 and 1896. He was also a member of the Queens County Council and its warden in 1876–77.
King first entered federal politics in the election of 1878, when he won the Queens seat for the Liberals; he was re-elected four years later. But in the two following elections he became embroiled in the savage parish-pump politicking that characterized New Brunswick in these years. In 1887 he ran against Conservative George Frederick Baird, a Saint John lawyer, and received 61 votes more than Baird. To the amazement of many, however, the returning officer, John R. Dunn, ruled King's election invalid on the grounds that his deposit had not been paid by his official agent, and declared Baird elected by acclamation. King sought a recount in court, but Baird argued that there were no ballots to count since there had been no election. Judge William Henry Tuck* of the Supreme Court decided in Baird's favour. John Valentine Ellis*, the Liberal mp for Saint John, in an editorial in the Saint John Globe that earned him a contempt of court charge, accused Tuck of partisanship and called his conduct "a scandal and an outrage of the most abominable character."
The "dirty election" in Queens caused a national furore and lengthy debate in the House of Commons. The issue was referred to the standing committee on privileges and elections, and Dunn was summoned to appear before the bar of the house to explain his decision. The committee concluded that the matter more properly belonged under the Dominion Controverted Elections Act. Baird announced that, regardless of the committee's finding, he would resign. A by-election was held in January 1888, generously supplied with both money and liquor. Baird won by a 111-vote margin, but stories of stuffed ballot boxes and voter irregularities were rampant. King challenged the outcome in court under the controverted elections act. He lost, and Baird again took his seat in the commons.
The King–Baird enmity continued into the 1891 federal election. King initially won the contest by 29 votes, but his joy was short-lived. Baird claimed that King's agents had bribed 30 voters, and King counter-attacked with a similar charge. The case went before Supreme Court judge Acalus Lockwood Palmer. Baird and King agreed to abide by the court's decision, and both admitted bribery by their agents. But while Baird complied with the law and submitted the names of those bribed, King did not, and the judge reduced his votes, giving Baird the majority.
Redistribution in the 1890s resulted in the new riding of Sunbury and Queens. King was returned in the federal election of 1896, in which Wilfrid Laurier*'s Liberals triumphed. When Laurier offered a cabinet post to New Brunswick premier Andrew George Blair*, King resigned to allow Blair to enter the commons in a by-election. On 18 December he was rewarded with a summons to the Senate, where he would remain for 31 years.
As a member of parliament, King had focused on New Brunswick issues. He supported government dredging of waterways in his constituency and was critical of Sir John A. Macdonald*'s National Policy as detrimental to the province's industries. He contended that the Maritime provinces were not getting their fair share of immigration, which was being directed to western Canada. When the federal government considered extending the franchise to the native peoples, King expressed his outrage.
He rarely spoke in the Senate, though he did address the upper house at length on 17 June 1904 in support of an all-Canadian route for the National Transcontinental Railway, through Edmundston, N.B., and southeast to Moncton, where it would connect with the Intercolonial. He argued that the connection with Moncton would encourage more Canadian grain and other freight to be handled through Saint John and Halifax, rather than Portland, Maine, and Boston. When it looked as if the railway might go through Salmon Creek instead of Chipman, King used his political influence to have it rerouted through his home community, even though a high bridge would have to be constructed.
George Gerald King lived long enough to see two of his sons elected to public office: George Herbert as a member of the New Brunswick legislature for Queens and James Horace* first to the British Columbia legislature and then to the House of Commons (he would eventually hold a cabinet post and a seat in the Senate). When he died in 1928, King was living with one of his daughters in Edmonton; aged 91, he was the oldest member of the upper house.
PANB, MC 1156. Frank Baird, History of the parish of Chipman (Sackville, N.B., 1946). Can., House of Commons, Debates; Senate, Debates. Canadian directory of parl. (Johnson). Canadian men and women of the time (Morgan; 1898 and 1912). F. A. McGrand, Backward glances at Sunbury and Queens (Fredericton, 1967). Prominent people of New Brunswick . . . , comp. C. H. McLean ([Saint John], 1937).
© 2005–2023 University of Toronto/Université Laval
Cite This Article
Wendell E. Fulton, "KING, GEORGE GERALD," in Dictionary of Canadian Biography, vol. 15, University of Toronto/Université Laval, 2003–, accessed December 6, 2023, http://www.biographi.ca/en/bio/king_george_gerald_15E.html.
The citation above shows the format for footnotes and endnotes according to the Chicago manual of style (16th edition). Information to be used in other citation formats:
| | |
| --- | --- |
| Permalink: | http://www.biographi.ca/en/bio/king_george_gerald_15E.html |
| Author of Article: | Wendell E. Fulton |
| Title of Article: | KING, GEORGE GERALD |
| Publication Name: | Dictionary of Canadian Biography, vol. 15 |
| Publisher: | University of Toronto/Université Laval |
| Year of publication: | 2005 |
| Year of revision: | 2005 |
| Access Date: | December 6, 2023 |