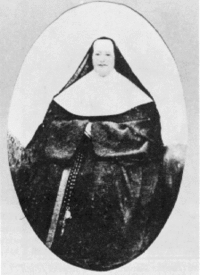 Source: Link
KIRWAN (Kirwin, Kerwin, Kerwan), Miss, named Sister Mary Bernard, member of the Order of the Presentation of Our Blessed Lady, mother superior, and educator; b. 1797 in Monivea, County Galway (Republic of Ireland), daughter of James Kirwan and Ann —; d. 27 Feb. 1857 and was buried in Admiral's Cove (Port Kirwan), Nfld.
Nothing is known of Sister Mary Bernard Kirwan's early life and there is no record of her baptismal names. In 1823 she joined the Presentation Order, founded in 1775 in Cork (Republic of Ireland) by Honoria (Nano) Nagle, a religious and educator trained in France. Its special mission was to educate and instruct "young girls, especially the poor, in the precepts and rudiments of the Catholic Faith."
On 29 June 1833 Bishop Michael Anthony Fleming* visited the Galway Presentation Convent to recruit nuns to teach in Newfoundland. His object, he told Monsignor John Spratt of Dublin, was to establish "a system of education, that . . . would smooth the pillow of sickness, and soften the rigours of winter, by the diffusion of true Christian feeling." He was especially concerned to separate "the female poor" from their male counterparts because their association, "in all the familiarity of school intimacy," was "by no means calculated to secure the acquirement of virtues, or to strengthen the morality of the female."
Previously established schools in Newfoundland had other defects as well. The St John's Charity School, though partially funded by the church, had never had a Catholic head, and the school operated by the North American School Society had sought to proselytize the children of Catholic parents. More surprisingly, the school run by the Benevolent Irish Society had opposed priestly instruction "even after school hours," though for some years there had been no Protestant students. Fleming's difference with this latter organization was part of a larger struggle over place and preferment in which he was engaged with some local Catholics. What Fleming wanted was a more exclusive and institutionally powerful church and his 1833 recruiting mission must be understood in this context.
Four nuns, including Mary Bernard Kirwan, volunteered to go to Newfoundland. The bishop agreed to provide a lump sum of £1,500 for the support of the sisters, a comfortable home while they awaited the building of a "suitable dwelling-house with a school for their use and accommodation," and £100 per annum for their support. The superior of the Galway Convent, Sister Mary John Power, also stipulated the right to recall the nuns after six years. These arrangements were approved by the bishop of Galway on 8 Aug. 1833, and Sister Mary Bernard Kirwan was named superior of the "intended convent" at St John's.
Accompanied by Fleming the nuns left Ireland on 11 August, arriving in St John's on 21 September. One month later they opened their first school. Living in a building formerly used as a tavern, they had two bedrooms and a small parlour which served "for choir, refectory, community and all," with the rest of the building and a nearby disused slaughterhouse for teaching. Although Fleming had apparently rented these premises for a year and spent nearly £500 on renovations, on 8 December the sisters moved into a house rented for £80 per annum, a payment the bishop described as "exorbitant." One of the sisters described the new convent as "quite retired from every house," with a garden and "a delightful view of the harbour."
Fleming then set about arranging for the construction of a school at a cost of more than £600. In 1844 he wrote that this institution had been attended daily for 11 years by more than one thousand children. The legislature voted £100 per annum in 1836 to support the school, an appropriation which no doubt brought welcome relief to Fleming's financial situation. The cost of bringing the nuns out and establishing them had forced him to lay aside many accustomed comforts. He had had to reduce the number of his domestics to "one general servant and a boy" and to subject himself "to a charge of parsimony" at the table. He had also given up his carriage and reduced his "stud to a single horse."
The nuns were agreeably surprised by the appearance of Newfoundland. "This country," Sister Mary Bernard wrote in her first letter home, "is by no means as dreary as we heard. The bay is beautiful and so is the country as far as we can see." Another of the sisters, Mary Magdalen O'Shaughnessy, was struck by the evident prosperity of St John's and the fondness of the children in the school for "dress-wear, necklaces, ear-rings, rings etc." "From their appearance," she wrote, "you would scarcely think you are teaching in a poor school. No such thing as a barefoot child to be seen here, how great the contrast between them and the poor Irish!" Nor were the nuns disillusioned by their first taste of winter, though Sister Mary Xavier Lynch was amazed to find stockings she had put out to dry "stiff as a board" and with "icicles hanging from them." "I suppose," she optimistically wrote in January 1834, "there is not a finer climate anywhere."
Local prices struck the nuns as very dear: cream and butter were luxuries and fresh meat "the greatest rarity in winter." The poor people were "very piously inclined," but Sister Mary Xavier told her Irish correspondent she would be astonished by their "simplicity and ignorance." Local priests had been asked whether the nuns would be sent to the outharbours to hear confession and whether they said mass for themselves. Some apparently thought that the nuns would live underground, and wondered whether they would ever speak or laugh.
The "Mode of Instruction" employed by the nuns was, initially at any rate, similar to that used in convent schools in Ireland. In 1848 they were offering instruction in spelling, reading, writing, English grammar, history (both sacred and profane), geography, arithmetic, natural history (taught from a book of the Irish National Schools), spinning, and needlework. As "lace mistress," Sister Mary Bernard had requested from her convent in 1833 "all the patterns of lace got since we parted and directions necessary for taking them off." In 1837 Fleming noted that the nuns had prepared 800 women of all ages for a confirmation service on 25 April 1836. In time the nuns also trained teachers.
In 1842 two others sisters came from Galway to St John's and in November of that year Fleming purchased a site for a new convent. The nuns moved to temporary accommodation in a former "ball-alley" on 31 Aug. 1843 and conducted school there until 14 Dec. 1844, when they moved into their new home. Here they taught in a few rooms and in the basement while work progressed on a school to accommodate at least 1,600 children. The total cost of the land, convent, and school was £4–5,000.
On 9 June 1846 the buildings were destroyed in the great fire that swept St John's. The nuns sought refuge at the convent of the Order of the Sisters of Mercy, established in 1842 [see Marianne Creedon, named Mother Mary Francis], before moving that evening to a cottage on Fleming's farm outside the town. Sleeping "on the floor, four in a room," "teaching . . . on fine days in the open fields and in rough weather in the stables and outhouses," they remained there until November 1846. In the mean time they had been joined by two more recruits from Galway. Their next move was back to Mercy Convent, part of which was partitioned off for their use. This building, designed for 4 nuns, now housed 15, a circumstance, Fleming reasoned, "greatly calculated to militate against the health of the entire." In February 1847 he appealed to the colonial secretary, Earl Grey, for funds to offset the order's loss and to help the sisters continue their work in an efficient manner. No support was forthcoming but by February 1849 a petition was being circulated in St John's calling on the legislature to make a grant to the order. The nuns were now teaching in a temporary shed near Mercy Convent but their charges had "dwindled away to a mere handful, of poor children." No doubt the problems of the order were compounded by Bishop Fleming's long illness and his death on 14 July 1850.
Better times soon followed. On 23 Aug. 1850 Fleming's successor, John Thomas Mullock*, laid the foundation-stone for a new convent. The collection at mass that day was £300. The priests present contributed £50, though Denis Mackin and Charles Dalton, according to Mullock's diary, "escaped shabbily away." The nuns moved into the new convent, which was still under construction, on 20 Oct. 1851, taking formal possession on 2 July 1853. The cost of the new convent and school was £7,000, of which the legislature voted £2,000. In the mean time the order had expanded to other parts of the island, convents being opened at Harbour Grace in 1851, at Carbonear in 1852, and at Harbour Main in 1853.
The next party to be sent from St John's was headed by Sister Mary Bernard Kirwan. On 16 Sept. 1853 she led a group of four to found a convent at Admiral's Cove on the southern shore. They were accompanied by Mullock and the local priest, James Murphy. Since their convent was not yet finished, the nuns lived initially in Father Murphy's house. Sister Mary Bernard was appointed superior of the convent, her title being confirmed by Mullock on 23 June 1856. She died in this office less than a year later. According to the annals of her last convent, "she was remarkable for a peculiar sweetness of disposition, exalted piety, unbounded Charity, and a burning zeal for the glory of God and the good of her neighbour; her death was like her life most holy."
AASJ, Mullock papers, journals and diaries, 1850–69. Arch. of the Presentation Sisters in Nfld. (St John's), Annals of the Presentation Convent, Fermeuse, Nfld.; Annals of the Presentation Convent, St John's; Corr., Sister Mary Bernard Kirwan to Mother Mary John Power, [22 Sept. 1833]; Sister Mary Magdalen O'Shaughnessy to Mother Mary John Power, 22 Sept. 1833; Sister Mary Magdalen O'Shaughnessy to Sister Mary Augustine, 21 Nov. 1833; Sister Mary Xavier Lynch to Sister Ann, 6 Jan. 1834 (typescripts); "Mother Mary Bernard Kirwan" (typescript, n.d.). MHGA, Paula Moore, "History of the coming and spread of the Presentation Sisters' in Newfoundland education" (typescript, 1971). M. A. Fleming, "Bishop Fleming to the Very Rev. Mr. Spratt, of Dublin . . . , Sept. 24, 1834," Catholic Magazine and Rev. (Birmingham, Eng.), 6 (1835): v–xii; Relazione della missione cattolica in Terranuova nell'America settentrionale . . . (Rome, 1837); "To the Very Rev. Mr. Spratt, Dublin . . . , Oct. 8th, 1834," Catholic Magazine and Rev., 6 (1835): lxxii–lxxxi. G.B., Parl., House of Commons paper, 1851, 36, no.679: 621–760, Copies or extracts of the correspondence between the governor of Newfoundland and the secretary of state for the colonies in reference to the appropriation of the subscriptions raised for the relief of the sufferers at St. John's by the fire in 1846. Nfld., Blue book, 1836; Legislative Council, Journals, 1848–49. Newfoundlander, 1833–73. Patriot (St John's), 1853. Royal Gazette and Newfoundland Advertiser, 1850. Louis Burke, "Some Irish contributors and contributions to Newfoundland education in the last century" (m.litt. thesis, Univ. of Dublin, 1975). Sister Mary James Dinn, Foundation of the Presentation Congregation in Newfoundland (St John's, 1975). Gunn, Political hist. of Nfld. Howley, Ecclesiastical hist. of Nfld; "Operetta 'The Golden Jubilee' of the Presentation Nuns at St. John's Newfoundland," in his Poems and other verses (New York, 1903), 93–122. William Hutch, Nano Nagle: her life, her labours, and their fruits (Dublin, 1875). Presentation Convent, Galway: sesquicentenary souvenir, 1965 (Galway, Republic of Ire., 1965). M. M. Byrne, "From acorn to oak, 1775–1975: the one thing necessary," Monitor (St John's), 43 (1975), no.12: 13. M. F. Howley, "The Presentation nuns in Newfoundland," Irish Monthly (Dublin and London), 12 (1884): 487–99. Paul O'Neill, "Around and about," Monitor, 43, no.12: 6.
© 1985–2023 University of Toronto/Université Laval
Image Gallery

Cite This Article
Peter Neary, "KIRWAN, Miss, Sister Mary Bernard," in Dictionary of Canadian Biography, vol. 8, University of Toronto/Université Laval, 2003–, accessed May 30, 2023, http://www.biographi.ca/en/bio/kirwan_8E.html.
The citation above shows the format for footnotes and endnotes according to the Chicago manual of style (16th edition). Information to be used in other citation formats:
| | |
| --- | --- |
| Permalink: | http://www.biographi.ca/en/bio/kirwan_8E.html |
| Author of Article: | Peter Neary |
| Title of Article: | KIRWAN, Miss, Sister Mary Bernard |
| Publication Name: | Dictionary of Canadian Biography, vol. 8 |
| Publisher: | University of Toronto/Université Laval |
| Year of publication: | 1985 |
| Year of revision: | 1985 |
| Access Date: | May 30, 2023 |