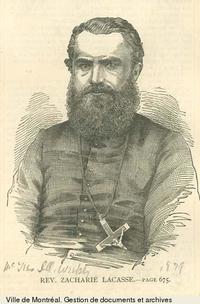 Source: Link
LACASSE, ZACHARIE (baptized Pierre-Zacharie Cassé), Roman Catholic priest, Oblate of Mary Immaculate, missionary, colonizer, preacher, and author; b. 9 March 1845 in Saint-Jacques-de-l'Achigan (Saint-Jacques), Lower Canada, son of Joseph Cassé, a farmer, and Marguerite Mirault; d. 28 Feb. 1921 in Gravelbourg, Sask., and was buried in Lebret, Sask.
Zacharie Lacasse was born into a poor and devout family. A difficult child, he was known as an unruly, mischievous, and not overly talented pupil. From 1857 to 1865 he did his classical studies at the Collège de L'Assomption, in Quebec, where Wilfrid Laurier* was also a student. He entered the noviciate of the Oblates of Mary Immaculate in Lachine on 28 Aug. 1869 and made his perpetual vows on 29 Aug. 1871. After completing his theological studies at the University of Ottawa, he was ordained to the priesthood on 27 April 1873 by Bishop Joseph-Bruno Guigues*. Within a few weeks Lacasse left Ottawa to minister among the Montagnais and French Canadians in the region of Betsiamites in the province of Quebec. From there he travelled to the interior of Labrador. He spent the winter of 1875-76 at Baie des Esquimaux (Hamilton Inlet); there he came in contact with Naskapi and Inuit and began learning Inuktitut. He reportedly compiled a dictionary for this language that was lost when the whaling ship transporting his luggage sank. In 1880 he went as far as Fort Chimo (Kuujjuaq), Que., on Ungava Bay.
That year, at the request of Archbishop Elzéar-Alexandre Taschereau* of Quebec, Lacasse agreed to turn his energies to colonization. He continued doing this work until 1883, especially in the area that would become the township of Normandin in the Lac-Saint-Jean region, and in the Beauce, within the parishes of Saint-Prosper and Saint-Zacharie (named in his honour). He is thought to have associated at that time with Arthur Dansereau*, Joseph-Israël Tarte*, and Jules-Paul Tardivel*, and to have persuaded Tardivel to found in 1881 the ultramontane Quebec newspaper La Vérité, to which he contributed. His evangelical activities were not confined to his preaching; he also took pen in hand to disseminate clerical-nationalist ideas among a larger number of believers. The apostolic writings he began to publish at that time would meet with extraordinary popular success. His first "mine," to use his own expression, came out at Quebec in 1880 under the title Une mine produisant l'or et l'argent, découverte et mise en réserve pour les cultivateurs seuls. Written from a moralistic stance, this work sought to check emigration to the United States. Lacasse proposed a system in which missionaries acting as colonization agents would recruit patrons, who would provide the financial aid new settlers needed. Settlers, in turn, would have to work a certain number of hours for their benefactor. Lacasse also set out a scheme for dividing the land that would keep the inhabitants close together rather than isolated on widely separated parcels of land; as well, he presented a plan for constructing roads and railways and offered practical advice about cultivating the soil. This volume went through seven editions in one year, and it was soon followed by Une mine de pierres détachées à l'usage des cultivateurs, which was brought out at Quebec in 1881. This somewhat autobiographical essay linked working on the land and being a good Catholic, and it emphasized the importance, in farming, of taking care not to exhaust the soil. In the volume Lacasse spoke out against, among other things, intemperance, luxury, freemasonry, and unsavoury reading material. He tried to encourage farmers to show their faith by paying the tithe, and to convince them that the Roman Catholic religion was superior to all others. "Remember this, my good country folk: on the day you no longer want to be the friends of the clergy, you will be the slaves of libertines. The choice is yours."
In 1883 Lacasse received a new assignment. He was attached to the Montreal house and preached at retreats in Canada and the United States. He would remain in this new field of evangelism until 1896. According to his contemporaries, he had the gift of eloquence, a sense of irony and earthy humour, and quick repartee, and he larded his talks with amusing stories and puns that appealed to the general public. His written pieces, set out as conversations, were highly representative of his preaching. During these years, his publications once again enhanced his fame. Lacasse's Une nouvelle mine; le prêtre et ses détracteurs, published in Montreal in 1892, was an apologia for the Roman Catholic clergy in Canada; 32,000 copies reportedly were quickly sold. The following year, Une quatrième mine; dans le camp ennemi came out in Montreal. It denounced the "enemies of religion" and especially a few "irreligious journalists." Lacasse took aim at the French anticlericals, whom he referred to as francissons, and he also attacked, among others, the Alliance Française. This essay, which Louis Fréchette* lost no opportunity to revile, aroused the ire of liberals and touched off a major debate in the media. Lacasse attacked Laurent-Olivier David, president of the Association Saint-Jean-Baptiste de Montréal, and Charles-Horace Saint-Louis, a lawyer for the Montreal Canada-Revue, who had brought suit against Archbishop Édouard-Charles Fabre* for having placed the newspaper under an interdict. His polemics described Saint-Louis as a renegade, an enemy of the church, a bad Catholic, and a citizen unworthy of being numbered among his compatriots. Saint-Louis sued Lacasse for libel, claiming damages of 25,000 "francs," but the case was stillborn, for the plaintiff apparently withdrew his complaint in the face of the defendant's pugnacious attitude. In 1895 Lacasse returned to the fray with Une cinquième mine; autour du drapeau, a defence of Christianity published in Montreal. The fourth "mine" had met with some disapproval from Archbishop Fabre, however, and he followed the new one with keen interest. It seems that in the wake of the stir Lacasse occasioned by his writings, his superiors decided to send him to western Canada.
Thus in 1896 Lacasse left Quebec for St Boniface (Winnipeg). In 1897-98 he was in charge of the parish of Sainte-Marie in Winnipeg. He took to the road again in 1900 to preach at retreats in North Dakota. From November 1902 to March 1903 he was interim curé in the parish of Saint-Jean-Baptiste in Duluth, Minn. In 1905 he was recalled to St Boniface, where he helped set up the Juniorat de la Sainte-Famille, a minor seminary for young people wishing to enter the religious life, and he served as its director in 1905–6. He also wrote articles for L'Ami du foyer, a periodical published by the Oblates of Mary Immaculate, notably "Les légendes du peuple canadien à l'ombre de la croix," a series of some 40 articles which came out between 1905 and 1918. After taking part as a theologian in the first Plenary Council at Quebec in 1909, he returned to Duluth and resumed his preaching tours, travelling as far as Wisconsin. In both western Canada and Minnesota, Lacasse became involved in intrigues and local polemics. In 1918, for example, Bishop Timothy Corbett of Crookston, Minn., accused him of slander in connection with a controversy concerning the enlargement of a hospital in Duluth.
In 1919 Zacharie Lacasse returned to the Juniorat de la Sainte-Famille. In 1920 his superiors appointed him spiritual director of the newly opened college in Gravelbourg, where he died on 28 Feb. 1921 of a heart ailment aggravated by diabetes. The previous year, he had published his autobiography in St Boniface. Its title, Une mine de souvenirs, recalls the works that made him the epitome of popular writing on ultramontane doctrines and teachings. Close to the land by birth and an eloquent preacher, he unconditionally advocated the doctrines of intransigent Roman Catholics. His intention was to make known the truth and defend it, as well as to condemn and deplore the errors denounced by Pope Pius IX in the Syllabus of December 1864.
In addition to the works already mentioned, Zacharie Lacasse's publications include Trois contes sauvages (Québec, 1882); Difficulté scolaire de Manitoba par questions et réponses à la portée de tous (Québec, 1897); and, under the pseudonym of Jean Des Prairies, Une visite dans les écoles du Manitoba (Montréal, 1897).
Researchers can find a voluminous file on Father Lacasse at the Arch. Deschâtelets, Oblats de Marie-Immaculée, Ottawa (HEC 2130.Z16C), including letters, an "Essai de bio-bibliographie: le révérend père Zacharie Lacasse, o.m.i." by Huguette Renaud (typescript, 1953) (Z16C26ex.1), and "Le R.P. Zacharie Lacasse, o.m.i." by Normand Lafleur (typescript) (Z16C4). Father Lacasse's baptismal record is at ANQ-M, CE605-S31, 10 mars 1845. The journal Missions de la Congrégation des missionnaires oblats de Marie Immaculée (Marseille, etc.) contains, among other items, letters and reports prepared by Lacasse during his years of service as a missionary; this material can be located by consulting its general index.
Les Cloches de Saint-Boniface (Saint-Boniface [Winnipeg]), 18 (1919): 19-20, 274; 20 (1921): 44-47. Le Devoir, 1er mars 1921. La Liberté (Saint-Boniface), 12 oct. 1932. Le Monde (Montréal), 27 oct., 15 déc. 1893. L'Oiseau-mouche (Chicoutimi, Qué.), 11 nov. 1893. La Patrie, 18 nov. 1893; 19 févr., 21 juill. 1894. Le Patriote de l'Ouest (Prince Albert, Sask.), 2 mars 1921. J.-B.-A. Allaire, Dictionnaire biographique du clergé canadien-français (6v., Montréal et Saint-Hyacinthe, Qué., 1908-34). Marcel Bernad, Bibliographie des missionnaires oblats de Marie Immaculée (Liège, Belgique, 1922). Gaston Carrière, Dictionnaire biographique des oblats de Marie-Immaculée au Canada (4v., Ottawa, 1976-89), 2: 217-18; 3: 47-48; Histoire documentaire de la Congrégation des missionnaires oblats de Marie-Immaculée dans l'est du Canada (12v., Ottawa, 1957-75), 8. Ernest Cyr, Le révérend père Zacharie Lacasse, o.m.i.: conférence donnée sous les auspices de l'Union canadienne à Saint-Boniface, le 6 novembre 1924 (Lyon, France, et Saint-Boniface, 1925). Lionel Dorge, Introduction à l'étude des Franco-Manitobains; essai historique et bibliographique (Saint-Boniface, 1973). Esquisses: la ville de Duluth; l'Église catholique et la colonie franco-américaine à Duluth (Duluth, Minn., 1910). Arthur Joyal, "Un missionnaire patriote: le R.P. Zacharie Lacasse, o.m.i.," Almanach de la langue française (Montréal), 7 (1922): 76-80. Le Jeune, Dictionnaire. Josaphat Magnan, "Il faisait rire, pour faire du bien," L'Ami du foyer (Saint-Boniface), 52 (1956), no.3: 12; no.4: 13. A.-C. Morin, Dans la maison du père; nécrologie sacerdotale du diocèse de Rimouski, 1867-1967 (Rimouski, Qué., 1967). J.-P. Tardivel, Mélanges ou recueil d'études religieuses, sociales, politiques et littéraires (3v., Québec, 1887-1903), 2: v-vii.
© 2005–2023 University of Toronto/Université Laval
Cite This Article
Gilles Lesage, "LACASSE, ZACHARIE," in Dictionary of Canadian Biography, vol. 15, University of Toronto/Université Laval, 2003–, accessed June 9, 2023, http://www.biographi.ca/en/bio/lacasse_zacharie_15E.html.
The citation above shows the format for footnotes and endnotes according to the Chicago manual of style (16th edition). Information to be used in other citation formats:
| | |
| --- | --- |
| Permalink: | http://www.biographi.ca/en/bio/lacasse_zacharie_15E.html |
| Author of Article: | Gilles Lesage |
| Title of Article: | LACASSE, ZACHARIE |
| Publication Name: | Dictionary of Canadian Biography, vol. 15 |
| Publisher: | University of Toronto/Université Laval |
| Year of publication: | 2005 |
| Year of revision: | 2005 |
| Access Date: | June 9, 2023 |