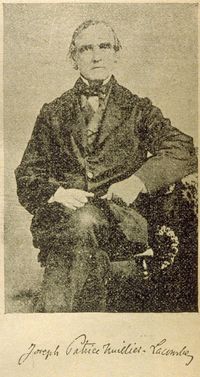 Source: Courtesy of Bibliothèque et Archives Nationales du Québec / 52327/2076021
LACOMBE (Truillier, dit Lacombe), PATRICE, notary and writer; b. 20 Feb. 1807 at the Lac-des-Deux-Montagnes mission (Oka, Que.), son of François-Xavier Truillier, dit Lacombe, merchant, and Geneviève Adhémar; d. 6 July 1863 at Montreal.
Patrice Lacombe studied at the Collège de Montréal from 1816 to 1825. He displayed there an aptitude for a happy turn of phrase, to judge by the prize lists, where he is recorded as receiving first prizes for translation from Latin and for Latin dissertation. He was admitted to the profession of notary on 31 Dec. 1830, and two years later entered the service of the Society of Saint-Sulpice, as their business agent. The management of the immense possessions of the Sulpicians did not take all his time, as the quantity of acts he signed shows.
Lacombe's life as a notary seems not to have been marked by any unexpected occurrences. On 7 Jan. 1835, at Saint-Joseph-de-Maskinongé (Maskinongé, Que.), he married Léocadie Boucher, widow of John Dies Nelson; Lacombe left no heirs. All his obituary notices attributed to him the qualities of a well-ordered life: integrity, affability, respectability. Without giving any precise information, they said that he encouraged literature.
Patrice Lacombe would certainly have sunk into oblivion if he had not written a short novel, which first appeared in the Album littéraire et musical de la "Revue canadienne" in 1846 and was then published by James Huston* in Le répertoire national. . . . "La terre paternelle" tells the story of a peasant family, the Chauvins, beset by misfortune because of the younger son's departure for the pays d'en haut. To prevent the elder son from following his example the father gives him his land, but under onerous conditions. He is soon forced to take it back, and decides to rent it out in order to buy a business. This does not prosper, and he has to declare bankruptcy. Having lost his land, he goes off, an exile, to the city, where he and his son become water carriers. The family then knows hardship and hunger. After ten years of this miserable existence the elder son dies, and Chauvin, for lack of money, has to surrender him to the charnel-house and to every kind of profanation. Luckily the younger son returns from the northwest with his pockets well lined, and the family is then able to recover their land and their lost happiness.
This little novel is not remarkable as a piece of writing but is notable for having inaugurated regionalist literature in Quebec. While other writers, such as Joseph Doutre*, Eugène L'Écuyer, or Pierre-Georges Boucher* de Boucherville, were striving to follow the French serialists, Lacombe endeavoured to describe the "pure and simple customs" of a countryside whose people bear "the greatest adversities with resignation and patience." But although it is the prototype of the "roman de la terre paternelle," which was to have more than 60 examples, Lacombe's story is not a stereotype for this kind of writing. It was more than half a century later that Damase Potvin* wrote of elderly fathers who want to bequeath their land to their only son. The son, lured by the city, leaves his home, only to meet degradation and disillusionment. In some of the stories he dies, or he may return home recognizing his error. Such a concept of rural life was still in a primitive form when Lacombe wrote, and could not suggest to him all the possible effects he might produce. But, though his writing was not of the liveliest, he wrote correctly, and often managed scenes that had colour, for instance the sketch of the voyageurs' inn, the auction at the door of the church, the realistic description of the squalid house in the faubourg Saint-Laurent, and finally the return of the voyageurs from the pays d'en haut. For a modest effort, this novel accomplished much.
Patrice Lacombe's La terre paternelle was first published in February 1846 in Album littéraire et musical de la "Revue canadienne" (Montréal). It has been reprinted at least 11 times, the last in 1972. A complete description of the reprints can be found in D. M. Hayne and Marcel Tirol, Bibliographie critique du roman canadien-français, 1837–1900 ([Québec et Toronto], 1968), 95–97.
ANQ-M, Greffe de Patrice Lacombe, 1831–63. Archives judiciaires, Terrebonne (Saint-Jérôme, Qué.), Registre d'état civil, Lac-des-Deux-Montagnes, 21 févr. 1807. JIP, juill.–août 1863, 121–22. Le Journal de Québec, 9 juill. 1863. La Minerve, 7 juill. 1863. Le Monde illustré (Montréal), 10 sept. 1892. Albert Dandurand, Le roman canadien-français (Montréal, 1937), 29–37. D. M. Hayne, "Les origines du roman canadien-français," Le roman canadien-français, évolution-témoignages-bibliographie (Montréal et Paris, [1964]), 55–57. Histoire de la littérature française du Québec, Pierre de Grandpré, édit. (4v., Montréal, 1967–69), I, 178–84. Léopold Lamontagne, "Les courants idéologiques dans la littérature canadienne-française du XIXe siècle," Littérature et société canadiennes-françaises, Fernand Dumont et J.-C. Falardeau, édit. (Québec, 1964), 101–19. J.-E. Roy, Hist. du notariat, II, 85–87. Richard Lessard, "Patrice Lacombe, auteur de La terre paternelle," BRH, XLVI (1940), 180. Réjean Robidoux, "Fortunes et infortunes de l'abbé Casgrain," Revue de l'université d'Ottawa, XXXI (1961), 209–29.
© 1976–2023 University of Toronto/Université Laval
Cite This Article
Maurice Lemire, "LACOMBE, PATRICE," in Dictionary of Canadian Biography, vol. 9, University of Toronto/Université Laval, 2003–, accessed June 9, 2023, http://www.biographi.ca/en/bio/lacombe_patrice_9E.html.
The citation above shows the format for footnotes and endnotes according to the Chicago manual of style (16th edition). Information to be used in other citation formats:
| | |
| --- | --- |
| Permalink: | http://www.biographi.ca/en/bio/lacombe_patrice_9E.html |
| Author of Article: | Maurice Lemire |
| Title of Article: | LACOMBE, PATRICE |
| Publication Name: | Dictionary of Canadian Biography, vol. 9 |
| Publisher: | University of Toronto/Université Laval |
| Year of publication: | 1976 |
| Year of revision: | 1976 |
| Access Date: | June 9, 2023 |