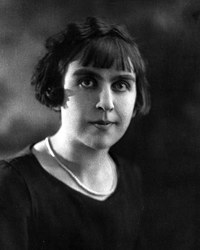 Source: Link
LAJOIE, JEANNE (baptized Marie-Jeanne-Alberta), teacher; b. 2 Feb. 1899 in Lefaivre, Ont., one of the 12 children of Damien Lajoie, a joiner, and Alexina Proulx; d. unmarried 2 March 1930 in Montreal.
Marie-Jeanne Lajoie (as she was called until about 1922) did not start attending school until she was eight because of poor health. Illness would later prevent her from writing her high-school entrance examinations. Nonetheless, at 13 she began taking piano lessons and at 15 she obtained a diploma in stenography from an academy in Montreal. In 1919 she became housekeeper for her brother Élias, the parish priest at Vars, Ont. Her objective was to be a teacher and in 1921 she was hired to take over, from February to June, a class with four students in a separate school in the Sudbury district near Warren. She went next to a public school near Azilda, where she had some 60 students, before moving to a school at Naughton in September 1922. She left, however, at the end of October, fatigued and complaining of depression. In March 1923, having recovered from what she called a "breakdown," she took on a class at Blezard Valley. At the English-French summer model school in Ottawa in 1922, she had obtained an English-French district certificate, which qualified her to teach for a year in a dual-language school. In the summer of 1923 she attended a month-long academic course at the English-French model school in Vankleek Hill. That September, shortly before her certificate was renewed, she accepted a position to teach French at St John School, one of two separate schools (neither of them officially designated as bilingual) in Pembroke, an Ottawa valley town with a large francophone population.
St John School, where the majority of students were French-speaking, had been opened in early 1923 as a result of a campaign by the Cercle Lorrain. (Formed in 1916 and named for Narcisse-Zéphirin Lorrain, the first Roman Catholic bishop of Pembroke, this society promoted the interests of local francophones.) Under the provisions of and amendments to the province's Regulation 17 [see Sir James Pliny Whitney*], French could not be used in the school as a language of communication and instruction beyond form 1 except by permission from inspectors. French reading, grammar, and composition could be subjects of study in forms 1 to 4 but for no more than one hour per day. Jeanne was hired to teach a regular class of some 30 French-speaking students and to provide one hour of instruction in French to a rotating group of students, also French-speaking, from other classes. Her arrival was not entirely welcome: the principal of the school, which was supervised by the Sisters of St Joseph, immediately told her it was "foolish" to teach children two languages. A few weeks later the inspector recommended to Pembroke's school board that Jeanne's classes be turned over to another teacher, a more highly qualified anglophone sister who also held an English-French certificate and who, despite lacking a mastery of French, had taught it the previous year. Bowing to pressure, in October 1923 the board decided to dismiss Jeanne. There is little doubt she had fuelled the controversy by seeking to teach in French for periods longer than allowed by Regulation 17.
The decision was not well received among the parents and other francophones in Pembroke. Jeanne's cause was also taken up by the Association Canadienne-Française d'Éducation d'Ontario [see Napoléon-Antoine Belcourt*]; a spokesman commented privately on 10 October to Alfred Longpré, the president of the Cercle Lorrain, that "this provocation cannot be allowed to pass without the French Canadians of Pembroke protesting very strongly." Jeanne had written to the ACFEO on 6 October setting out her version of events and her letter was printed anonymously in the Ottawa newspaper Le Droit. When a petition and other protests did not result in the reversal of the school board's decision, several hundred people decided, at a meeting sponsored by the Cercle Lorrain, to follow the example of Franco-Ontarians in Green Valley (in Glengarry County) in 1916 and establish a "free" school outside government control, with Jeanne as its teacher. On 6 November, after speeches by representatives from the Cercle and the ACFEO, by Montreal editor Omer Héroux*, and by Jeanne herself, the École Jeanne-d'Arc opened with more than 50 students in the dining room of a private home. Jeanne, who according to Héroux "had lifted the courage" of the francophones in Pembroke, had become a symbol of the resistance offered to what was perceived as the persecution of Franco-Ontarians.
The school survived by means of donations received from organizations such as the Association Catholique de la Jeunesse Canadienne-Française and the Union Saint-Joseph du Canada and from individuals, many of them responding to appeals made especially in Le Droit and Heroux's Le Devoir. Later in November a new home was purchased for the school and in February 1924 another teacher was hired. In addition to giving speeches in support of the school, Jeanne raised money while on summer holidays in Montreal. Her reputation as a teacher was recognized when she was offered the principalship of a school in Windsor, Ont., in May 1925. She refused, saying her work was in Pembroke.
The protest by francophones in Pembroke reflected events in many parts of Ontario. A large number of French-instruction schools, especially in Ottawa and the rural areas of Prescott and Russell counties, had openly resisted Regulation 17. The ACFEO continued to oppose the regulation, which would be shelved by the province in 1927, but by then Jeanne was no longer in the front ranks of the resistance.
Her health had taken a turn for the worse. In September 1926 she entered the Hôpital du Sacré-Cœur in Cartierville (Montreal), diagnosed with tuberculosis. She never recovered and died on 2 March 1930. The "heroine of Pembroke" was not forgotten. Originally interred in a pauper's grave in the Notre-Dame-des-Neiges cemetery in Montreal, she was reburied and given a new headstone. Abbé Lionel Groulx* said in 1940 that she was of the "spiritual family of Joan of Arc" and that with her name, Jeanne, she "could be called the Maid of Pembroke." Pilgrimages were made to her tomb in the 1940s and she was the subject of allegorical floats in Saint-Jean-Baptiste day parades. In the last half of the 20th century, some French-language schools in Ontario were named in her honour, the story of her struggle was the subject of at least three plays, and her actions were cited as exemplary for those anxious about the survival of the French language in Ontario.
There are photographs of Jeanne Lajoie in Dictionnaire de l'Amérique française; francophonie nord-américaine hors Québec, Charles Dufresne et al., édit. (Ottawa, 1988), and in La Patrie, 7 nov. 1923.
AO, RG 2-102-0-3; RG 80-2-0-499, no.32793. Centre for Research on French Canadian Culture (Ottawa), C2 (Fonds Association canadienne-française de l'Ontario), /21/5: corr., rapports, 1922; /21/8: rapports, résolutions, 1926; /101/9: corr., résolution, loi, 1923-24; /183/22: Lajoie, Jeanne; /186/9: Longpré, Alfred; /211/4: corr., juillet–-octobre 1923; /212/1-2: corr., février-décembre 1924; /212/4-5: corr., 1925-26; /212/6: corr. et coupures de presse, 1927; Edmond Clouthier, "Quinze années de lutte! 1910-1925: catéchisme de la question scolaire ontarienne" (texte dactylographié, [1925]). LAC, RG 31, C1, 1901, Alfred Township, Ont., div.4: 2 (mfm. at AO). Le Droit (Ottawa), septembre 1923–decembre 1924, 6 mars 1930. P.-F. Sylvestre, "Naissance de Jeanne Lajoie, la 'pucelle de Pembroke,'" L'Express (Toronto), 3–9 févr. 2004: 3. Robert Choquette, Language and religion: a history of English-French conflict in Ontario (Ottawa, 1975). Alfred Longpré, L'éveil de la race: un épisode de la résistance franco-ontarienne, Pembroke, 1923–27 ([Pembroke, Ont., 1930]). Peter Oliver, Public & private persons: the Ontario political culture, 1914–1934 (Toronto and Vancouver, 1975), 92–124. Frère Urbain-Marie [J. A. Delisle], Jeanne Lajoie: l'héroïne de Pembroke (Laprairie, Qué., [1942?]). F. A. Walker, Catholic education and politics in Ontario . . . (3v., Toronto, 1955–87; vols.1–2 repr. 1976), 2.
© 2005–2023 University of Toronto/Université Laval
Image Gallery

Cite This Article
Henri Pilon, "LAJOIE, JEANNE," in Dictionary of Canadian Biography, vol. 15, University of Toronto/Université Laval, 2003–, accessed June 8, 2023, http://www.biographi.ca/en/bio/lajoie_jeanne_15E.html.
The citation above shows the format for footnotes and endnotes according to the Chicago manual of style (16th edition). Information to be used in other citation formats:
| | |
| --- | --- |
| Permalink: | http://www.biographi.ca/en/bio/lajoie_jeanne_15E.html |
| Author of Article: | Henri Pilon |
| Title of Article: | LAJOIE, JEANNE |
| Publication Name: | Dictionary of Canadian Biography, vol. 15 |
| Publisher: | University of Toronto/Université Laval |
| Year of publication: | 2005 |
| Year of revision: | 2005 |
| Access Date: | June 8, 2023 |