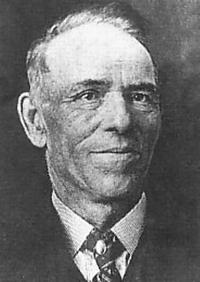 Source: Courtesy of Wikimedia Commons
LAPOINTE, ALEXIS, known as Alexis le Trotteur, maker of bake-ovens, labourer, runner, and popular figure; b. 4 June 1860 in La Malbaie, Lower Canada, son of François Lapointe, a farmer, and Adelphine Tremblay, dit Picoté; d. unmarried 12 Jan. 1924 in Saint-Joseph-d'Alma (Alma), Que., and was buried 16 January in La Malbaie.
Alexis Lapointe, known as Alexis le Trotteur, was the eighth in a family of 14 children. His maternal grandfather, Alexis Tremblay*, dit Picoté, was a leading member of the Société des Entrepreneurs des Pinières du Saguenay (later known as the Société des Vingt et Un), which opened up the Saguenay region to colonization in the spring of 1838.
Alexis had a Christian upbringing in modest circumstances and his education at home was certainly comparable to that of other farmers' sons in his day. His schooling, on the other hand, was rudimentary. Naive and not overly intelligent, he likely attended the local school for a year at most. He could recognize coins fairly well but was easily deceived. Since no document in his handwriting has ever been found, probably, unlike his parents, he could neither read nor write. Throughout his life he would have the mind of a child, but this would not keep him from being witty and cunning at times. His greenish eyes were unusual, having a pale line around the iris, and hence mixed hues.
By his own efforts and almost without being aware of it, Alexis very early in life developed a potential for competitive running, having been endowed with the right body and frame. He so enhanced his ability to run long distances that he was to accomplish feats never before considered possible. As an adult, he would be of average height (about five feet seven inches) and rather stocky. His powerful rib cage, broad shoulders, abnormally long arms, muscular thighs, and bony, pointed knees would certainly give him an athletic appearance.
Lapointe earned his living as a handyman in the Charlevoix, Saguenay, and Lac-Saint-Jean regions, mainly in sawmills and logging camps and on farms. After the death of his mother on 13 April 1890, he went to the Matapédia valley, where the lumber trade was flourishing. During the ten years he spent south of the St Lawrence, he ventured as far as Maine and Vermont, where he worked in lumber camps. When he returned to La Malbaie around 1900, he discovered a new trade for himself, that of making bake-ovens. It was one at which he excelled and he worked in a special way. Few people mixed clay and water with their feet, dancing and stamping in the trough, or added a magic potion to give the hearth its very own character. Because of his trade, he had to go from village to village. Always on the run, he never stayed more than one season in the same place.
In all the regions he travelled through, Lapointe also performed in public as an entertainer. A musician, he played the harmonica, the jew's harp, or simply a comb (covered with birchbark or thin paper). Many people attending dances were astonished at the frenzied jigs he played for hours on end. Over the years he increasingly took on the identity of horses, whinnying, kicking, stamping his feet, whipping himself, wearing a harness, running, and even chewing on oats. This was the way he gained popularity. Little by little, people began to notice him, point at him, laugh at his feats, and make fun of them. At the age of 26 he would compete with the best trotters, leap over cedar fences, run races with trains, and even challenge ships. Although the stories of Lapointe's exploits, which were largely reported by eyewitnesses, would be coloured by legend as the years went by, they would retain a considerable element of truth. Examination of his bone structure in fact revealed the stuff of a champion. As a result of his running and jumping, his ceaseless dancing, and the way he lived, worked, and travelled, Alexis le Trotteur was in prime physical shape. Like many others, he probably could have made a good showing in the marathon held at Athens in 1896, during the first Olympic Games of modern times.
Although Lapointe fell madly in love with anyone wearing a skirt and having long hair, he never married. And yet he proposed to a dozen women, always proceeding in the same way, by proffering a letter that indicated he owned goods and property north of Lac Saint-Jean. His demonstrations of affection for the women he desired were always those of a somewhat eccentric teenager whom no one ever took seriously.
Lapointe was killed in an accident when a flatcar struck him as he was wandering along one of the railway tracks on a bridge across the Rivière La Grande Décharge. He had been doing various odd jobs at the time for the Quebec Development Company Limited, which was in charge of building a large hydroelectric dam between Alma and Île Maligne, in the Lac-Saint-Jean region [see Sir William Price].
Running, entertaining people, telling stories, enlivening evening parties, building bake-ovens, making jokes, and playing tricks – such was the world of Alexis Lapointe, to whom Marius Barbeau*, among others, would devote several books. An imaginative man, he was often seen as eccentric. With no goal in life, he was content to live for the present moment. He seemed to cherish the conviction that there would always be doors open to welcome him, lumber camps where he could serve as a kitchen boy, farms and sawmills where he could find temporary work. By carrying on these repetitive activities in many places, Alexis le Trotteur transformed what might have been a banal existence into a life so astonishing that it enriched people's fantasies.
ANQ-Q, CE304-S3, 4 juin 1860. ANQ-SLSJ, P18. Marius Barbeau, "Alexis le Trotteur," Le Canada français (Québec), 2e sér., 27 (1939–40): 881–91; The Kingdom of Saguenay (Toronto, 1936); Le Saguenay légendaire (Montréal, 1967). Marjolaine Bouchard, Le cheval du Nord (Chicoutimi, Qué., 1999). J.-C. Larouche, Alexis le Trotteur (Montréal, 1971; 2e éd., Chicoutimi, 1987); Alexis le Trotteur: athlète ou centaure? (Saint-Nazaire-de-Chicoutimi, Qué., 1977).
© 2005–2023 University of Toronto/Université Laval
Cite This Article
Jean-Claude Larouche, "LAPOINTE, ALEXIS, known as Alexis le Trotteur," in Dictionary of Canadian Biography, vol. 15, University of Toronto/Université Laval, 2003–, accessed December 9, 2023, http://www.biographi.ca/en/bio/lapointe_alexis_15E.html.
The citation above shows the format for footnotes and endnotes according to the Chicago manual of style (16th edition). Information to be used in other citation formats:
| | |
| --- | --- |
| Permalink: | http://www.biographi.ca/en/bio/lapointe_alexis_15E.html |
| Author of Article: | Jean-Claude Larouche |
| Title of Article: | LAPOINTE, ALEXIS, known as Alexis le Trotteur |
| Publication Name: | Dictionary of Canadian Biography, vol. 15 |
| Publisher: | University of Toronto/Université Laval |
| Year of publication: | 2005 |
| Year of revision: | 2005 |
| Access Date: | December 9, 2023 |