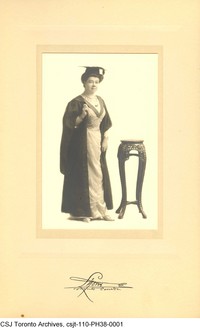 Source: Link
LAWLER (Lawlor), ELIZABETH GERTRUDE, educator and social advocate; b. in Boston, third daughter of John Lawlor and Ann Leighton; d. unmarried 21 July 1929 in Toronto.
The date of Gertrude Lawler's birth is uncertain: 1866 and 1867 are possibilities and the census of 1901 gives 28 Dec. 1871. Her familial connections in Canada included three Roman Catholic priests: her great-great-uncle Edmund Burke* (a vicar apostolic of Nova Scotia), her great-uncle John Carroll of Toronto and Chicago, and her uncle Edmund Burke Lawlor of Toronto. Gertrude began her education in Boston. After she moved to Toronto as a child in 1879, she attended public schools there and was the recipient of the Jesse Ketchum prize. Yet throughout her life she regarded St Joseph's Academy, run by the Sisters of St Joseph in Toronto, as the school of her formation. When she graduated in June 1882 she was the valedictorian and recipient of the academy's gold medals for proficiency and English literature. In addition to her pursuits there, she studied fine arts, elocution, and vocal and instrumental music (she took church organ with Frederick Herbert Torrington*).
During the time Lawler attended St Joseph's, it was not certified to present pupils for matriculation examination. With the encouragement of inspector James Laughlin Hughes*, she wrote her examinations at Toronto Collegiate Institute. (Her success encouraged the Sisters of St Joseph to amend their curriculum to meet provincial requirements and henceforth present their pupils at their own site.) A brilliant student, in 1886 Lawler entered the University of Toronto, where she received many awards and graduated with a ba in 1890. She took her ma in 1892 in honour mathematics, "being the first woman in Canada to take such standing in this department," according to her graduate records.
Lawler had a highly successful career as a secondary-school teacher. Having gained a professional certificate, in 1890 she was appointed to Stratford Collegiate Institute; two years later she joined the newly founded Harbord Street Collegiate Institute in Toronto, where she lived with her uncle E. B. Lawlor. From the outset of her teaching career, she was proud of the fact that she always received the same salary as a man would have been paid. She acquired specialist certificates in English, French, German, and mathematics, but it was as an English teacher and director of Shakespearean plays that she was most fondly remembered. "Filled with a deep patriotism," one biographer recalled, "she always maintained that it is essential to keep the Dominion truly British in language, education and ideals; and it was this deep feeling which made her teaching of the English language a living thing to her students." Business tycoon Willard Garfield Weston* was not alone in declaring her his favourite teacher. Her love of English also inspired many students beyond her high school. She served in the university's faculty of education as a lecturer and examiner in methods in English (1908–10), and edited several textbooks, including works by Shakespeare, Tennyson, Arnold, and Browning.
During her 26 years at Harbord, Lawler became enormously popular. "Reticent and dignified of person," according to some who knew her, "she was a model of graciousness and decorum." In 1906 news of her possible transfer brought a deputation of parents to a meeting of the Board of Education that resulted in her remaining at Harbord. She received attention again in 1914 when she was reported to be the leading candidate for the principalship of Jarvis Street Collegiate Institute. Although her qualifications and experience were celebrated by the press and her colleagues, she was unsuccessful; the Globe wondered if sexual discrimination was the reason. During World War I she worked closely with Harbord principal Edward William Hagarty, who also commanded the 201st Battalion, to establish an auxiliary for this unit. Ill health caused her to retire in 1918, but she would maintain her association with Harbord as honorary president of its Alumni Association.
Lawler steadfastly fostered the creation of bonds between students and their schools. A lifelong supporter of her own alma maters, she was first president of the St Joseph's Alumnae Association in 1911 and founding editor a year later of the St Joseph Lilies, a literary and alumnae magazine. She was a member as well of the International Federation of Catholic Alumnae, an organization of convent-school graduates, and, within the University of Toronto, an executive member of its Alumnae Association, an associate editor of the University of Toronto Monthly, and from 1910 a member of its senate. Such involvement is striking since, in addition to teaching, Lawler belonged over time to a host of other organizations, among them the League of Nations Society in Canada, the Dickens Fellowship, the University Women's Club, Ontario's Committee of Education Films, the Canadian Red Cross, and the Pure English Society of Chiswell.
Once she left teaching, Lawler's attention focused on the needs of women and children. She was especially active in the Catholic Women's League of Canada [see Bellelle Guerin]; at its organizational meeting in Montreal in June 1920 she was appointed a vice-president. Re-elected at the 1921 convention, she served as well as president of the Toronto division and as a representative in 1921 to the International Union of Catholic Women's Leagues. At the 1922 convention she moved that the CWL adopt, as a national undertaking, the work of the Sisters of Service, a religious community formed in Toronto that year for "the preservation of the Faith and Nationalization of New Canadians." She subsequently headed the league's Sisters of Service committee in its initial phase.
Lawler's interest in public welfare led her to an active role as well on the Social Service Council of Ontario and Toronto's Social Hygiene Council. Indefatigable, she convened a building-fund drive for Women's College Hospital in Toronto, and in 1920–27 chaired the local Mothers' Allowance Board, in which her leadership was highly praised. In 1922 she was a delegate to the international convention held under the auspices of the United States League of Women Voters. Lawler's abundant contributions were recognized by religious and secular institutions alike: in 1925 she was awarded a papal medal by Pius XI "for distinguished services to education and religious work" and two years later the University of Toronto granted her an honorary lld. Following her death from cancer in 1929, scholarships were established in her name at both the university and St Joseph's Academy. Buried in Mount Hope Cemetery, she was survived by a niece and two sisters, Annie Lee Lawler of Toronto, to whom she left her modest estate, and Mary E. Walsh of Boston.
Gertrude Lawler was a pioneering woman in many fields, in secondary and post-secondary education, in the advocacy of equal pay for work of equal value (especially in education), and in the structuring of non-denominational and interdenominational agencies to address social justice. She represents an emerging tradition: a woman of strong conviction who, while practising her faith openly and supporting church-based organizations, spent her professional life in the sphere of public education and who divided her volunteer time between denominational and secular charitable activities.
There are several portraits of Elizabeth Gertrude Lawler, including one in the student library of St Joseph's College Residence, Univ. of St Michael's College, Univ. of Toronto, and miniatures at the Sisters of St Joseph of Toronto Arch.
Textbooks edited by Lawler include Shakespeare's "The merchant of Venice" (Toronto, 1906), Shakespeare's "A midsummer-night's dream" (Toronto, 1909), and, as assistant to Alfred Henry Reynar, Select poems of Alfred Tennyson, with memoir, introduction, and annotations (Toronto, 1903). She is also credited with editing a collection of works by Arnold, Browning, and Tennyson, but no copies of this textbook have been located.
AO, RG 22-305, no.62766. Harbord Collegiate Institute Arch. (Toronto), Gertrude Lawler file. Mount Hope Cemetery (Toronto), Burial card, interment no.16142. LAC, RG 31, C1, 1901, Toronto, Ward 2, div.31: 4 (mfm. at AO). Sisters of St Joseph of Toronto Arch., box 5, St Joseph's Academy, reg., 1859–1920, 13 April 1882; Gertrude Lawler file. UTA, A1973-0026/221(92). Evening Telegram (Toronto), 21 July 1929. Globe, 22 July 1929. Canadian League (Toronto), 1921–22 (copies in the Catholic Women's League of Canada Arch., Winnipeg). St Joseph Lilies (Toronto), 1 (1912–13), no.4: 72–74 (copies in Sisters of St Joseph of Toronto Arch.). E. M. Smyth, "The lessons of religion and science: the congregation of the Sisters of St. Joseph and St. Joseph's Academy, Toronto, 1854–1911" (ed.d. thesis, Univ. of Toronto, 1989). Standard dict. of Canadian biog. (Roberts and Tunnell). Women of Canada (Montreal, 1930).
© 2005–2023 University of Toronto/Université Laval
Cite This Article
Elizabeth M. Smyth, "LAWLER, ELIZABETH GERTRUDE," in Dictionary of Canadian Biography, vol. 15, University of Toronto/Université Laval, 2003–, accessed December 3, 2023, http://www.biographi.ca/en/bio/lawler_elizabeth_gertrude_15E.html.
The citation above shows the format for footnotes and endnotes according to the Chicago manual of style (16th edition). Information to be used in other citation formats:
| | |
| --- | --- |
| Permalink: | http://www.biographi.ca/en/bio/lawler_elizabeth_gertrude_15E.html |
| Author of Article: | Elizabeth M. Smyth |
| Title of Article: | LAWLER, ELIZABETH GERTRUDE |
| Publication Name: | Dictionary of Canadian Biography, vol. 15 |
| Publisher: | University of Toronto/Université Laval |
| Year of publication: | 2005 |
| Year of revision: | 2005 |
| Access Date: | December 3, 2023 |