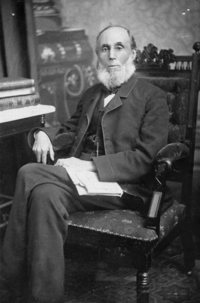 Source: Link
LAWSON, ALEXANDER, printer, newspaperman, and office holder; b. 15 Jan. 1815 near Inverness, Scotland, son of Daniel Lawson and Catherine —; m. 20 Sept. 1837 Frances Campbell Ring in Yarmouth, N.S., and they had five sons and four daughters; d. there 3 March 1895.
Alexander Lawson's family emigrated to New Glasgow, N.S., when he was an infant. He went to work as an apprentice in the office of the liberal Colonial Patriot of Pictou in 1828, about six months after its establishment. Having finished his apprenticeship on 1 June 1833, he left for Halifax. Shortly after, he moved to Yarmouth, where at the age of only 18 he launched a newspaper to succeed that small community's first paper, the Yarmouth Telegraph and Shelburne Advertiser. With the first number of the Yarmouth Herald, and Western Advertiser Lawson began a remarkable career as editor and publisher, which, apart from an interruption due to ill health between 1845 and 1851 (when the paper was published by Angus Morrison Gidney*), would continue until his death 62 years later.
Lawson's career started in an age of artisan journalism, when the editor (often a former apprentice himself) was also in charge of printing his own newspaper in a small shop with one or two apprentices. (The Yarmouth Herald's first apprentice was Richard Huntington, later to achieve prominence as a journalist and politician in Yarmouth County.) Production methods were labour-intensive. The first issue of the four-column newspaper was printed on a small mahogany hand press; two employees were able to produce between 200 and 250 copies of one of the newspaper's four pages in an hour. Although in 1836 the Yarmouth Herald acquired a new press and type that enabled it to expand to six columns, publishing the newspaper still required prodigious work on the part of two employees (one to operate the machine and the other to ink the roller) and posed daunting challenges of improvising with sheet tin when proper column rules and leads could not be obtained from Boston suppliers. Despite such difficulties, which condemned the early issues of the newspaper to a crude appearance and an over-reliance on British and American news, on 22 Dec. 1843 the Herald became the first Nova Scotia newspaper to publish on a semi-weekly basis. (It would return to weekly publication in August 1850.) So technologically modest an operation was inclined to be peripatetic: between 1835 and 1874 the Herald moved its office at least eight times. Gradually the operation grew larger and more diversified. In 1867 the Herald was the first Nova Scotia newspaper to introduce steam-power to its printing plant. (Its steam-engine was among the first to be made by Burrell, Johnson and Company of Milton, Yarmouth County, N.S.) By acquiring a box factory, ruling and numbering machines, a complete bookbindery, and, in 1885, a weekly supplement, the Yarmouth Telegram, the Herald had become by the 1890s a stable and fairly prosperous institution. Lawson staunchly persevered at his work until a week or two before he died, following an acute asthma attack, at the age of 80. At the time of his death he was thought to be the oldest newspaper editor in Canada.
Alexander Lawson was well integrated into his community, serving for a short time as its postmaster and, from 1852 to 1882, as the manager of its first telegraph office. His newspaper, although increasingly identified with the Liberal party, spoke on many occasions for all business interests in western Nova Scotia, especially in its ardent defence of the principles of free trade. Through its columns (particularly the record of shipping owned in the county of Yarmouth, which was a regular feature, and the detailed coverage of maritime disasters) can be traced the rise and decline of Yarmouth County as a great shipping centre and the town of Yarmouth as a vigorous shipowning and manufacturing community. The Herald's progressive world view – its support of the county's precocious temperance movement, free education for the masses, and women's suffrage – was consistent with the community's mid-19th-century optimism.
The newspaper also reflected the "improving" assumptions of the earnest mid-Victorian artisan who had adopted "Knowledge is power" as its founding motto. In 1845, for example, Lawson linked responsible government to the triumph of progress: because "the practices of the old system of Colonial rule had become too glaringly absurd to be longer continued or defended," he argued, "the British Government, in accordance with its rank in front of the great nations of the earth, acceded to the changes which Colonial freemen demanded as their birthright, and confidingly extended to these distant lands the inestimable mantle of the Constitution. With this every Colonist has reason not only to be satisfied, but to be proud."
Only with this background in mind can we appreciate Lawson's strenuous and unyielding opposition to confederation, the one major issue on which his views have significance today. It was not based on a country journalist's instinctive fear of change, or primarily on Yarmouth's parochial concern that the building of the Intercolonial Railway would prove wasteful and corrupt, but on a small master's sense of the rights of the free-born British citizen. After the confederation resolution passed the Nova Scotia legislature in April 1866, the Herald proclaimed, "The people of Nova Scotia have too much faith in the justice of the British Government to believe that 350,000 loyal British subjects will be treated by that Government as serfs, and not as freemen – made to distrust the Government to which they have always borne true and faithful allegiance. In such an event, their being called by the now valued name of British freemen, would be but a mockery and a taunt." Shortly before 1 July 1867 Lawson spoke of the coming "Day of Humiliation" and interpreted confederation as a dramatic reversal of responsible government: "Nearly thirty years ago, after a long struggle, the right of self-government was conceded to Nova Scotia, and since then the people have had the privilege of managing their own affairs, making their own laws, regulating their own tariff and controlling their own revenues, and have enjoyed a degree of liberty, prosperity, contentment and happiness unsurpassed on the face of the earth. . . . These privileges have been torn from them for no fault of theirs. They have not asked for, or desired a change in their political institutions. . . . But in spite of all, revolution has been forced upon them. Is this liberty? Are they free people? What is now their boast?"
On 1 July the citizens of Yarmouth County displayed their flags at half-mast, wore black weeds in their hats, and hung an effigy of confederate Charles Tupper*, which was burnt, along with a live rat, in the evening. Lawson, who would speak once more against confederation during the "repeal" campaign of the 1880s, had in 1867 spoken for the anti-confederate majority in western Nova Scotia and, by raising so eloquently the question of the liberty of British subjects, had also linked this powerful protest movement to the mainstream of 19th-century liberalism.
Yarmouth County Court of Probate (Yarmouth, N.S.), Wills, 4: 398–400 (mfm. at PANS). Yarmouth County Museum and Hist. Research Library, Arch. files, YMS 1-140, A2 (letters relative to Alexander Lawson); Scrapbook on the Lawson family. Yarmouth Herald, 1833–1923. Yarmouth Light, 7 March 1895. David Alexander and Gerry Panting, "The mercantile fleet and its owners: Yarmouth, Nova Scotia, 1840–1889," Atlantic Canada before confederation . . . , ed. P. A. Buckner and David Frank (Fredericton, 1985), 309–34. Waite, Life and times of confederation. V. A. Bower, "A hundred years in the news," Maclean's (Toronto), 46 (1933), no.23: 29. D. R. Jack, "The Yarmouth Herald," Acadiensis (Saint John, N.B.), 8 (1908): 222–25. Kenneth Winter, "The town of Yarmouth: 1867 and 1923," Nova Scotia Hist. Rev. (Halifax), 1 (1981): 39–49.
© 1990–2023 University of Toronto/Université Laval
Image Gallery

Cite This Article
Ian McKay, "LAWSON, ALEXANDER," in Dictionary of Canadian Biography, vol. 12, University of Toronto/Université Laval, 2003–, accessed June 1, 2023, http://www.biographi.ca/en/bio/lawson_alexander_12E.html.
The citation above shows the format for footnotes and endnotes according to the Chicago manual of style (16th edition). Information to be used in other citation formats:
| | |
| --- | --- |
| Permalink: | http://www.biographi.ca/en/bio/lawson_alexander_12E.html |
| Author of Article: | Ian McKay |
| Title of Article: | LAWSON, ALEXANDER |
| Publication Name: | Dictionary of Canadian Biography, vol. 12 |
| Publisher: | University of Toronto/Université Laval |
| Year of publication: | 1990 |
| Year of revision: | 1990 |
| Access Date: | June 1, 2023 |