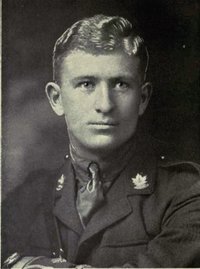 Source: Courtesy of Wikimedia Commons
LEARMONTH, OKILL MASSEY, office holder and army officer; b. 20 Feb. 1894 at Quebec, son of William Learmonth, a stenographer, and Martha Jane Richardson; d. 19 Aug. 1917 in France.
Okill Massey Learmonth's first 20 years appear to have passed unremarkably. He was an only child and was educated in the city of his birth, at St George's School and later at the Quebec High School. After graduation he worked first at the Union Bank of Canada, then on a private estate on Anticosti Island, and lastly in the Treasury Department at Quebec. On 11 March 1914 he was elected a member of the Literary and Historical Society of Quebec.
World War I profoundly changed Learmonth's life and brought his routines to a sudden end. He had some experience of the military, having served in the militia for two years, and on 29 Sept. 1914, less than two months after the outbreak of hostilities, he enlisted in the Canadian Expeditionary Force and was attached to the 12th Infantry Battalion. Within a few days he left for England aboard the Scotian. Next came training on Salisbury Plain, after which he was sent to France with the 2nd Infantry Battalion, to which he had been transferred.
Until 15 June 1916 Learmonth fought as a private and a corporal. During this period his battalion was involved in trench warfare and in engagements at Ypres (Ieper), in Belgium, and Festubert and Givenchy-lez-La-Bassée, in France. It faced heavy combat, particularly in the Ypres salient where, according to the battalion's historian, it was "virtually destroyed." In June 1916, in the Observatory Ridge sector alone, the battalion lost many officers, non-commissioned officers, and enlisted men. Learmonth was among the wounded. After receiving his commission as a lieutenant, he returned to Quebec for a few weeks with his family, and then went back on active service.
The year 1917 was another very hard one for the Canadian divisions. The assaults on Vimy Ridge on 9 April, the village of Fresnoy-en-Gohelle on 3 May, and Hill 70 on 15 August, were especially gruelling for the 2nd Battalion. Vimy Ridge was the largest operation thus far mounted by Canadian troops on French soil and involved all four divisions of the Canadian Corps. The most arduous task, to advance nearly two and a half miles on the right flank, fell to the 1st Division. Learmonth was then in command of No.3 Company of the 2nd Battalion, which, along with other units of the 1st Infantry Brigade, was assigned to capture the advance Blue and Brown lines. Despite fierce German resistance, the operation was crowned with success.
More is known about Learmonth's role at Fresnoy. This small village south of Vimy provided a clear view of the flanks of a line between Oppy and Méricourt to which the Germans had withdrawn on 13 April, and was therefore definitely of strategic interest to the Allies. Three units of the 1st Infantry Brigade were assigned to seize it. The task of clearing out the neighbouring woods fell to the 1st and 3rd battalions, while the 2nd was to mount a frontal assault. Once the leading company had stormed and taken the German trench blocking the way, Learmonth, who by then was an acting major and company commander, managed with his men to work his way to the houses on the right of the village, despite heavy fire. In addition to taking a number of prisoners, they soon silenced many pockets of resistance, passed through the village, and reached the final objective to the east of it.
"For conspicuous gallantry and devotion to duty," Learmonth was awarded the Military Cross on 14 Aug. 1917. "Finding himself the senior officer of his battalion present after reaching the final objective of an attack," the citation read, "he showed great skill in handling the situation, directing the consolidation and making daring personal reconnaissances under heavy fire."
Lieutenant-General Sir Arthur William Currie* noted in his personal diary that the fight for Hill 70 "was altogether the hardest battle in which the Corps has participated." The same could be said for the 2nd Battalion. This slope dominating the town of Lens was the scene of a large-scale attack by the Canadian Corps and several German counter-attacks. The counter-attack on 18 August, to the north of the Chalk Quarry, especially targeted No.3 and No.4 companies, commanded by majors Learmonth and Frank R. Spence respectively. Although seriously wounded, Learmonth managed to stand on the parapet of his trench during the battle, throwing grenades and directing his men. "Several times," historian G. W. L. Nicholson states, "he caught enemy bombs and threw them back with deadly effect. When he could no longer fight because of his wounds, he continued to instruct his junior officers in the conduct of the battle." He was taken to hospital only after insisting on going to report on the situation to his superiors. He died the following day, 19 Aug. 1917, and was buried in the French cemetery of Nœux-les-Mines, near Béthune. For his heroic conduct in this battle he was awarded the Victoria Cross, the highest British military decoration.
Both in France and in Canada, there was mourning for the death of Major Learmonth. To his comrades in arms, he was the epitome of the "ideal type of officer." Brave, considerate, and an accomplished leader, he excelled in all spheres of regimental activity. For many townspeople of Quebec, he was indeed the greatest hero the city had given the Canadian Expeditionary Force, and they wanted a street named Learmonth in his honour, a step taken on 1 Oct. 1920. The Imperial Order Daughters of the Empire named one of its chapters after him.
ANQ-Q, CE1-66, 3 mai 1894; CE1-67, 14 août 1888. Literary and Hist. Soc. Arch. (Quebec), L1, C1, 2 (reg. of elected members, 1822–1922). NA, RG 150, Acc. 1992–93/166, box 5489. L'Action catholique (Quebec), 23 août 1917. L'Événement, 23 août 1917. Le Soleil, 23 août 1917. Guide odonymique de la ville de Quebec, 1608–1988 (Quebec, [1989]). London Gazette, 14 Aug., 6 Nov. 1917. C. G. Machum, Canada's V.C.'s; the story of Canadians who have been awarded the Victoria Cross . . . (Toronto, 1956). W. W. Murray, The history of the 2nd Canadian Battalion (East. Ontario Regiment), Canadian Expeditionary Force, in the Great War, 1914–1919 ([Ottawa], 1947). Nicholson, CEF. P.-G. Roy, Les rues de Quebec (Lévis, Qué., 1932). Thirty Canadian V.C.s: 23rd April 1915 to 30th March 1918 (London, [1918?]). Valiant men: Canada's Victoria Cross and George Cross winners, ed. John Swettenham (Toronto, 1973).
© 1998–2023 University of Toronto/Université Laval
Cite This Article
Jacques Castonguay, "LEARMONTH, OKILL MASSEY," in Dictionary of Canadian Biography, vol. 14, University of Toronto/Université Laval, 2003–, accessed June 7, 2023, http://www.biographi.ca/en/bio/learmonth_okill_massey_14E.html.
The citation above shows the format for footnotes and endnotes according to the Chicago manual of style (16th edition). Information to be used in other citation formats:
| | |
| --- | --- |
| Permalink: | http://www.biographi.ca/en/bio/learmonth_okill_massey_14E.html |
| Author of Article: | Jacques Castonguay |
| Title of Article: | LEARMONTH, OKILL MASSEY |
| Publication Name: | Dictionary of Canadian Biography, vol. 14 |
| Publisher: | University of Toronto/Université Laval |
| Year of publication: | 1998 |
| Year of revision: | 1998 |
| Access Date: | June 7, 2023 |