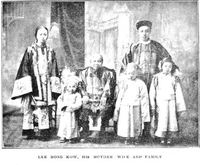 Source: Link
LEE MONG KOW (Li Mengjiu in Mandarin), interpreter and school principal; b. 2 Dec. 1861 in Panyu county, Guangdong province (People's Republic of China); he had at least one wife, and six sons and six daughters; d. 9 May 1924 in Hong Kong.
Lee Mong Kow's family was probably relatively well-to-do. His mother, Lee Quan Sze, widowed at age 22, saw to her son's education. Once he had grown, she pursued charitable activities, gaining considerable prominence in China and North America. Poor families did not have the financial resources to educate sons or to enable widows to avoid remarrying.
It is not clear when Lee entered Canada, but he most likely arrived around 1880. Initially he worked as a labourer in Esquimalt, B.C., and then by "studying and saving" he became a tailor. In 1882 he moved to Victoria. He may have worked as an interpreter on an ad hoc basis before his appointment as chief interpreter for the Chinese immigration services of the Department of Customs in November 1889. Although responsibility for Chinese immigration would change ministries, he would continue as chief interpreter until 1920. During his tenure he oversaw the entry of thousands of Chinese into Canada and earned a reputation for honesty and integrity.
One of the few members of Victoria's Chinese community whose activities were discussed in the province's English-language press, Lee first came to public notice as a witness for the royal commission to investigate Chinese and Japanese immigration into British Columbia, appointed in 1900. On this occasion he testified to the importation of Chinese prostitutes. His comments illustrate his role as cross-cultural interpreter. When asked whether he knew of Chinese women who had been sold into slavery as prostitutes, he replied that he knew of three cases of "Chinese women coming here who might be called slaves by the white people, but in China we do not call them slaves." He explained that men paid the passage money and head taxes of women who wanted to come to Canada but could not afford it. The women agreed to work as prostitutes in order to pay back the costs plus seven per cent interest within an agreed period of time.
Lee's prominence in the Chinese community of Victoria was noted by the Chinese government, which in 1907 awarded him fourth-class honours, described by the Daily Colonist (Victoria) as equivalent to a kcmg. The following year the paper reported on a combined business and pleasure trip he took to eastern Canada. In an era of considerable discrimination against the Chinese, he had the social and financial capital to ensure that his rights were respected. In 1906 the Vancouver Daily World had claimed that he was in the process of buying one of the province's newspapers, in contravention of laws governing such matters. The World had to issue an official apology after being contacted by his solicitors. In 1908 he threatened the city of Victoria with a lawsuit over a disputed building permit. In 1909, in the midst of a dispute over the enrolment of Chinese children in Victoria schools, including the establishment of a racially segregated class, he applied for and received a permit for three of his children to attend the unsegregated North Ward School.
Possibly because of his work with the federal government, Lee appears to have been less active in the political life of Victoria than other members of the Chinese elite. His absence may have been related to the fact that he belonged to a minority within the Cantonese-speaking community in Canada. Most Chinese in British Columbia were from Siyi, a region of four adjacent counties in the Canton (Guangzhou) delta, where a sub-dialect of Cantonese was spoken. Lee came from Panyu, a county close to Canton, where people spoke the standard form of Cantonese. His origins may have made him an outsider given the overlapping loyalties of birthplace and lineage that shaped so much of the political life of overseas Chinese communities. On the other hand, he seems to have had social ties to people such as Yip On, the chief organizer of the Chinese Empire Reform Association, one of the main political movements of the era. This association in turn would have linked him to Vancouver businessman Yip Sang. Lee did not become caught up in the immigration scandal of 1910–11, examined by the royal commission appointed to investigate alleged Chinese frauds and opium smuggling on the Pacific coast. The commission recommended that criminal charges be laid against Yip On.
Lee's leadership is most evident in the field of education. He was likely one of the prime movers behind the establishment of the Le Qun Yishu, the first Chinese-language elementary school in Canada, and he became its first principal. Opened in 1899, the school enrolled 100 Chinese students and was entirely supported by voluntary subscriptions. According to the Daily Colonist, a spokesperson, probably Lee himself, explained that it had been established because "we are Chinamen, no matter where we go and find that, in view of the international relations now opening up, it is necessary to have an education in Chinese as well as in English." In 1908 the school was brought under the control of the Chinese Consolidated Benevolent Association, the leading Chinese community organization, and it was reorganized the following year as the Chinese Imperial School with funding from the Chinese government. It became the Chinese Public School in 1913, when the Victoria School Board arranged with Lee to accommodate two of its own segregated classes for Chinese pupils there. Chinese children attended English-language classes under the jurisdiction of the board during the day and Chinese-language classes under the control of the association at night. This arrangement continued until 1915, when the board was unable to secure a reduction in the rent for the rooms. Lee's address to the students at the first graduation, in 1915, noted that the institution was the largest Chinese school in Canada. He pointed out that in addition to their studies in the "Westerner's schools," the students had achieved "a Chinese national standard." They had met certification requirements for elementary school graduates set by the Chinese ministry of education. The school would still offer classes in Chinese at the beginning of the 21st century.
In 1920 Lee moved to Hong Kong to become the Chinese agent for Canadian Pacific Ocean Services Limited. Apparently, he became sick shortly afterwards and he passed away in May 1924 after an extended illness. At his death, Lee Mong Kow may have been more prominent in the eyes of Anglo-European Canadians than in those of Chinese Canadians. His death was front-page news in the English-language press, an unusual recognition for someone of Chinese origin in the highly racially stratified and racist society of the time. Vancouver's Dahan Gongbao [Chinese Times], the only Chinese newspaper preserved from this period, had only a short report on his death.
School District 61 Educational Heritage Arch. and Museum (Victoria), Victoria School District, trustees' meetings, minute-books, 1905–10: 112; 1911–14: 440. Dahan Gongbao [Chinese Times](Vancouver), 22, 24 March, 13 July 1915. Daily Colonist (Victoria), 18 Jan. 1899, 9 Sept. 1906, 15 April 1907, 8 Oct. 1908. Victoria Daily Times, 1 Sept. 1908, 10 May 1924. Lim Bang, "Weibu Zhonghua Huiguan zhi yuange ji qiaoxiao chuanli zhi yuanqi" [The origins of the Victoria Chinese Consolidated Benevolent Association and the reasons for the creation of overseas schools], in Jianada Weiduoli Zhonghua Huiguan chengli qishiwu, Huagiao Xuexiao chengli liushi–zhounian jinian tekan [Seventy-fifth anniversary of the Victorian Canadian Chinese Consolidated Benevolent Association and the sixtieth anniversary of the Overseas Chinese School, special memorial publication], ed. D. T. H. Lee [Lee T'ung-hai] (Victoria, 1960), pt.iv: 1–5. Can., Parl., Sessional papers, 1909, no.30; Royal commission on Chinese and Japanese immigration, Report (Ottawa, 1902; repr. New York, 1978); Royal commission appointed to investigate alleged Chinese frauds and opium smuggling on the Pacific coast, Report (Ottawa, 1913). A. B. Chan, Gold Mountain: the Chinese in the new world (Vancouver, 1983). Harry Con et al., From China to Canada: a history of the Chinese communities in Canada, ed. Edgar Wickberg (Toronto, 1982; repr. 1988). C. D. Lai, "Home county and clan origins of overseas Chinese in Canada in the early 1880s," BC Studies (Vancouver), no.27 (fall 1975): 3–29. T. J. Stanley, "'Chinamen, wherever we go': Chinese nationalism and Guangdong merchants in British Columbia, 1871–1911," CHR, 77 (1996): 475–503.
© 2005–2023 University of Toronto/Université Laval
Image Gallery

Cite This Article
Timothy J. Stanley, "LEE MONG KOW," in Dictionary of Canadian Biography, vol. 15, University of Toronto/Université Laval, 2003–, accessed September 28, 2023, http://www.biographi.ca/en/bio/lee_mong_kow_15E.html.
The citation above shows the format for footnotes and endnotes according to the Chicago manual of style (16th edition). Information to be used in other citation formats:
| | |
| --- | --- |
| Permalink: | http://www.biographi.ca/en/bio/lee_mong_kow_15E.html |
| Author of Article: | Timothy J. Stanley |
| Title of Article: | LEE MONG KOW |
| Publication Name: | Dictionary of Canadian Biography, vol. 15 |
| Publisher: | University of Toronto/Université Laval |
| Year of publication: | 2005 |
| Year of revision: | 2005 |
| Access Date: | September 28, 2023 |