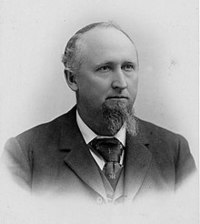 Source: Courtesy of Wikimedia Commons
LEEDY, JOHN WHITNAH, soldier, clerk, farmer, politician, lawyer, and political organizer; b. 8 March 1849 in Bellville, Ohio, son of Samuel Keith Leedy, a farmer, and Margaret Whitnah; m. 4 Nov. 1875 Sarah (Sadie) Jane Boyd (1851–1941) in Knox County, Ohio, and they had two daughters and one son; d. 24 March 1935 in Edmonton.
John W. Leedy was brought up in accordance with the strict tenets of the Brethren in Christ (Tunkers) [see Johannes Wenger*]. He was still a small boy when his father died, and because he had to work the farm in his youth to help support his family, he received an extremely limited education. Leedy participated in the American Civil War, enlisting in the Union army's 163rd Ohio Infantry Regiment as a private at the age of 14. He worked subsequently as a store clerk in Indiana and, from about 1868, as a farmhand in Illinois. In the early 1880s he moved to Le Roy, Kans., where he established an initially prosperous farm and horse-breeding business. First a Republican, then a Democrat, he joined the Populist Party (People's Party), a radical farmers' organization, in the early 1890s. Leedy's conversion may have been triggered by an economic downturn that led to the loss of his properties. He was elected to the Kansas Senate in 1892, and four years later, riding a wave of agrarian discontent, he won the governorship.
During his term, which lasted from January 1897 to January 1899, Governor Leedy demonstrated his populism by switching offices with his secretary so that he would be more accessible to the people. His proudest achievement was the passage of a law that facilitated the establishment of small, local banks. He believed that these institutions had a great advantage over their larger competitors because small-bank employees got to know the people in their communities and could therefore lend money on the basis of a man's character, rather than solely on the basis of the security he could offer. Years later, Leedy would assert that this law had lifted Kansas out of poverty and made it the most prosperous state in the union. He also tried, with little success, to force the railways to cease what he regarded as their monopolistic behaviour and better serve the public. Moreover, in response to the tide of patriotic sentiment that followed the outbreak of the Spanish-American War in April 1898, Leedy organized four state regiments, one of which comprised black soldiers. He was defeated in that November's gubernatorial election, largely because the populist movement had gone into steep decline. But his political experience had etched into his consciousness an enduring conviction that corporate power, including that of large banks, was primarily responsible for the economic problems of the common people.
After his defeat Leedy practised law and became involved in mining ventures. He spent several years in Alaska, where he served as a district attorney and as mayor of Valdez (1901–3). In 1908 he moved to Alberta, where he took up a homestead near Whitecourt, a tiny settlement northwest of Edmonton. He became a naturalized British subject and joined the United Farmers of Alberta (UFA) in 1915, the year in which James Speakman* won the presidency. Benefiting from his fame as a former governor, Leedy was accorded an opportunity to speak before the 1916 UFA annual convention on the small-bank system he had helped establish in Kansas. His speech, which created something of a sensation among credit-hungry Alberta farmers, was printed in the widely read Grain Growers' Guide.
That year the Non-Partisan League (NPL), a socialistic farmers' party and powerful force in North Dakota, appeared in Alberta. Leedy was immediately attracted to the NPL, which called for state ownership of banks, utilities, and large industries as well as independent agrarian political action. He helped organize the Alberta branch, and in the provincial election of 7 June 1917 he stood as its candidate in Gleichen, where he was relatively unknown and was badly defeated. Undaunted, the ageing ex-Populist ran in the Alberta riding of Victoria in the federal election of 17 December, but he suffered an even more crushing loss. At the 1918 UFA annual convention he was elected third vice-president, a role he would play in a conscientious but undistinguished fashion. That year he endorsed an executive resolution that condoned the decision of Sir Robert Laird Borden's Union government to draft farmers' sons for military service in the First World War, even though the resolution caused considerable resentment among rank-and-file UFA members.
Leedy's uncompromising personality clashed with that of another expatriate American, UFA president Henry Wise Wood*, who had become an icon in the organization. A definitive break between them came over the question of how the UFA should enter politics. Aware that the American Farmers' Alliance (a body similar to the UFA) had been destroyed by supporting the Populists, Wood insisted that the UFA avoid endorsing or forming a traditional political party. Instead, UFA district associations, consisting of local UFA members, should nominate and finance their own candidates without top-down initiative or direction. In contrast, Leedy believed that the UFA should become a third party or support one such as the NPL, and that it should possibly ally itself with organized labour, as the Populists had done. Owing to this disagreement with Wood, Leedy refused to stand for election to either the UFA executive in 1919 or the presidency the following year.
Nevertheless, Leedy continued to work within the UFA for monetary policy reform. At the 1919 UFA convention he vigorously debated the merits of Canadian banks with Vere Cecil Brown, a superintendent of Sir Byron Edmund Walker*'s Canadian Bank of Commerce. Leedy was also responsible for a convention resolution, which the delegates endorsed, that called for the establishment of small local banks. Later that year he wrote a pamphlet, What's the matter with Canada?, which slammed the country's banking system and lauded the systems of Kansas and New Zealand. At the 1921 UFA convention he favoured a demand for the nationalization of the banking and credit system. By this time, however, Leedy was becoming a marginal figure in the UFA. His antipathy to Wood eventually drove him, at the age of 77, to contest the riding of Edmonton as an independent candidate in the 1926 provincial election. The old man finished last in a large field. His final major public act, in 1934, was testifying as a banking expert before a legislative committee of the UFA, which was then in power under John Edward Brownlee*.
It is difficult to assess John W. Leedy's modest influence in Canada. Perhaps his role as an NPL organizer and candidate helped instill in Alberta farmers a desire for direct political action that eventually prompted the UFA to plunge into electoral politics. Moreover, it may be that by his sustained criticism of the banks, Leedy contributed to the development of a consensus in rural Alberta that farmers' woes stemmed largely from a credit system that was stacked against them. This consensus, in turn, fostered popular receptiveness to a very different monetary pied piper, William Aberhart*, whose Social Credit Party crushed the UFA in the provincial election of 22 Aug. 1935 by hammering the financial interests in speeches and promising a radical credit solution that, ironically, Leedy had condemned in the Edmonton Journal just two weeks before his death on 24 March. "From his own life of incessant advocacy he himself secured little," the Winnipeg Free Press noted. "He died poor." Upon learning that Leedy was terminally ill and his family was impoverished, the Kansas legislature passed a special act that appropriated $1,000 to pay for the former governor's burial as well as the placement of a bronze memorial tablet on his grave in Edmonton.
John Whitnah Leedy is the author of What's the matter with Canada? … (Edmonton, [1919?]), which is available at archive.org. His governor's message of 1897 can be viewed on the Kans. State Library website "John Whitnah Leedy (1897–1899)": kslib.info/915/John-Whitnah-Leedy-1897-1899 (consulted 1 Aug. 2018), and his speech at the 1916 United Farmers of Alberta annual convention, "Banks that serve the farmer …," is in the Grain Growers' Guide (Winnipeg), 8 March 1916: 7, 33–36. A guide to his family history, "The Leedy family" at www.leedyfamily.com/index.htm (consulted 1 Aug. 2018), includes the digitized complete run of the Leedy Chronicle (Ashland, Ohio), 1897–1927, in which he is mentioned frequently, most notably in S. C. Schenck, "A farmer governor: the new executive of Kansas an interesting character," Leedy Chronicle, 1 (July 1897–July 1899): 6–7. The following is a selected bibliography; a full list of the sources used by the author is held by the DCB.
Alaska State Library, Hist. Coll. (Juneau), MS 238 (John W. Leedy papers and photographs, 1901–1941). GA, Jack Ford fonds, files M-7366-28 and M-7366-43; United Farmers of Alberta fonds, ser.2, Micro/ufa, Official minutes of the UFA Executive and Board – 1913–1929; Official minutes and reports of the UFA annual conventions – 1910–1949. LAC, "Land grants of western Canada, 1870–1930," John W Leedy: www.bac-lac.gc.ca/eng/discover/land/land-grants-western-canada-1870-1930/Pages/land-grants-western-canada.aspx (consulted 1 Aug. 2018). Alberta Non-Partisan (Calgary), 29 March 1918, 30 Jan. 1919. Calgary Herald, 25 March 1935. Edmonton Journal, 24 June 1926, 8 March 1935. Grain Growers' Guide (Winnipeg), 5 Sept. 1917, 28 Jan. 1920. Winnipeg Free Press, 2 July 1936. K. D. Bicha, "John W. Leedy: continental commoner," Alberta Hist. Rev. (Calgary), 22 (1974), no.3: 13–23. Kansas: a cyclopedia of state history, embracing events, institutions, industries, counties, cities, towns, prominent persons, etc., ed. F. W. Blackmar (3v., Chicago, 1912), 2. B. J. Rennie, The rise of agrarian democracy: the United Farmers and Farm Women of Alberta, 1909–1921 (Toronto, 2000). Nelson Wiseman, "The American imprint on Alberta politics," Great Plains Quarterly (Lincoln, Nebr.), 31 (2011): 39–53.
© 2022–2023 University of Toronto/Université Laval
Cite This Article
Bradford J. Rennie, "LEEDY, JOHN WHITNAH," in Dictionary of Canadian Biography, vol. 16, University of Toronto/Université Laval, 2003–, accessed December 7, 2023, http://www.biographi.ca/en/bio/leedy_john_whitnah_16E.html.
The citation above shows the format for footnotes and endnotes according to the Chicago manual of style (16th edition). Information to be used in other citation formats:
| | |
| --- | --- |
| Permalink: | http://www.biographi.ca/en/bio/leedy_john_whitnah_16E.html |
| Author of Article: | Bradford J. Rennie |
| Title of Article: | LEEDY, JOHN WHITNAH |
| Publication Name: | Dictionary of Canadian Biography, vol. 16 |
| Publisher: | University of Toronto/Université Laval |
| Year of publication: | 2022 |
| Year of revision: | 2022 |
| Access Date: | December 7, 2023 |