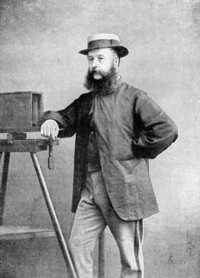 LEGGO, WILLIAM AUGUSTUS, engraver, photoengraver, lithographer, publisher, and inventor; b. 25 Jan. 1830 at Quebec, son of William Augustus Leggo, a bookbinder and engraver, and Margaret Grant; d. 21 July 1915 in Lachute, Que.
After studying at Quebec High School, William Augustus Leggo was apprenticed to his father as an engraver. At the age of 17 he went to Boston, where he completed his apprenticeship with the engraver Cyrus A. Swett. William Augustus and his brothers Thomas, Edward, and Henry worked as engravers in the family business and took a keen interest in mechanical methods of reproducing illustrations. On 21 Jan. 1863 William Augustus entered into a five-year partnership with George-Paschal Desbarats* and Stewart Derbishire*, under the corporate name of Wm A. Leggo and Company. The partners advertised as engravers, lithographers, and electrotypists. When Derbishire died in March 1863, George-Édouard Desbarats*, the son of George-Paschal, joined the firm, and after his father's death in November 1864 he became Leggo's sole partner.
There was a craze for photography at the time, but only a few privileged people who could afford a camera, plates, and developing or who could hire a photographer had access to it. The desire to popularize reproduction of pictures led to research into ways of making images more readily available. On 27 Feb. 1865 Leggo and Desbarats obtained a patent for a new method of photomechanical reproduction named Leggotyping, which made it possible to reproduce line drawings and black and white engravings. The technique consisted of creating a mould by exposing to light a photograph of the image covered with gelatine bichromate. Using this plate, the artisan made a plaster mould from which was produced a copper plate that could be used for letterpress printing. On 21 Jan. 1868 Leggo and Desbarats set up Leggo and Company in Montreal, with offices on Place d'Armes and printing-shop at 319 Rue Saint-Antoine. The first issue of Desbarats's paper the Canadian Illustrated News, dated 30 Oct. 1869, carried an engraving of Prince Arthur produced by Leggo's photo-electrotyping technique. Desbarats also used Leggotyping in L'Opinion publique, which was launched in January 1870, and in a facsimile reprint of the (Œuvres de Champlain that year.
In June 1869 Leggo patented a new method for reproducing photographs, known as granulated photography. It involved exposing the negative of the photograph onto a lined or dotted screen. The tones of the photograph became blurred and the new plate could then be reproduced using letterpress printing. The first granulated photograph, which showed the custom-house in Montreal, appeared in the Canadian Illustrated News on 3 June 1871. In the meantime, the Leggo brothers went on working as printers. In 1871 they reissued as colour lithographs the series of Montreal scenes painted by Robert Auchmuty Sproule*, engraved by William Satchwell Leney, and printed by Adolphus Bourne* in 1830.
Leggo and Desbarats found the Canadian market too small. To make a profit on the large amounts of capital required for their various publications, they formed the Union Art Publishing Company to put out an illustrated daily in New York. On 4 March 1873 the first issue of the Daily Graphic appeared. Desbarats had to withdraw from the business shortly afterwards, however, because of financial difficulties, but Leggo continued to publish the newspaper while carrying on his research with Stephen H. Horgan. The paper lasted until 1889, though by 1879 at the latest Leggo was back in Montreal. He formed a partnership there that year with William H. Guillebaud of New York, to do business as merchants and manufacturers under the name of Leggo and Company. He was then living in Lachute, not far from Montreal. Nothing further is known about his activities.
Throughout his life Leggo had taken an interest in many subjects. He obtained a number of patents, including one on a plan for a dirigible and another on a method of sending transatlantic messages by telegraph and cables. He died in Lachute in 1915, leaving his wife, three daughters, and a son.
In 1867, under their trade name W. A. Leggo et Compagnie, William Augustus Leggo and George-Édouard Desbarats published in Ottawa Un art nouveau, la leggo-typie: procédé photo-électrotypique, breveté au Canada, aux États-Unis, en Angleterre, en France et en Belgique.
AC, Montréal, Cour supérieure, déclarations de sociétés, 3, no.4281 (1868); 4, nos.5402–3 (1871); 8, no.773 (1879). ANQ-Q, CE1-61, 7 nov. 1830; T11-1/28, nos.991 (1863), 1100 (1864), 1224 (1864). Le Canadien, 22 oct. 1869. Gazette (Montreal), 23 July 1915, 13 Oct. 1956. Mary Allodi, Printmaking in Canada: the earliest views and portraits (Toronto, 1980), 64–65. Jim Burant, "Illustrated journals and magazines: a source for visual records," Archivist (Ottawa), 13 (1986), no.5: 6–7. Cabrette [É.-Z. Massicotte], "Les disparus," BRH, 26 (1920): 191. "Canadian Illustrated News": a commemorative portfolio, ed. Peter Desbarats (Toronto, 1970). Yves Chèvrefils, "John Henry Walker (1831–1899), artisan-graveur," Journal of Canadian Art Hist. (Montreal), 8 (1985): 178–223; "John Henry Walker (1831–1899), artisan-graveur montréalais; la montée et la chute du premier médium moderne d'illustration: la gravure sur bois de reproduction" (mémoire de ma, univ. du Québec à Montréal, 1985); "La reproduction de l'image au Canada de 1848 à 1902," Nouvelles de l'estampe (Paris), no.97 (mars 1988): 18–28; "Reproduction photomécanique et photographie d'amateur au Canada: quelques notes sur le rapport entre l'histoire d'une technique et le développement d'une pratique culturelle," Nouvelles de l'estampe, no.91 (mars 1987): 22–25. L.-O. David, Souvenirs et biographies, 1870–1910 (Montréal, 1911), 251. Directories, Montreal, 1868–73; Quebec, 1830–68. P.-G. Roy, Fils de Québec (4 sér., Lévis, Qué., 1933), 4: 106–7.
© 1998–2023 University of Toronto/Université Laval
Image Gallery

Cite This Article
Bernard Dansereau, "LEGGO, WILLIAM AUGUSTUS," in Dictionary of Canadian Biography, vol. 14, University of Toronto/Université Laval, 2003–, accessed September 30, 2023, http://www.biographi.ca/en/bio/leggo_william_augustus_14E.html.
The citation above shows the format for footnotes and endnotes according to the Chicago manual of style (16th edition). Information to be used in other citation formats:
| | |
| --- | --- |
| Permalink: | http://www.biographi.ca/en/bio/leggo_william_augustus_14E.html |
| Author of Article: | Bernard Dansereau |
| Title of Article: | LEGGO, WILLIAM AUGUSTUS |
| Publication Name: | Dictionary of Canadian Biography, vol. 14 |
| Publisher: | University of Toronto/Université Laval |
| Year of publication: | 1998 |
| Year of revision: | 1998 |
| Access Date: | September 30, 2023 |