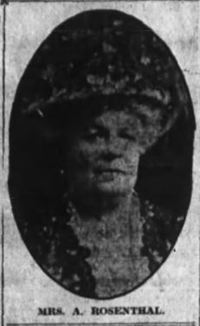 Source: Link
LEHMAN, BERTHA (Rosenthal), philanthropist and Jewish communal leader; b. 2 Aug. 1849 (some sources give the year as 1850 or 1852) in Berlin, daughter of Lewis Lehman; m. 27 March 1867 Aaron Rosenthal, and they had five sons; d. 10 Dec. 1922 in Ottawa.
Bertha Lehman met and married Aaron Rosenthal while on a visit to Australia. He had left Prussia at 13, travelled through India and Ceylon (Sri Lanka), and was in Australia at the time of the gold rush in the 1850s. After living in England in the early 1870s, the Rosenthals immigrated to Canada in 1874, settling in Montreal, where Aaron established Rosenthal, Benjamin and Company, wholesale jewellers. They moved in 1878 to Ottawa, where Aaron opened a jewellery shop. In 1911, two years after Aaron's death, his business was sold to Henry Birks and Sons Limited [see Henry Birks].
The Rosenthals, along with the family of Moses Bilsky, were among the founders of Ottawa's Jewish community. During the 1870s and 1880s it had been necessary to gather Jews from the Ottawa valley, western Quebec, and eastern Ontario to form a minyan (quorum) for holiday prayers. Between 1891 and 1901, however, the number in Ottawa grew from 46 to 398, most of them immigrants from Russia and Lithuania; in the next decade the Jewish population would more than quadruple. Thus by the early 1890s there were sufficient numbers to establish the Adath Jeshurun congregation, commonly known as the King Edward Avenue Synagogue or shul. Its Ladies Auxiliary Society, under Bertha's leadership, organized musical entertainment on festivals such as Hanukkah and Purim. In 1904 Aaron laid the cornerstone of its new oriental-style synagogue.
Bertha's early presence, financial means, and organizational acumen gave her the social status necessary to head up efforts on behalf of immigrants. Concentrated in Lower Town and the By Ward Market area, most of the newcomers worked as pedlars, hawkers, petty merchants, and craftspeople. Many, arriving in poverty, were aided by the Ottawa Ladies' Hebrew Benevolent Society, established in 1898 and the city's first (and for some time only) Jewish charity. Bertha was its founding president, and would serve in this capacity until her death. The society, which operated without civic assistance, raised funds through donations, concerts, and such projects as the Economical cook book (Ottawa, 1915), the first book of Jewish recipes to be produced for a fund-raiser in Canada. She served as well as honorary president of the Ottawa Hebrew Ladies Sewing Circle, which provided clothing.
A biographer noted that her "charities and sympathies . . . knew no creed." She was involved in several Gentile institutions, among them the Perley Home for Incurables and the Ottawa General Hospital. She organized assistance too for soldiers' families during the 1914–18 war. The Disraeli Chapter of the Imperial Order Daughters of the Empire, founded in July 1918, grew out of a Canadian Red Cross sewing circle Bertha had established in 1910. This chapter, which furnished a recreation room for veterans, aided the children of fallen soldiers, and raised money for the Red Cross, ceased operation in 1923 when the last sponsored child had completed his training at the Ottawa Technical High School.
A symbol of the success of both family and community, the Rosenthals' son Samuel became a local sports hero and the first Jew to hold municipal office in Ottawa. Elected as an alderman in 1902, he sat for four terms, was returned again in 1921, and also served as a magistrate.
Bertha Rosenthal died of pneumonia in 1922. On the sabbath eve in traditional homes, Jews praise their wives and mothers by reciting Prov. 31:10–31, which describes the virtuous woman who creates a safe home for her family and reaches out to the needy. Rosenthal capably fit this description. Her life encompassed the establishment of a Jewish community in Canada's capital and the emergence there of a sense of Jewish womanhood. Her philanthropic work brought comfort. At the same time, her efforts during wartime drew Ottawa's Jews closer to the mainstream Canadian and British imperial communities.
AO, RG 22-354, no.10955; RG 80-8-0-864, no.10838. LAC, RG 31, C1, 1901, Ottawa, Central Ward, div.2: 24–25. Ottawa Jewish Arch., Max Bookman papers; Congregation Adath Jeshurun papers, Ladies Auxiliary Soc. of the King Edward Avenue Synagogue and Minutes ser.; Dribbin–Berman corr., 1992. Ottawa Public Library, Special Coll., Biog. scrapbook 144. Canadian Jewish Times (Montreal), 8 Oct., 24 Dec. 1909; 18 Feb., 25 March, 25 Oct. 1910; 18 April 1913. A. W. Margosches, "Reminiscences of Jewish life in Ottawa," Ottawa Hebrew News (September 1934). Ottawa Citizen, 2 Oct. 1909, 12 Dec. 1922, 25 Sept. 1948, 31 Aug. 1956. Ottawa Journal, 22 Jan. 1972. J. J. Price, "Jews of Canada: the first Jewish settler of Ottawa," American Israelite (Cincinnati, Ohio), 10 Aug. 1916 (repr. in Max Bookman, "Excerpts . . . ," infra). I. [M.] Abella, A coat of many colours: two centuries of Jewish life in Canada (Toronto, 1990). A biographical dictionary of Canadian Jewry, 1909–1914, from "The Canadian Jewish Times", comp. L. F. Tapper (Teaneck, N.J., [1992]). Max Bookman, "Excerpts from a history of the Jew in Canada's capital," in Canadian Jewish reference book and directory, comp. Eli Gottesman (Montreal, 1963), 387–405. Directory, Ottawa, 1878–1930. Bernard Figler, Lillian and Archie Freiman: biographies (Montreal, 1961). Ruth Gay, The Jews of Germany: a historical portrait (New Haven, Conn., 1992). A. R. George, The house of Birks: a history of Henry Birks and Sons ([Montreal?], 1946). Arthur Hertzberg, The Jews in America: four centuries of an uneasy encounter; a history (New York, 1989). The Jew in Canada: a complete record of Canadian Jewry from the days of the French régime to the present time, comp. A. D. Hart (Toronto and Montreal, 1926). Eva Taylor and James Kennedy, Ottawa's Britannia (Ottawa, 1983). G. [J. J.] Tulchinsky, Taking root: the origins of the Canadian Jewish community (Toronto, 1992).
© 2005–2023 University of Toronto/Université Laval
Image Gallery

Cite This Article
David Kimmel, "LEHMAN, BERTHA (Rosenthal)," in Dictionary of Canadian Biography, vol. 15, University of Toronto/Université Laval, 2003–, accessed October 2, 2023, http://www.biographi.ca/en/bio/lehman_bertha_15E.html.
The citation above shows the format for footnotes and endnotes according to the Chicago manual of style (16th edition). Information to be used in other citation formats:
| | |
| --- | --- |
| Permalink: | http://www.biographi.ca/en/bio/lehman_bertha_15E.html |
| Author of Article: | David Kimmel |
| Title of Article: | LEHMAN, BERTHA (Rosenthal) |
| Publication Name: | Dictionary of Canadian Biography, vol. 15 |
| Publisher: | University of Toronto/Université Laval |
| Year of publication: | 2005 |
| Year of revision: | 2005 |
| Access Date: | October 2, 2023 |