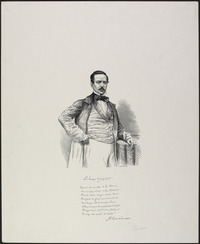 LENOIR, dit Rolland, JOSEPH, lawyer and poet; b. 15 Sept. 1822 at Montreal, son of Nicolas Lenoir, dit Rolland, a saddler, and Marie-Angélique Cazelet; d. 3 April 1861 at Montreal.
Joseph Lenoir, dit Rolland, was a brilliant student at the Collège de Montreal from 1835 to 1843. He was drawn to poetry at an early age, and during the literary exercises at the prize-giving in July 1843 he read Le Genie des forêts, ode, a poem that was published in La Minerve on 4 Jan. 1844. In 1840, influenced by the patriotic poetry of François-Xavier Garneau, he had composed his Chant de mort d'un Huron.
Lenoir studied law and was licensed to practise on 28 Sept. 1847. In 1848 he opened an office in Montreal, then went into partnership with Joseph Doutre*. He was not really drawn to the profession, however, and practised it little. Lenoir, who had married Félicité Latour on 22 June 1847 at Lachine, managed to provide for the needs of his family – he had six children – through translating and journalism.
He was one of 13 contributors who in 1847 founded the newspaper L'Avenir. This paper was considered very liberal and had links with the Institut Canadien in Montreal, of which Lenoir was an active member. On 6 Feb. 1852 he presented an important study at the institute on the civilization of peoples, which was published in Le Pays three days later; in this study he maintained that literary development and the arts were stimulated more under republican institutions than any other form of government, and that the country in which education and letters "have a place of honour is eminently civilized." Extensive reading in the institute's library led him to give at least three lectures on civilization, the humanities, and history. From 1853 to 1855 Lenoir contributed to La Ruche littéraire, founded in February 1853 by Henri-Émile Chevalier*. In 1857 he became assistant editor of the Journal de l'Instruction publique; at the same time he held the two posts of "clerk of French correspondence [and] librarian" in the Department of Public Instruction.
The years 1848 to 1853 constituted Lenoir's most intense period of poetic production; more than half of his known poems date from these years. In 1848, for example, he published several poems and short stories in the Album littéraire et musical de la "Revue canadienne." At the end of 1852 Lenoir was planning to publish his poetry in a collection entitled "Les voix occidentales, ou chants nationaux." However, a lack of subscribers caused him to cancel the project. It was not until 1916 that Casimir Hébert* published Poèmes épars de Joseph Lenoir-Rolland, 1822–1861, a collection of some 20 poems of that period. Lenoir is thought to have edited a collection of songs Lyre (nouvelle) canadienne ou chansonnier de tous les âges, published in Montreal in 1858. On 27 March 1860 La Guêpe reproduced a short story by Lenoir, "Légina, légende chippeouaise" ; unfortunately, another story, announced in the same issue, was never published. On the occasion of the Prince of Wales' visit to Montreal in August 1860, he published a guide to the town, Montréal et ses principaux monuments.
Probably one of the best French Canadian poets before Émile Nelligan*, Lenoir enjoyed wide popularity in the 1850s. Louis-Honoré Fréchette* thought he "was almost the only [poet of that period] who was able to free himself from the mythological paraphernalia with which the 18th century was infatuated and all the conventional circumlocutions that Abbé Delisle [Jacques Delille] had made fashionable." Lenoir was well acquainted with contemporary literature and several influences are discernible in his poetry. He drew from the early Romantic writers, especially Lamartine, an extreme sensibility and a liking for exotic themes. On the other hand, his study of English poets added a vigour to his thought which was expressed in his poetry in marked hostility against institutions and authorities. Yet his boldness was accompanied by apprehension, since his most virulent lines were signed with pseudonyms such as Un Canadien, Peuple, or Jean Meunier.
Some 40 of Lenoir's poems have never been published in collected form. Their tone varies, ranging from the sentimental to the violent and even towards the macabre. Although Lenoir was a talented poet, he was unable to break away from his models. Yet in his own way he demonstrated the desire for literary and political freedom that characterized the generation of 1845. The hard realities of life in a "society of philistines," to quote Octave Crémazie*, were, however, too much for his sensitive soul. More than a century after the death of Lenoir, dit Rolland in April 1861, his work still remains scattered in newspapers and journals.
[Joseph Lenoir, dit Rolland], Montréal et ses principaux monuments (Montréal, 1860); Poèmes épars de Joseph Lenoir-Rolland, 1822–1861, Casimir Hébert, édit. (Montréal, 1916). The poem "Les Deux Voix" is not by Lenoir. j.h.]
PAC, MG 30, D62, 18, pp.843–17. Album littéraire et musical de la "Revue canadienne" (Montréal), 1848. La Guêpe (Montréal), 27 mars 1860. La Minerve, 4 janv. 1844. Le Pays, 9 févr. 1852. Monique Biron, "Essai bio-bibliographique sur Joseph Lenoir-Rolland, poète canadien" (thèse de bibliothéconomie, université de Montréal, 1948). Gabriel Leclerc, "L'introduction du romantisme dans la poésie canadienne-française" (thèse de ma, université de Montréal, 1950), 62–74. J. d'A. Lortie, "Les origines de la poésie au Canada français," Archives des lettres canadiennes (Montréal), IV (1969), 44–46.
© 1976–2023 University of Toronto/Université Laval
Cite This Article
John Hare, "LENOIR, Rolland, JOSEPH," in Dictionary of Canadian Biography, vol. 9, University of Toronto/Université Laval, 2003–, accessed October 3, 2023, http://www.biographi.ca/en/bio/lenoir_joseph_9E.html.
The citation above shows the format for footnotes and endnotes according to the Chicago manual of style (16th edition). Information to be used in other citation formats:
| | |
| --- | --- |
| Permalink: | http://www.biographi.ca/en/bio/lenoir_joseph_9E.html |
| Author of Article: | John Hare |
| Title of Article: | LENOIR, Rolland, JOSEPH |
| Publication Name: | Dictionary of Canadian Biography, vol. 9 |
| Publisher: | University of Toronto/Université Laval |
| Year of publication: | 1976 |
| Year of revision: | 1976 |
| Access Date: | October 3, 2023 |