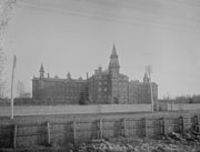 Source: Courtesy of Wikimedia Commons
LESSARD, ELIZABETH, convicted criminal; b. c. 1877 in Canada; d. 3 April 1911 in Kingston, Ont.
Lizzie Lessard grew up in late-19th-century Hamilton, Ont., in a predominantly British neighbourhood where Protestants, Catholics, and a handful of Jewish families struggled for survival on the margins of industrial life. Lizzie, like her elder sister Mary, was impatient with the demands and meagre pay of wage work and they were both in their teens when they turned to petty crime. The notorious pair were tagged as nuisances who caused the police "no end of trouble." In 1893, after convicting them of vagrancy (the most common of women's offences in this period), Hamilton's police magistrate decided that the province's reformatory for women in Toronto might steer them toward the path of morality. Lizzie and her sister were duly sent to the Andrew Mercer Ontario Reformatory for Females for "no more than two years."
On the official register Lizzie's age was recorded as 16; her physical description indicated that she had brown hair, a fair complexion, and grey eyes, weighed 97 ½ pounds, and stood five feet tall. Like the majority of inmates, she was listed as an unmarried servant. She could apparently read and write, and her religion was recorded as Baptist, although she claimed to be an Episcopalian, Methodist, and Catholic over the following years.
Reformatory life had a less than salutary effect on Lessard's demeanour and she soon became a repeat offender. Her frequent convictions for vagrancy, theft, and prostitution meant that she spent more time in jail than out. With each incarceration, her increasing recalcitrance posed problems for the largely female staff. Records of idleness, foul language, wilful destruction of cell furnishings and dishes, and attacks on fellow inmates appeared in attendants' reports on Lessard on a weekly basis.
By the time of her final committal to Mercer in 1909, for theft, she had become a streetwise criminal who was impertinent, disruptive of routines, and disrespectful of regulations. In the month prior to her discharge that year, her punishments included restriction to her cell, deprivation of privileges, four days in the dungeon, four days on bread and water, and two weeks in isolation in the basement. This last punishment had been dispensed after a female attendant named Mick reported Lessard for "calling names, vile language, threatening etc."
The cause of Lessard's transfer out of Mercer was far more violent behaviour towards Mick, whom she detested. Mimicking an assault perpetrated four years earlier, Lessard attacked the attendant. In 1905 Tillie Robinson had received a five-year sentence for stabbing Mick and vowing to kill her. Not in the reformatory at the time, Lizzie had no doubt heard about the unprecedented assault when she landed back in Mercer a few months later on a charge of theft. Her outburst in 1909 involved added malice. As the Toronto World reported, "in a fit of passion" she took a pair of scissors (a handy weapon in an institution that taught dressmaking) and, "infecting them with a loathsome malady from which she suffered, she stabbed the attendant in the breast, inoculating her with the disease." The malady was syphilis. Whether or not the scissors were indeed tainted, this offence marked the end of Lessard's career as a Mercer inmate. She was convicted on 29 April 1909 of wounding and sentenced to three years in Kingston Penitentiary, where she would join Tillie Robinson and a score of other women serving time for crimes that ranged from property offences to murder.
Once in the penitentiary Lessard continued her disruptive ways, although she committed no further assaults. Her health was likely failing: she was only in her early thirties but her hard living and 18 jail and reformatory committals had begun to catch up with her. Isolated from her reformatory companions, with whom she had spent more time than with her family, she died at Kingston General Hospital in 1911. Her body was collected by a sister and taken back to Hamilton.
The Kingston Daily British Whig reported her demise as the "death of a Hamilton lady," curiously omitting the fact that she had been a long-time lawbreaker and a penitentiary inmate. The Hamilton Spectator, however, remembered her as one of the city's most colourful criminals and recalled her wounding offence as "one of the worst on record," undoubtedly because of the alleged inoculation of the victim with venereal disease. Six years after her death, Toronto Police Court reporter Harry Milner Wodson remembered Lizzie as a hard-drinking "she-devil" who, along with her sister, "never missed an opportunity to lure another into their web of vice."
Like thousands of other criminals who passed through Canadian prison cells at the turn of the century, on their way to and from precarious jobs, drunken sprees, and earnest attempts to reform, Lizzie Lessard left a trail of institutional records. There are no words of her own to describe her brief, truculent existence.
AO, RG 20-50, vols.9, 16. HPL, Hamilton city records, RG 10, ser.M, 1893. NA, RG 31, C1, 1891, Hamilton, Ont., Ward 7; RG 73, Acc. 1987–88/013, boxes 14–16, 78; C6, vol.454. Daily British Whig (Kingston, Ont.), 4 April 1911. Hamilton Spectator, 5 April 1911. World (Toronto), 5 April 1911. Carolyn Strange, "The velvet glove: maternalistic reform at the Andrew Mercer Ontario Reformatory for Females, 1874–1927" (ma thesis, Univ. of Ottawa, 1983). H. M. Wodson, The whirlpool: scenes from Toronto Police Court (Toronto, 1917).
© 1998–2023 University of Toronto/Université Laval
Image Gallery

Cite This Article
Carolyn Strange, "LESSARD, ELIZABETH," in Dictionary of Canadian Biography, vol. 14, University of Toronto/Université Laval, 2003–, accessed September 28, 2023, http://www.biographi.ca/en/bio/lessard_elizabeth_14E.html.
The citation above shows the format for footnotes and endnotes according to the Chicago manual of style (16th edition). Information to be used in other citation formats:
| | |
| --- | --- |
| Permalink: | http://www.biographi.ca/en/bio/lessard_elizabeth_14E.html |
| Author of Article: | Carolyn Strange |
| Title of Article: | LESSARD, ELIZABETH |
| Publication Name: | Dictionary of Canadian Biography, vol. 14 |
| Publisher: | University of Toronto/Université Laval |
| Year of publication: | 1998 |
| Year of revision: | 1998 |
| Access Date: | September 28, 2023 |