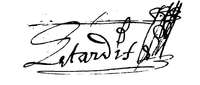 Source: Link
LETARDIF, OLIVIER, interpreter, head clerk of the Compagnie des Cent-Associés, judge of the court of the seigneury of Beaupré; b. c. 1604 in Brittany, in the diocese of Saint-Brieuc; d. 1665 at Château-Richer.
Letardif was at Quebec from at least 1621 on, since he signed the report of the meeting of leading citizens in that year; his presence is then noted from time to time until 1629. By that date he was an assistant clerk for the de Caëns; "experienced" in the Montagnais, Algonkian, and Huron languages, he served also as an interpreter. In July 1629, acting on behalf of François Gravé Du Pont, who was ill, he handed over the keys of the Habitation to Lewis Kirke. We find him in Quebec again in 1633, promoted to be head clerk of the Cent-Associés, and fulfilling the functions of interpreter or witness as required. It was at this period that Letardif collaborated in the missionary effort: he supported the Jesuits and acted as godfather to indigenous people; he even administered baptism and, following Champlain's example, adopted three young indigenous individuals. In May 1637 he received, jointly with Jean Nicollet (who shortly thereafter became his brother-in-law), the tract called Belleborne on the outskirts of Quebec (a commoner's grant of 160 acres). In April 1646 he acquired one-eighth of the seigneury of Beaupré. On becoming a member of the Compagnie de Beaupré, with the title "general and special procurator," he made a score of grants in the years 1650 and 1651.
Then in 1653 Letardif gave up his Belleborne property, which was to become the castellany of Coulonge, and obtained land at Château-Richer, where he settled. From this time onward, until 1659, it would appear that he exercised the functions of seigneurial judge of Beaupré; his "premature senility" apparently caused him to neglect his duties. On 13 April 1662 he sold his fief in the seigneury of Beaupré. This former colleague of the de Caëns, of Gravé Du Pont, of Champlain, and of the Jesuit Paul Le Jeune died at Château-Richer in January 1665, and was buried there on the 28th of that month.
Letardif's first wife, whom he married on 3 Nov. 1637 in the parish of Notre-Dame de Québec, was 13-year-old Louise Couillard, daughter of Guillaume Couillard. Left a widower in November 1641, he married Barbe Esmard, widow of Gilles Michel and sister-in-law of Zacharie Cloutier the younger, in the parish of Saint-Barthélemy, at La Rochelle, on 21 May 1648. Only one child is known to have been born of the first marriage; three more followed from the second. Olivier Le Tardif is the forefather of the Letardifs or Tardifs of North America.
ASQ, Documents Faribault, passim; Registre A, passim.; Seigneuries, III, 10; Séminaire VI, passim; XXXV, 25A, 27–27L; XXXVI, 1, 11; XXXVII, 3, 4.
Champlain, Works (Biggar), V, 95, 209; VI, 62–63. Du Creux, History (Conacher), I, 176, 319, 359. JR (Thwaites). Jug. et délib. P.-G. Roy, Inv. concessions, I, passim. Sagard, Histoire du Canada (Tross), I, 83.
A.-Émile Ducharme, "Olivier Le Tardif," SGCF Mémoires, XII (1961), 4–20. Archange Godbout, "Origine d'Olivier Le Tardif," SGCF Mémoires, IX (1958), 151. Amédée-E. Gosselin, "Olivier Letardif, juge-prévôt de Beaupré," RSCT, 3d ser., XVII (1923), sect.i, 1–16. Léon Roy, "La famille Michel-dit-Taillon," BRH, LII (1946), 373–79.
Revisions based on:
Arch. Départementales, Charente-Maritime (La Rochelle, France), "État civil," La Rochelle, Saint-Barthélémy, 21 mai 1648: archives.charente-maritime.fr/archives-en-ligne/consulter-documents-numerises (consulted 22 Jan. 2018). Bibliothèque et Arch. Nationales du Québec, Centre d'arch. de Québec, CE301-S1, 3 nov. 1637; CE301-S6, 28 janv. 1665.
© 1966–2023 University of Toronto/Université Laval
Image Gallery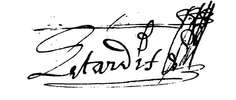 Cite This Article
Marcel Trudel, "LETARDIF, OLIVIER," in Dictionary of Canadian Biography, vol. 1, University of Toronto/Université Laval, 2003–, accessed December 2, 2023, http://www.biographi.ca/en/bio/letardif_olivier_1E.html.
The citation above shows the format for footnotes and endnotes according to the Chicago manual of style (16th edition). Information to be used in other citation formats:
| | |
| --- | --- |
| Permalink: | http://www.biographi.ca/en/bio/letardif_olivier_1E.html |
| Author of Article: | Marcel Trudel |
| Title of Article: | LETARDIF, OLIVIER |
| Publication Name: | Dictionary of Canadian Biography, vol. 1 |
| Publisher: | University of Toronto/Université Laval |
| Year of publication: | 1966 |
| Year of revision: | 2018 |
| Access Date: | December 2, 2023 |