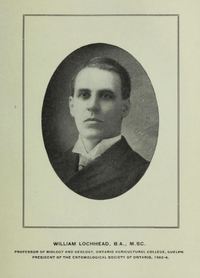 Source: Link
LOCHHEAD, WILLIAM, professor, biologist, educator, author, and editor; b. 3 April 1864 in Elma Township, Upper Canada, fourth son of William Lochhead, a farmer, and Helen Campbell; m. 14 Aug. 1889 Lillias Grant in Windsor, Ont., and they had one son; d. 26 March 1927 in Sainte-Anne-de-Bellevue, Que.
The son of a Scottish settler, William Lochhead was raised on a farm in Elma Township and received his secondary education at Listowel High School. In 1881 he enrolled at McGill College, where one of his professors, John William Dawson*, introduced him to geology and zoology. After graduating with a ba with honours in natural science in 1885, he entered the Kingston Training Institute. He was thus able to earn a teaching certificate, and he taught science at the collegiate institutes of Perth and Galt (Cambridge), Ont., from 1886 to 1894. His career was interrupted, first in 1886, when he received a scholarship to study geology at Cornell University in New York State, and in 1894 and 1895, when he enrolled there again to take a master's degree in science. On his return to Ontario he resumed teaching, at Napanee and then in London. In 1898 the Ontario Agricultural College in Guelph hired him as a professor and head of the department of biology and geology.
While holding these positions, Lochhead was called to act as an adviser to the provincial government and to publish extension bulletins on problems related to the protection of crops. In the late 19th century, governments were trying to provide technical support for farmers and thereby to put on a sound basis the rapid growth of commercial agriculture. This concern led to such measures as the establishment of an experimental farm system by the federal Department of Agriculture and of agricultural schools by provincial governments. These initiatives also answered the needs of farmers concerned about the profitability of their operations, which were threatened by crop pests such as insects, plant diseases, and weeds [see James Fletcher*; William Saunders*].
Lochhead's activities went beyond providing farmers with training and information. He was also interested in education, especially the teaching of natural history in rural schools. This concern exactly fitted the objectives of an education project being developed by Montreal businessman Sir William Christopher Macdonald* in cooperation with James Wilson Robertson, the dominion commissioner of agriculture and dairying. The two men sought in particular to improve the quality of education in rural areas with the consolidation of schools and the introduction of a curriculum centred on manual training and the study of nature. Thanks to Macdonald's wealth, rural schools were consolidated in a number of provinces, and in 1904 the Ontario Agricultural College officially inaugurated on its campus the Macdonald Institute [see Adelaide Sophia Hunter*] for training teachers in home economics, nature study, and industrial arts. During the institute's first year, Lochhead served as head of the department of natural history. In 1905 Robertson asked him to leave his post in Guelph and help set up a second institute that Macdonald wanted to establish for the rural anglophone population of Quebec. This project led to the creation of Macdonald College in Sainte-Anne-de-Bellevue. Lochhead helped organize the college and set the curriculum, and he was on its teaching staff from its inauguration in November 1907. Head of the biology department, he taught botany, genetics, geology, and zoology. When the department was split in 1921, Lochhead was made head of the department of entomology and zoology and no longer taught botany, which became a separate department. He could now devote himself to what had become his main field of interest from his earliest days in Guelph: economic entomology or the science of insect control.
During his career as professor at Macdonald College, Lochhead wrote a number of introductory textbooks, including Class book of economic entomology, with special reference to the economic insects of the northern United States and Canada, published in 1919, which was used in classrooms in Canada and the United States for many years. Although these works, as well as articles published in the annual reports of entomological and natural history societies, were not the product of original scientific research, Lochhead kept abreast of recent developments in the field of biology. His writings on heredity, for instance, dealt with the rediscovery at the turn of the 20th century of Mendelian laws (of hybridization) and their effect on the Darwinian theory of evolution, while a number of his articles touched on problems related to the ecology of insects.
These theoretical considerations were matched by practical concerns. In 1908 Lochhead founded the Quebec Society for the Protection of Plants from Insects and Fungous Diseases. It sought to bring together professionals and amateurs interested in economic entomology and phytopathology in order to promote these sciences and disseminate information about crop protection to farmers. From 1908 to 1920 Lochhead edited the monthly Journal of Agriculture and Horticulture, which was published by the Quebec Department of Agriculture. He also tried to persuade the federal Department of Agriculture to set up an entomology laboratory at Macdonald College so that qualified researchers could be trained for governmental entomological services. Although the department did not give its approval for this project, Lochhead nevertheless managed to train a number of entomologists who held important offices in the Canadian and American civil services as well as posts in Canadian universities.
Ill health forced Lochhead to give up his teaching position for a few months in 1921. When he did not get better he had to resign on 31 August 1925. Macdonald College made him a professor emeritus of entomology and zoology. After his death from a heart ailment on 26 March 1927, there were many eulogies in scientific periodicals in the United States and Canada. Lochhead had been active in numerous scientific societies in North America. A member of the American Entomological Society and the American Association of Economic Entomologists, he was elected a fellow of the American Association for the Advancement of Science in 1906. President of the Entomological Society of Ontario from 1902 to 1904, he had been vice-president from 1908 to 1909 of the American Nature Study Society, of which he was a charter member. From 1908 to 1925 he served as president of the Quebec Society for the Protection of Plants.
William Lochhead had a great interest in the practice of research, which he passed on to his students by introducing laboratory teaching at the Ontario Agricultural College and setting up a program of advanced studies in entomology at Macdonald College, but he worked first and foremost at educating farmers and students. His scientific and teaching career fitted into a reform movement to improve education in rural areas and came at a time when agricultural research was beginning to take shape. As self-taught people were giving way to scientists, Lochhead made such a transition possible.
A list of articles published by William Lochhead up to 1914 is available in Science and technology biblio. (Richardson and MacDonald). Several other items appeared in the annual reports of the Que. Soc. for the Protection of Plants, the Entomological Soc. of Ontario (Toronto), the Pomological and Fruit Growing Soc. of the Prov. of Quebec (Quebec), and the Ottawa Field-Naturalists' Club. Lochhead also published articles in American journals such as the Nature Study Rev. (Ithaca, N.Y.). A tribute by Father Léopold, director of the Institut Agrocole d'Oka and a close friend of Lochhead, appears as "The life of Professor William Lochhead" in Entomological Soc. of Ontario, Annual report, 58 (1928): 86–91; it includes the titles of the Ontario Dept. of Agriculture and Ontario Agricultural College bulletins prepared by Lochhead and a list of the articles he published in the annual reports of the Quebec Soc. for the Protection of Plants.
Lochhead published an entomological guide during the San José scale infestation at the end of the 19th century: The San José and other scale insects: prepared for the use of fruit growers and scale inspectors (Toronto, 1900). He also prepared a guide for teachers of natural history, Outlines of nature studies (Toronto, 1905), as well as various manuals intended for the use of his students: Modern biological laws and theories relating to animal & plant breeding (Montreal, 1911); An introduction to heredity and genetics; a study of the modern biological laws and theories relating to animal and plant breeding ([Sainte-Anne-de-Bellevue, Qué., 1920]); with W. P. Fraser, Economic grasses: their habits, structure and identification; for use in the biology laboratories, Macdonald College (Sainte-Anne-de-Bellevue, 1915); A synopsis of economic entomology ([Sainte-Anne-de-Bellevue, 1919]); and Class book of economic entomology, with special reference to the economic insects of the northern United States and Canada (Philadelphia, 1919). His master's thesis was "Proglacial drainage of the Upper Cayuga Basin" (m.sc. thesis, Cornell Univ., Ithaca, 1895).
AO, RG 80-5-0-167, no.3324. Cornell Univ. Library, Div. of Rare and ms Coll., American Nature Study Soc. records, no.2195; Deceased alumni files, no.41-2-877. LAC, RG 17, BII, 2, 3044, file 40-5-37 (1). MUA, MG 1049; RG 43, administrative records, 3, file 139; 5, file 225; 9, Lochhead file; 12, file 515. A. D. Baker, "William Lochhead, 1864–1928," Entomology Newsletter (Ottawa), 34 (1956), no.5: 2–3. Luc Chartrand et al., Histoire des sciences au Québec (Montréal, 1987). R. H. Estey, Essays on the early history of plant pathology and mycology in Canada (Montreal, 1994). D. K. McE. Kevan, The department of entomology, McGill University: a history to 1978 (Sainte-Anne-de-Bellevue, 1979). A. J. Madill, History of agricultural education in Ontario (Toronto, 1930). Ontario Agricultural College and Experimental Farm, Annual report (Toronto), 1898–1905. J. F. Snell, Macdonald College of McGill University: a history from 1904–1955 (Montreal, 1963). Neil Sutherland, Children in English-Canadian society: framing the twentieth-century consensus (Toronto, 1976).
© 2005–2023 University of Toronto/Université Laval
Image Gallery

Cite This Article
Stéphane Castonguay, "LOCHHEAD, WILLIAM," in Dictionary of Canadian Biography, vol. 15, University of Toronto/Université Laval, 2003–, accessed September 22, 2023, http://www.biographi.ca/en/bio/lochhead_william_15E.html.
The citation above shows the format for footnotes and endnotes according to the Chicago manual of style (16th edition). Information to be used in other citation formats:
| | |
| --- | --- |
| Permalink: | http://www.biographi.ca/en/bio/lochhead_william_15E.html |
| Author of Article: | Stéphane Castonguay |
| Title of Article: | LOCHHEAD, WILLIAM |
| Publication Name: | Dictionary of Canadian Biography, vol. 15 |
| Publisher: | University of Toronto/Université Laval |
| Year of publication: | 2005 |
| Year of revision: | 2005 |
| Access Date: | September 22, 2023 |