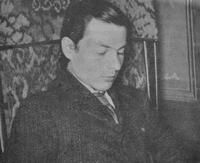 Source: Link
LOZEAU, ALBERT (baptized Charles-Joseph-Albert), poet; b. 23 June 1878 in Montreal, son of Joseph Lozeau and Adèle Gauthier; d. there 24 March 1924.
Albert Lozeau was the eldest of 11 children, seven of whom lived past infancy. His father pursued an honourable career as a civil servant at the Superior Court. Immobilized by illness, Lozeau would spend almost his entire life under his mother's care in the village of Saint-Jean-Baptiste, north of Square Saint-Louis (now in the heart of Montreal), to which his parents had moved in 1877, shortly after their marriage.
Lozeau enrolled in the Académie Saint-Jean-Baptiste in Montreal in 1886. Five years later, at the point when he was completing a commercial course, his studies were interrupted by an accident while he was playing. In 1892 the poet suffered the first attacks of the illness that would mark his life: he became progressively paralysed by Pott's disease, tubercular arthritis of the spine. From 1896 to 1904 he was confined to bed, hunched up by the disease. This was how he would write his first poems, on a small board placed on his knees. "I spent nine years with my feet at the same level as my head: that taught me humility. I wrote rhymes to kill time, which was killing me in turn," he asserted in a letter quoted in the preface to his first collection of poetry. According to his friend journalist Omer Héroux*, "Lozeau saw only as much of the outside world as could be glimpsed from his bed through his bedroom window. . . . And yet I never heard him breathe a complaint, express a bitter thought, [or] say that life was painful."
After the onset of his illness, Lozeau could continue his studies only sporadically. He delved into literature on his own, however, with books brought to him by his friends, and soon he was contributing to various newspapers. In 1900 the collective anthology of the École Littéraire de Montréal, Les soirées du château de Ramezay, included seven of his poems. Although his condition prevented him from participating in the group's activities, Lozeau was officially a member from 1904 to 1907. A series of surgical operations, beginning in 1903, enabled him to sit in a padded chair, so that on fine days he could go out onto the balcony of his family's house on Avenue Laval. He was a regular contributor to Le Nationaliste, Le Canada, and a number of other Montreal periodicals. In 1907, through the good offices of the French critic Charles ab der Halden, he published his first collection of poems, entitled L'âme solitaire, in Paris and Montreal. He received excellent reviews from the critics and enjoyed such success that a second edition came out in 1908. A new poetry had been discovered in Quebec, new in its insistence on subjectivity and in its quest for new rhythms: "My heart now stands open like a door. / It awaits you, my Beloved; will you come in?"
Lozeau became a well-known poet who through his articles and poems played a role in the literary life of his time. With a poem entitled "Canada," he was one of the winners of the competition "Poètes de clocher" organized by Les Annales politiques et littéraires in Paris in 1907. He was elected a member of the Royal Society of Canada in 1911. On 11 June 1912 La Patrie (Montréal) reported that the French government had made him an officier d'académie. This fame aroused jealousy. However, a group of friends and writers met regularly at his home. "His room for a long time was a special meeting-place where we would go to share our dreams and our youthful ambitions," Madeleine [Anne-Marie Gleason*] would write in La Revue moderne (Montréal) immediately after his death. "Gathered around the poet, we would spend long hours discussing literature and art. He guided the conversation, steered it, gave it a worthwhile goal. And we would go out with our hearts refreshed and our souls uplifted." Charles Gill*, Albert Milette, Louis-Joseph Doucet*, and Abbé Joseph-Marie Melançon*, known as Lucien Rainier, were frequent visitors.
From 1910 Lozeau regularly contributed poetry and prose to Le Devoir, which Henri Bourassa* had just founded. In particular, he wrote short topical prose pieces under the heading "Billets du soir" in which he commented in a familiar and humorous way on the weather or daily happenings. These writings were published in Montreal in three volumes from 1911 to 1918, under the title Billets du soir. In 1912 Lozeau's second collection of poems, Le miroir des jours, came out, also in Montreal. It would be his most polished work, showing a mastery of symbolist versification in poetry that was touching, erudite, and refined: "The dust of the hour and the ashes of the day / Float at eventide in a thin haze." Once again, the work was well received. French critic Auguste Dorchain placed its author in the front ranks of contemporary poets writing in French.
During World War I, Lozeau's work took a new turn. He contributed some patriotic and religious poems to Le Devoir which were put together in Lauriers et feuilles d'érable, a collection published in Montreal in 1916. In the dispute between the exotic and the regional, which occupied the literary circles of his day, Lozeau had long maintained a neutral position, acknowledging the right of each to its own genius and its own freedom. This was the point of view he defended in an article entitled "Le régionalisme littéraire, opinions et théories," which he published in the Transactions of the Royal Society of Canada in 1921. Ultimately, however, he would adopt a more "nationalist" view of literature: at the end of his life he would place literature at the service of patriotism – "Les lettres au service de l'idée patriotique," as he put it in the title of an article in the Almanach de la langue française (Montréal) in 1924.
Albert Lozeau died of a stroke on 24 March 1924. He had been working on a revised edition of his poetical works. His Poésies complètes would be published in three volumes at Montreal in 1925 and 1926. It contains a number of previously unpublished poems collected under the title "Les images du pays." Lozeau ranks with Émile Nelligan* as the greatest Quebec poet of the early 20th century because he went against the current of his time to create an intimiste and musical poetry. His work provides a detailed and emotional analysis of the stirrings of inner feelings and spirituality in a human being immobilized at his window, watching life outside it go by.
A selection of Lozeau's writings has been published in the series "Classiques canadiens" as Albert Lozeau, Yves de Margerie, édit. (Montréal et Paris, 1958).
ANQ-M, CE601-S35, 23 juin 1878. Bibliothèque Nationale du Québec (Montréal), mss-384 (fonds Albert-Lozeau). Le Devoir, 25 mars 1924. Jacques Lambert, "La séduction du temps intérieur; trajet d'Albert Lozeau jusqu'à 'L'âme solitaire'" (mémoire de ma, univ. du Québec à Trois-Rivières, 1994). Madeleine [A.-M. Gleason], "Un grand poète canadien: Albert Lozeau," La Rev. moderne (Montréal), 5 (1924), no.7: 7. Yves de Margerie, "Albert Lozeau et l'École littéraire de Montréal," in L'École littéraire de Montréal, sous la dir. de Paul Wyczynski et al. (2e éd., Montréal, 1972), 212–54. J.-M. Melançon, "Albert Lozeau; notes et souvenirs," L'Action française (Montréal), 11 (1924): 273–90. Jeanne d'Arc Séguin, named Saint-Jean-de-Sienne, "Le sentiment de la nature chez Lozeau" (thèse de phd, univ. d'Ottawa, 1963).
© 2005–2023 University of Toronto/Université Laval
Image Gallery

Cite This Article
Michel Lemaire, "LOZEAU, ALBERT," in Dictionary of Canadian Biography, vol. 15, University of Toronto/Université Laval, 2003–, accessed March 29, 2023, http://www.biographi.ca/en/bio/lozeau_albert_15E.html.
The citation above shows the format for footnotes and endnotes according to the Chicago manual of style (16th edition). Information to be used in other citation formats:
| | |
| --- | --- |
| Permalink: | http://www.biographi.ca/en/bio/lozeau_albert_15E.html |
| Author of Article: | Michel Lemaire |
| Title of Article: | LOZEAU, ALBERT |
| Publication Name: | Dictionary of Canadian Biography, vol. 15 |
| Publisher: | University of Toronto/Université Laval |
| Year of publication: | 2005 |
| Year of revision: | 2005 |
| Access Date: | March 29, 2023 |