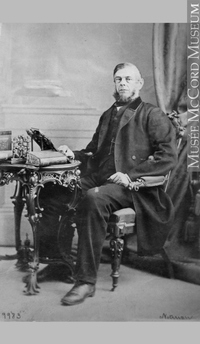 Source: Link
LYMAN, BENJAMIN, chemist, drug wholesaler, and manufacturer; b. in Derby, Vermont, 11 June 1810, son of Elisha Lyman, a farmer and tavern-keeper, and Hannah Stiles; d. at Toronto, Ont., 5 Dec. 1878.
The Lymans were a New England family descended from Richard Lyman of Essex County, England, who crossed the Atlantic in 1631. About 1816 Elisha Lyman moved to Montreal, where one of his brothers, Lewis, had founded a Montreal drug firm with George Wadsworth about 1800. This partnership, Wadsworth and Lyman, was the first of many drug businesses that were to be carried on in Montreal and Toronto by various branches of the Lyman family.
In 1819 Lewis Lyman moved to Syracuse, New York, and his store in Montreal passed to Benjamin's uncle, Samuel Hedge, and to his older brother William (1794–1857), as Hedge and Lyman. In 1827 and 1829 respectively, Benjamin and his younger brother Henry (1813–97) entered the firm, and in 1836 the partnership was reorganized; until William retired in 1855 the three brothers were proprietors, operating under the name William Lyman and Company. Alfred Savage then joined the firm, which became Lymans, Savage and Company until his retirement in 1860, when William H. Clare replaced him and the name was changed to Lymans, Clare and Company. Just before Benjamin's death his son Charles and Henry's son Roswell Corse were associated. In 1879 the name was changed to Lyman, Sons and Company, and in 1908 it became Lymans Limited; today the corporation is a division of the National Drug and Chemical Company Ltd.
The main operations of the firm as chemists and druggists were located on St Paul Street, where extensive premises were erected in 1855 (burnt 1888). Both wholesale and retail operations were carried on until about confederation, when the retail side was dropped. Manufacturing of pharmaceutical products, linseed oil, paints, and oils took place at a separate location on the south side of the Lachine Canal basin. These products won medals at several exhibitions including those in Paris in 1855 and 1878. In addition the Lymans were importers of drugs, seeds, oils, dye stuffs, and painters' colours.
In York (Toronto) the partnership opened a branch under J. W. Brent in 1832, which became Lyman, Farr and Company about 1835 with Timothy J. Farr as a partner. By that year a subsidiary had also been opened in London under the same name. This became Lyman, Moore and Company by 1840; the business apparently did not last long, but it was the first drugstore in that area of Upper Canada. There was also a Bytown (Ottawa) branch. In Toronto, the firm, which was kept separate from the Montreal business, underwent several changes in partnership: in 1850 it was operated with Richard Kneeshaw as Lyman, Kneeshaw and Company, then became Lyman Brothers and Company, and in 1855 Benjamin, who continued to live in Montreal, formed a partnership with William Elliot, as Lyman, Elliot and Company. Finally, in 1870, the Lymans bought out the Elliot family and again assumed the name Lyman Brothers and Company. As in Montreal separate manufacturing and warehousing operations were maintained. The firm had travellers in Ontario, Manitoba, and the western districts. At the time of Benjamin Lyman's death, in 1878, it was the largest wholesale drug company in Toronto and the estate valuation of the Ontario operation alone was $115,000. In the same year Bradstreet estimated the firm's total value at Toronto and Montreal as $250,000 to $300,000.
Benjamin Lyman demonstrated a great interest in improving the standards of the drug business generally. He was particularly active in this respect in Ontario, where he helped establish the Canadian Pharmaceutical Association in 1867; after it became the Ontario College of Pharmacy, he was elected president in 1873, holding that office for several years. He was also one of the founders of the Canadian Pharmaceutical Journal, designed to raise the level of the profession, in 1868. During the same period he helped form the Montreal Chemists' Association (1870), and attempted to found a Toronto pharmaceutical association (1872). In Ontario, at least, his firm was the first to use a bright red label to mark all dangerous preparations.
Lyman was also interested in manufacturing associations generally, attending an 1858 meeting at St Lawrence Hall, Toronto, to promote Canadian industry and being elected first vice-president of the Manufacturers' Association of Ontario (now the Canadian Manufacturers' Association) in 1875. He was a member of both the Montreal and the Toronto Boards of Trade and was a "strong advocate of protection for the industries of Canada." In addition he had financial interests: he was a director of the Federal Bank of Canada (organized 1872–74) and one of the incorporators of the Royal Canadian Insurance Company in 1873.
When the second rebellion had broken out in Lower Canada in 1838, Lyman had been commissioned captain commanding the 5th Company of Montreal Rifles, "The Cold Water Company," on 5 November and remained on active duty with the militia for six months. He retained his captaincy in the company until 1847 when he transferred to the Montreal Fire Battalion on its formation. Like most of the leading Montreal merchants, however, he was one of the initial signatories of the Annexation Manifesto of 1849 and was briefly deprived of his commission in 1850. Reinstated, in 1854 he was promoted major and retired from the militia in 1862. In the municipal sphere he and his brother Henry organized in Montreal the volunteer Union Fire Company in 1840 and Benjamin became its captain. He also was a councillor of Montreal in 1845, 1847, and 1848, and an alderman in 1846, 1849, and 1850. In 1863 he was appointed warden of Trinity House at Montreal.
A trustee and elder of the American Presbyterian Church in Montreal, he laid the corner stone of the new church on Dorchester Street in 1865. As the Montreal Daily Witness stated in his obituary, he was "active in the promotions of nearly all benevolent enterprises in the city": a founder of the Mount Royal Cemetery Company, and its president in 1875–77; and a promoter of the Montreal Auxiliary Bible Society and the Montreal Temperance Society.
He married Delia Almira Wells (1810–83) of Waterbury, Vermont, in 1834 and they had 13 children of whom two sons and two daughters outlived him. Particularly in his last years, he spent a good deal of time travelling, and attending to business in Toronto, where he died of pneumonia. His entire estate was left to his widow. Lyman's obituary described him as a man of commanding presence, who, although not demonstrative, formed firm friendships; slow and careful of speech, he nevertheless put his conclusions into practice promptly once decided upon a policy.
College of Pharmacy Library (University of Toronto), Douglas Fatum, "Biography of Mr. Benjamin Lyman (1810–1878)"; T. I. Kahnykevych, "Benjamin Lyman, an outstanding figure in the history of pharmacy."
PAC, RG 1, E1, 77, pp.534–35; RG 9, I, C4, 2. York County Surrogate Court, inventory of the estate of Benjamin Lyman, 22 Jan. 1879; will of Benjamin Lyman, 12 Aug. 1861. Bradstreet's reports of the Dominion of Canada, February 1, 1876 (New York, 1876). Canada, Statutes, 1872, c.59; 1873, c.79, c.99; 1874, c.57. Mail (Toronto), 7 Dec. 1878. Montreal Daily Witness, 27 April 1865; 6, 9 Dec. 1878. Montreal Herald, 15 Oct. 1849. The Canada directory for 1857–58 . . . (Montréal, 1857). Dom. ann. reg.,1879, 356–57. Montreal Directory (Mackay), 1848, 1857, 1862. Toronto, Directories, 1850, 1856, 1861, 1873, 1879.
Atherton, Montreal, II, 278; III, 560–61. Campbell, Hist. of Scotch Presbyterian Church, 256–58. Centennial/Anniversary souvenir; a commemorative volume celebrating Canada's centenary and National Drug's 60 years of service (Montreal, 1967), 112. Genealogy of the Lyman family in Canada; ancestors and descendants of Elisha Lyman (no.18) from the end of the 18th century to the present time (1943), ed. Arthur Lyman (Montreal, 1943), 30, 39, 72, 75. Histoire de la Corporation de la Cité de Montréal, depuis son origine jusqu'à nos jours . . . . J.-C. Lamothe et al., édit. (Montréal, 1903), 206–8. Hist. of Toronto and county of York, I, 408. F. W. Terrill, A chronology of Montreal and of Canada from A. D. 1752 to A. D. 1893, including commercial statistics, historical sketches of commercial corporations and firms and advertisements . . . (Montreal, 1893), 57–58.
"Editorial; the election for council," Canadian Pharmaceutical Journal (Toronto), VIII (1874–75), 436–37. "Editors of the journal from 1868–1942," Canadian Pharmaceutical Journal (Whitby), LXXV (15 June 1942), 26. George Hodgetts, "Minutes of the semi-annual meeting of the council of the Ontario College of Pharmacy," Canadian Pharmaceutical Journal (Toronto), VIII (1874–75), 40–47; "Ontario College of Pharmacy, council meeting," Canadian Pharmaceutical Journal (Toronto), VII (1873–74), 68–75; "Ontario College of Pharmacy; minutes of the semi-annual meeting of the council," Canadian Pharmaceutical Journal (Toronto), VIII (1874–75), 267–72. "Many important drug companies started in little back shops," Canadian Pharmaceutical Journal (Whitby), LXXV (15 June 1942), 82. "Obituary; Benjamin Lyman," Canadian Pharmaceutical Journal (Toronto), XII (1878–79), 190–93. "The story of Canadian pharmacy from 1868 to 1942 as it unfolded . . . in the C. Ph. Journal," Canadian Pharmaceutical Journal (Whitby), LXXV (15 June 1942), 12.
© 1972–2023 University of Toronto/Université Laval
Image Gallery

Cite This Article
Frederick H. Armstrong, "LYMAN, BENJAMIN," in Dictionary of Canadian Biography, vol. 10, University of Toronto/Université Laval, 2003–, accessed September 21, 2023, http://www.biographi.ca/en/bio/lyman_benjamin_10E.html.
The citation above shows the format for footnotes and endnotes according to the Chicago manual of style (16th edition). Information to be used in other citation formats:
| | |
| --- | --- |
| Permalink: | http://www.biographi.ca/en/bio/lyman_benjamin_10E.html |
| Author of Article: | Frederick H. Armstrong |
| Title of Article: | LYMAN, BENJAMIN |
| Publication Name: | Dictionary of Canadian Biography, vol. 10 |
| Publisher: | University of Toronto/Université Laval |
| Year of publication: | 1972 |
| Year of revision: | 1972 |
| Access Date: | September 21, 2023 |