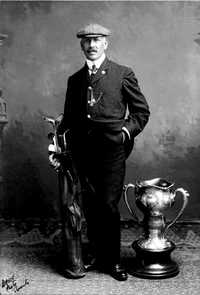 Source: Link
LYON, GEORGE SEYMOUR, insurance agent, militiaman, and athlete; b. 27 July 1858 in Richmond, Carleton County, Upper Canada, son of Robertson E. Lyon and Sarah Maria Maxwell; grandson of George Lyon*; m. 16 Sept. 1891 Annette Mary Martin (d. 26 Nov. 1940) of Derryclare, near York, Haldimand County, Ont., and they had two sons, one of whom predeceased his father, and three daughters; d. 11 May 1938 in Toronto.
George S. Lyon was born into a farming family and attended the grammar school in Richmond. He began to demonstrate his athletic ability at an early age, playing rugby, soccer, and hockey in his youth. Soon after completing his education, he took up cricket, a sport at which he quickly excelled. In the early 1880s he established himself in Toronto and by 1884 was working as an insurance agent, but his career was interrupted when the North-West rebellion broke out the following year [see Louis Riel*]. Lyon had enlisted in the 2nd Battalion of Rifles (Queen's Own Rifles of Canada) in 1882, and he served in D Company during the uprising, participating in the unit's march from Swift Current (Sask.) to relieve the besieged town of Battleford in April [see Sir William Dillon Otter*]. His lone mention in the regimental diary is as a cricketer in a match held in May, after the battle of Cut Knife Hill. He returned to Toronto in late 1885 and was promoted corporal and later sergeant; he would remain a member of the regiment until his discharge in April 1888.
Lyon resumed his insurance business in 1885 and, together with various partners, he would act as an agent for the Sun Insurance Office of London, England, for most of his career. He also returned to Toronto's cricket fields, making a name for himself as a first-class batsman, a splendid fielder, and a skilful bowler. He represented Canada in international competition 14 times, once as captain, and in a local match in August 1894 he set a Canadian batting record of 238 runs, not out, that stood for 40 years.
Lyon's skill with a cricket bat foreshadowed his even greater success with a golf club. In October 1895, while waiting for practice to begin at Toronto's Rosedale Cricket Club, he was invited to try a round of golf on the adjoining links. He was so taken with his introduction to the sport that he was back on the course the next morning and took up the game enthusiastically the following year, earning the Rosedale club title. He reached the quarter-finals of the Canadian amateur championship in 1897 and won resoundingly in 1898, despite having practised for only two weeks. During this period Lyon continued to give preference to cricket, which he would play regularly until 1904, golfing in the early spring and autumn and only picking up his clubs when a competition approached.
By his own admission, Lyon never took a golf lesson in his life. His swing – an adaptation of his cricket stroke – was frequently derided in the press. Nonetheless, he was one of the longest and straightest drivers of his era, and he quickly developed an excellent touch on the greens. Known for his "boisterous enthusiasm," he often chatted and sang his way around the course and left much younger golfers in his wake as he strode the fairways. Shortly after the turn of the century he became a member of the Lambton Golf and Country Club in Lambton Mills, at that time a few miles from Toronto, where he had overseen the layout of the 18-hole course.
After capturing his initial Canadian amateur title, Lyon won the tournament a further seven times (1900, 1903, 1905–7, 1912, and 1914) and twice finished runner-up (1904 and 1910). He came second in the 1906 United States amateur championship, playing what he considered his finest golf and losing only on the last hole of the final round. He twice competed in the British amateur championship, in 1905 and 1908, and was runner-up in the Canadian Open in 1910.
Lyon's most celebrated early success was his victory at the 1904 Olympic Games in St Louis, Mo., where golf was included on the program for the second time. The competition, an individual match-play event that ran from 19 to 24 September, was held at the Glen Echo Country Club outside the city. Lyon played 12 rounds in six days, all the while suffering from hay fever. After tying for ninth in the qualifying round among a field of 72 Americans and 3 Canadians, Lyon dispatched his next 4 opponents to reach the final with a phenomenal display of accuracy off the tee, hitting only two bunkers during the week and consistently holing difficult putts. Much of the final round against American amateur champion Henry Chandler Egan took place in a downpour. Lyon led throughout the match, though at 46 he was more than twice his competitor's age, and following its conclusion he walked the length of the club dining room on his hands to receive his trophy.
Four years later he travelled to London to defend his title. However, a dispute between British golfers and the Olympic organizing committee regarding the interpretation of amateur status in the games led them to boycott the event, and on the opening day Lyon was the only entrant whose papers were in order. Invited to play a solo round to claim his second Olympic championship, he declined, refusing to accept the gold medal without competing for it.
Throughout his career, Lyon actively promoted golf across Canada. He served as chairman of the Royal Canadian Golf Association's first Rules of Golf Committee in 1916 and as president of the organization in 1923. He participated as well in founding the Canadian Seniors' Golf Association in 1918 and competed in 15 Canadian seniors' championships; he won 10 times (1918–23, 1925–26, 1928, and 1930) and finished runner-up on 4 occasions (1924, 1929, and 1931–32). He also captured 4 United States–Canada seniors' titles (1923 and 1930–32).
Lyon's athleticism was not confined to summer sports. To keep active during the winter, he took up curling and was vice-skip of teams that earned the Toronto single-rink championship in 1901 and the Ontario Tankard in 1915. Following his retirement from business in the spring of 1931, he continued to frequent the fairways in his final years until he suffered a stroke at Christmas 1937. Canada's "grand old man of golf" died at his Toronto home several months later. George Seymour Lyon was inducted into Canada's Sports Hall of Fame (Toronto) in 1955 and into the Canadian Golf Hall of Fame (Toronto) in 1971.
George Seymour Lyon's account of the competition at the St Louis games was published as "Champion Lyon's views of Olympic golf tournament," Toronto Daily Star, 1 Oct. 1904: 8. His reminiscences appeared as "The beginning of my golf," Golf Illustrated (London), 23 Feb. 1906: 165–66.
A portrait of Lyon, painted by Sir Edmund Wyly Grier* in 1910, hangs in the lobby of the Lambton Golf and Country Club in Toronto, and a second portrait, painted by Robert Allan Barr in 1931, is on display at the St George's Golf and Country Club (originally the Royal York Golf Club, built on land donated by businessman Robert Home Smith), where Lyon drove the first ball in 1930.
Anglican Church of Can., Diocese of Ottawa Arch., Reg. of baptisms, no.51. Queen's Own Rifles of Can. Regimental Museum and Arch. (Toronto), Casualty roll, 1862–95. Boston Evening Transcript, 1897. Daily Mail and Empire, 1897. Globe and Mail, 1904–38. Montreal Herald, c. 29 June 1904. Toronto Daily Star, 1894–1938. J. A. Barclay, Golf in Canada: a history (Toronto, 1992). Canada's Sports Hall of Fame, "George Lyon": www.sportshall.ca/stories.html?proID=466&catID=all&eventID=&newsID=&lang=EN (consulted 5 Feb. 2015). Canadian athletics, 1839–1992, comp. Bill McNulty and Ted Radcliffe ([Richmond, B.C.], 1992). "Canadian Golfer's celebrities: Mr. George S. Lyon, eight times amateur champion of Canada – an appreciation," Canadian Golfer (Brantford, Ont.), 1, no.1 (May 1915): 12–16. Canadian men and women of the time (Morgan; 1912). E. J. Chambers, The Queen's Own Rifles of Canada: a history of a splendid regiment's origin, development and services … (Toronto, 1901). J. A. Cowan, "He plays a grand game o' gowf," Maclean's, 15 Aug. 1926: 10–11, 57–58. Directory, Toronto, 1883–1934. "George S. Lyon," Golf Canada (Toronto), spring 1999: 45. John Gordon, The grand old game: a century of golf in Canada (Los Angeles and Toronto, 1995). J. E. Hall and R. O. McCulloch, Sixty years of Canadian cricket (Toronto, 1895). L. V. Kavanagh, History of golf in Canada (Toronto, 1973). Fred Lyon, "George Seymour Lyon – golf 1904: the man who golfed on a dare" (unpublished remarks, c. 1975; copy in the Canadian Golf Hall of Fame and Museum, Toronto). Bill Mallon, "Golf and the Olympic Games," Citius, Altius, Fortius: the ISOH Journal (Durham, N.C.), 1 (1993), no.3: 6–10; The 1904 Olympic Games: results for all competitors in all events, with commentary (Jefferson, N.C., 1999). Bill Mallon and Ian Buchanan, The 1908 Olympic Games: results for all competitors in all events, with commentary (Jefferson, N.C., and London, 2000). J. I. Marder, The International series: the story of the United States v Canada at cricket (London, 1968). Ont. Curling Assoc., Annual (Toronto), 1894–1918, 1938–39. The Royal Montreal Golf Club, 1873–1973: the centennial of golf in North America (Montreal, 1973). George Stephen, "The Lambton Golf and Country Club: the first 100 years" (unpublished paper, Toronto, 1999; copy in the author's possession).
© 2017–2023 University of Toronto/Université Laval
Cite This Article
Thomas G. Boreskie, "LYON, GEORGE SEYMOUR," in Dictionary of Canadian Biography, vol. 16, University of Toronto/Université Laval, 2003–, accessed September 30, 2023, http://www.biographi.ca/en/bio/lyon_george_seymour_16E.html.
The citation above shows the format for footnotes and endnotes according to the Chicago manual of style (16th edition). Information to be used in other citation formats:
| | |
| --- | --- |
| Permalink: | http://www.biographi.ca/en/bio/lyon_george_seymour_16E.html |
| Author of Article: | Thomas G. Boreskie |
| Title of Article: | LYON, GEORGE SEYMOUR |
| Publication Name: | Dictionary of Canadian Biography, vol. 16 |
| Publisher: | University of Toronto/Université Laval |
| Year of publication: | 2017 |
| Year of revision: | 2017 |
| Access Date: | September 30, 2023 |