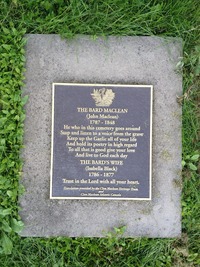 Source: Link
MacGHILLEATHAIN, IAIN (John MacLean), Gaelic poet; b. 8 Jan. 1787 in Caolas, on the island of Tiree, Scotland, third son of Allan MacLean and Margaret MacFadyen; m. 19 July 1808 Isabella Black in Glasgow, and they had four sons and two daughters; d. 26 Jan. 1848 in Addington Forks, N.S.
John MacLean, who was referred to in Scotland as Iain MacAilein (John, son of Allan) and Am Bàrd Thighearna Chola (Bard of the Laird of Coll), would be known in Nova Scotia as Am Bàrd MacGhillEathain (Bard MacLean). He was probably the last of the traditional bards, whose duty it was to record in verse the important events in the life of the clan chief and his family. According to the standards of his time, he was well educated, being literate in both Gaelic and English. At the age of 16 he was bound as an apprentice to a shoemaker on the island of Tiree. After completing his apprenticeship three years later, he worked in Glasgow as a journeyman for about a year and subsequently returned to Tiree to practise his trade. In 1810 he was drafted into the Argyll militia. Military life did not agree with him, however, and a substitute was secured upon a payment of £40; his discharge is dated 17 Jan. 1811. He then went back to Tiree where, in addition to shoemaking, he was a merchant on a small scale.
MacLean had begun composing poetry when quite young, and after returning to Tiree in 1811 he spent much of his free time collecting Gaelic songs in the Highlands. In 1818 he published in Edinburgh a collection of poetry called Orain nuadh Ghaedhlach, le Iain Mac Illeain, ann an Eilean Tirreadh . . . (New Gaelic songs by John MacLean in the island of Tiree). Dedicated to Alexander MacLean, Laird of Coll, this book contains 22 poems by John MacLean and 34 by other major Gaelic poets. Included are songs by Alexander Mackinnon and Mary Macleod that cannot be found elsewhere.
Not long after the appearance of this volume, MacLean decided to emigrate to Nova Scotia. His motives are uncertain. He was not a victim of the Highland clearances and he undoubtedly enjoyed the prosperity and social honours that would have accrued to the Laird of Coll's bard. Yet a hint is given in one of his poems that he had offended his own chief by praising another too highly, and a reprimand could have sparked a desire for artistic independence. He may also have been attracted by the offers and promises of emigration agents, who travelled through the Highlands describing British North America as a land of opportunity.
Having made up his mind to emigrate, against considerable opposition from his friends, MacLean financed the passage for himself and his family by using his newly printed book as security. The MacLean family sailed from Tobermory in August 1819 on the ship Economy, arriving in Pictou, N.S., about 1 October. They stayed in Pictou for a week or so and then went by boat to Merigomish. The next spring MacLean cleared some of the trees from the lot he had acquired and planted potatoes. In the summer he built a small log house which he called Baile-Chnoic (Hill Farm); it was while living in this house that he composed his famous song Oran do America (Song to America), better known as A' choille ghruamach (The gloomy forest). In 1829 the poet and his son cleared land near James River and built a home there. Two years later the family moved to what is now known as Glen Bard, in Antigonish County.
Apart from his spiritual songs, MacLean's poetry may be divided into two categories: those poems which were composed in the style of the 18th-century panegyric poets, consisting for the most part of eulogy and elegy, and those which are in the style of "village verse." Most of his poems of Scottish provenance are of the former type; his Nova Scotia poems, inspired by local events such as an election, a wedding, a Highland ball, or even a watch raffle, are of the latter. A' choille ghruamach strikes a chord that will later resonate in the poetry of another Gaelic bard in Nova Scotia, John MacDonald [Iain MacDhòmhnaill 'Ic Iain*]. In it MacLean complains bitterly of life in the New World, particularly of the loneliness and back-breaking toil, extremes of heat and cold, plagues of insects, and wild animals. Much of his invective is directed against those agents who lured so many Scots to North America with their fabulous stories of wealth and freedom. The poem was sent to Tiree, where it caused his friends much distress; the Laird of Coll offered him free land for life if he returned, but he refused. MacLean's graphic description of pioneer life in the New World is said to have kept many people from emigrating. In his own case, however, initial discontent with his situation evaporated as his circumstances improved in the course of the 1820s. Apparently well liked by his neighbours, MacLean was a good friend of the Reverend Colin P. Grant, the Roman Catholic priest at Arisaig. He also was a fervent admirer of the Reverend James Drummond MacGregor* of Pictou. After the disruption of the Church of Scotland in 1843, MacLean joined Nova Scotia's Free Church.
Gaelic scholar Alexander Maclean Sinclair*, a grandson, described MacLean this way: "Nature gave the poet a mind of great capacity; but evidently it did not intend that he should become a wealthy man. He never attended regularly to his work; his mind was not upon it. Poetry occupied his thoughts when pegging sole-leather in Scotland, and cutting down trees in America; it took complete possession of him . . . He was clannish, and took pleasure in visiting his friends and acquaintances." Another writer, dubbing MacLean an "enthusiastic Highlander," said that he was "about five feet and nine inches in height, stout and well-built. He had dark hair and grey eyes, and a broad and massive forehead. His voice was soft and musical, and he was a good singer."
Many of John MacLean's compositions are included in the MacLean mss at PANS, MG 15, G, 2, no.2, a copy of which is available in the Special Coll. Dept., St Francis Xavier Univ. Library, Antigonish, N.S. Others may be found in The MacLean songster; clarsach na coille: a collection of Gaelic poetry, comp. A. M. Sinclair, ed. Hector MacDougall (2nd ed., Glasgow, 1928), and in Dain spioradail le Iain Mac-Gilleain maille ri beagan de laoidhean Mhic Griogair, nach robh gus a so air an clo-bhualadh, [ed. A. M. Sinclair] (Edinburgh, 1880), which in addition to spiritual songs by MacLean contains a few hymns, previously unpublished, by James Drummond MacGregor. A translation of A' choille ghruamach by Watson Kirkconnell* is given in "John MacLean's 'Gloomy Forest,' " Dalhousie Rev., 28 (1948–49): 158–62; the Gaelic text is in The MacLean songster. Translations of two additional songs appear, along with the Gaelic texts and a short biography of MacLean, in The emigrant experience: songs of Highland emigrants in North America, ed. and trans. Margaret MacDonell (Toronto and Buffalo, N.Y., 1982), 68–79. English translations of MacLean's Nova Scotia songs are provided in Maureen Lonergan [Williams], "The Canadian songs of John MacLean" (ma thesis, Univ. of Glasgow, 1977).
Alexander Mackenzie, The history of the Highland clearances (2nd ed., Glasgow, 1914). Derick Thomson, An introduction to Gaelic poetry (London, 1974). Casket (Antigonish), 6, 13 July 1961; 11 Jan. 1962. Chronicle-Herald (Halifax), 10 July 1961: 5. Post (Sydney, N.S.), 23 April 1921. D. M. Sinclair, "John Maclean: a centenary," Dalhousie Rev., 28: 258–65.
© 1988–2023 University of Toronto/Université Laval
Image Gallery

Cite This Article
Maureen Lonergan Williams, "MacGHILLEATHAIN, IAIN," in Dictionary of Canadian Biography, vol. 7, University of Toronto/Université Laval, 2003–, accessed September 21, 2023, http://www.biographi.ca/en/bio/macghilleathain_iain_7E.html.
The citation above shows the format for footnotes and endnotes according to the Chicago manual of style (16th edition). Information to be used in other citation formats:
| | |
| --- | --- |
| Permalink: | http://www.biographi.ca/en/bio/macghilleathain_iain_7E.html |
| Author of Article: | Maureen Lonergan Williams |
| Title of Article: | MacGHILLEATHAIN, IAIN |
| Publication Name: | Dictionary of Canadian Biography, vol. 7 |
| Publisher: | University of Toronto/Université Laval |
| Year of publication: | 1988 |
| Year of revision: | 1988 |
| Access Date: | September 21, 2023 |