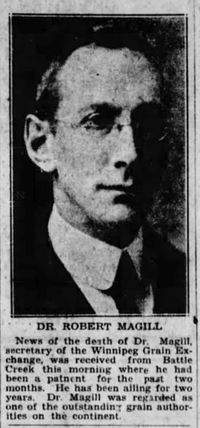 Source: Link
MAGILL, ROBERT, university professor, political economist, office holder, and secretary of the Winnipeg Grain and Produce Exchange; b. 23 May 1871 in Drumlee (Northern Ireland), fifth child of Robert Magill and Susan Shilladay; m. 14 April 1905 Susan Isabella Stairs, daughter of Edward Stairs and granddaughter of William James Stairs*, in Halifax, and they had three daughters and a son; d. 15 Jan. 1930 in Battle Creek, Mich.
Robert Magill's father was the farmer of a large estate that had been granted to the family two centuries earlier. He died when Magill was only four years old. In 1886, at age 15, Magill went to Belfast to apprentice as a wholesale linen merchant, but his father had left enough money to send his sons to college and the life of a scholar appealed to him more. He enrolled in 1890 at Queen's College, Royal University of Ireland, in Belfast, and graduated in 1894, obtaining a ba with first class honours. A year later he received an ma from the Royal University in mental and moral science, again obtaining first class honours and a gold medal for "highly distinguished answering." He followed this with a year of theological training at the Presbyterian College (Assembly's College) in Belfast and in 1897 was awarded a bursary for "Pulpit Eloquence." At the same time he worked as a tutor and then lectured in mental and moral science at Victoria College, a grammar school for girls, where he was popular with his students.
Magill attended the University of Jena in Germany for two years. In 1899 he was awarded a doctorate after completing a dissertation on the writings of the British philosopher Henry Sidgwick. Described by a colleague in Germany as a "capital raconteur" with a good sense of humour and a keen mind, Magill was a serious scholar, but he also enjoyed a bit of fun. A character based on him, known as "the Dr," would appear in the novel The discard . . . (Toronto, 1919) by Alexander Charles Stewart, who had been born in County Down like Magill and was a friend to the Magill family. In the book, the Dr appropriately is "a bright chap and a good old skate," possessing a brilliant mind, "with a vision wider than the mental prairies and mountain foot-hills."
After returning to Ireland in 1900 Magill was ordained a minister at the Magee Theological College in Londonderry (Northern Ireland). For nearly three years he served the small congregation of 260 families in Maghera. Seeking better opportunities, he immigrated to Canada in 1903 after receiving a teaching appointment as a professor of philosophy at the Presbyterian College in Halifax. Beginning in 1904, he lectured as well at Dalhousie University, although without being paid a salary. In 1907 Magill succeeded Dr Robert Alexander Falconer* as principal of the Presbyterian College, but he still kept lecturing at Dalhousie. Finally, Dalhousie offered him the George Munro chair of philosophy. He took up his new position in September 1909 at a salary of $2,500 per year. By 1912 he was also teaching in the new field of political economy.
Magill was representative of a new breed of academics in the country who believed they could contribute as much to Canadian society outside the classroom as in it. Through his father-in-law, Edward Stairs, a prominent Halifax businessman, he met and impressed the right people. In 1908 he was appointed by the provincial Liberal government of George Henry Murray as chairman of the commission on hours of labour. Outspoken, he did not hesitate to suggest in his report that "a man could do as much good work in an eight-hour as a ten-hour day."
Magill's initiation into the grain trade came in 1910. On the advice of Walter Charles Murray*, the president of the University of Saskatchewan and formerly a professor at Dalhousie, Thomas Walter Scott*, the premier of Saskatchewan, appointed him chairman of a commission on grain elevators. Farmers in the province were pressing the provincial government to assume ownership of country elevators as a means of breaking the power of the large private firms [see Frederick William Green*]. After a thorough investigation, Magill advised against public ownership and in favour of a provincial loan to a farmer-operated cooperative elevator company. It was a politically safe solution for Scott, who called the report a "masterpiece." Magill was awarded $500 for his efforts and had established a name for himself as something of a grain expert.
In 1912 Magill was the obvious choice to head the new Board of Grain Commissioners for Canada, set up by the federal Conservative government of Robert Laird Borden* to supervise the transportation and inspection of grain. He was reluctant to leave Dalhousie and outings to the golf course, but he confidently took charge of his new responsibilities at the BGC's office in Fort William (Thunder Bay), Ont. He quickly became the federal government's chief adviser on Canadian grain policy and was popular with farmers and grain businessmen alike – an amazing accomplishment in itself. Still, he found the job, as he later put it, "more troublesome than many imagined." When the World War I broke out, Magill wrote to Major-General Samuel Hughes*, the minister of militia and defence, offering to join the Canadian Expeditionary Force. The idea of the scholarly Magill in the trenches must have amused Hughes. He told Magill that he could best help "the boys" by "getting good grain" to feed them.
As chairman of the BGC, Magill impressed many members of the Winnipeg Grain and Produce Exchange, who were searching for a new secretary to manage their office and affairs after the resignation of Charles Napier Bell*. Again Magill was a natural choice. Despite a request from the minister of trade and commerce, George Eulas Foster*, that he stay at the BGC, Magill made the move to Winnipeg with his family in late November 1916. He was immediately caught up in the crisis precipitated by the poor wheat crop of 1916 and the British demand for large quantities of Canadian grain.
As an executive of the exchange, Magill became an ardent supporter of and spokesman for the open market, but even he was forced to concede to Foster that this marketing system which had evolved under "conditions of peace" required "modification during the period of war." To this end he informed Foster, who was preparing plans for a wartime grain marketing board, that the exchange was willing to cooperate. Such a board, he told the minister, "should consist of men who know how grain is gathered, transported, marketed and distributed." On 11 June 1917 his overtures were acknowledged by his appointment as the chairman of the 12-man Board of Grain Supervisors of Canada that marked the beginning of the federal government's direct involvement in the Canadian grain industry.
Until the end of its term in 1919 the BGS regulated wheat prices and directed wheat distribution and export. Magill explained to Foster that his role as chairman of the BGS "frequently puts me in a position of antagonism with men who are paying me the salary on which I live as secretary of the exchange." He submitted his resignation as chairman in October 1918, but Foster as well as the executive council of the exchange persuaded him to stay on. The Winnipeg grain men, in particular, were fearful of what might happen if a leader of the farm movement was elevated to the BGS's chairmanship. Reluctantly, Magill agreed to remain in his government position, but he worked as well to gain support for the reopening of the wheat market. His efforts were especially evident during his role as the exchange's representative at the Canadian trade mission in London in December 1918. The government did create a wheat board for the crop of 1919–20, but allowed the open market to operate again the following year.
During the 1920s Magill was kept busy defending the interests of the private grain trade, appearing as a witness at the proceedings of parliamentary committees and royal commissions. He became as frustrated with the inquiries as all grain men did. In an article written in 1921 he noted that "all these investigations have resulted in practically nothing in the way of disclosures of illegalities and criminalities on the part of the grain trade." He equally spent a great deal of time arguing with sceptical farmers about the benefits they received under an open market system as opposed to the dividends given to them by new prairie wheat pools or cooperatives established in 1923 and 1924.
In 1929 Magill sought treatment for heart trouble at a sanatorium in Battle Creek, Mich. He died there the following year at age 58 from arteriosclerosis. His death was a great loss to the Winnipeg grain community. "What is there to say at the passing of a man with the brilliant mind and great attainment of a man like Dr. Magill?" asked Ernest Seaforth Parker, the exchange's vice-president.
The Winnipeg Tribune offered this fitting eulogy: "The grain trade, in one way or another, is Canada's most important and most complex business and represents Canada's greatest contribution to world economics. It is a simple fact to say that no man knew the grain trade so thoroughly, in all its complexities, as Dr. Magill." Indeed, in an era frequently characterized by confrontation and dispute over Canadian agricultural policy, Robert Magill provided a calming and wise influence. Even western farmers, traditional opponents of the private grain trade and the exchange, although they did not agree with him, came to appreciate his integrity and his professional efforts on their behalf. As a sign of respect, the exchange closed the market on 18 January.
Robert Magill is the author of Grain inspection in Canada (Ottawa, 1914), The wheat situation (Winnipeg, 1920; copy in the Winnipeg Commodity Exchange Library), "Private business and royal commissions," Dalhousie Rev. (Halifax), 1 (1921–22): 233–42, and A prophecy comes true ([Winnipeg, 1930]).
NA, MG 27, II, D7; MG 28, III 82, 50; MG 30, E299. Manitoba Free Press, 15 Jan. 1930. A. [G.] Levine, The exchange: 100 years of trading grain in Winnipeg (Winnipeg, 1987). C. F. Wilson, A century of Canadian grain: government policy to 1951 (Saskatoon, 1978).
© 2005–2023 University of Toronto/Université Laval
Image Gallery

Cite This Article
Allan Levine, "MAGILL, ROBERT," in Dictionary of Canadian Biography, vol. 15, University of Toronto/Université Laval, 2003–, accessed May 31, 2023, http://www.biographi.ca/en/bio/magill_robert_15E.html.
The citation above shows the format for footnotes and endnotes according to the Chicago manual of style (16th edition). Information to be used in other citation formats:
| | |
| --- | --- |
| Permalink: | http://www.biographi.ca/en/bio/magill_robert_15E.html |
| Author of Article: | Allan Levine |
| Title of Article: | MAGILL, ROBERT |
| Publication Name: | Dictionary of Canadian Biography, vol. 15 |
| Publisher: | University of Toronto/Université Laval |
| Year of publication: | 2005 |
| Year of revision: | 2005 |
| Access Date: | May 31, 2023 |