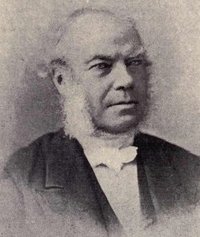 Source: Courtesy of Wikimedia Commons
McCAUL, JOHN, clergyman in the Church of Ireland, professor, educational administrator, and author; b. 7 March 1807 in Dublin (Republic of Ireland); m. in October 1839 Emily Jones, and they had seven children; d. 16 April 1887 at Toronto, Ont.
Born into a scholarly family, John McCaul received careful early training in White's School, Dublin, and the Moravian School, Antrim (Northern Ireland), before entering Trinity College, Dublin, in 1820. Over a period of eight years of study, first in mathematics and later in the classics, he received numerous prizes and medals for superior scholarship, especially in the Greek language. In 1828 he was awarded the degree of ma; he continued to reside at Trinity, as scholar and tutor, for another decade, and also served as university examiner in classics. He was admitted deacon in the Church of Ireland in 1831 and priest in 1833. In 1835 the university awarded him the degrees of llb and lld. During these years McCaul published several textbooks, treatises, and editions with classical themes and authors.
In 1838 Upper Canada College in Toronto was engaged in a search for a new principal to succeed Joseph Hemington Harris and asked the archbishop of Canterbury to seek out a suitable candidate. The choice fell on John McCaul, who accepted at once. He arrived in Toronto on 25 Jan. 1839 and was installed in office four days later. He proved to be both popular and successful in his new duties, and his place in provincial society was further secured when, in October 1839, he married a daughter of Jonas Jones*, a judge and prominent member of the old Family Compact. At this time, before a university had been started in the province, Upper Canada College was the leading educational institution and McCaul had fair scope for his abilities, both administrative and scholarly. He took particular interest in the 7th form, which provided the closest approximation to university-level training available in the province.
In 1842, under the leadership of the governor general, Sir Charles Bagot*, and Bishop John Strachan*, plans were finally under way for the opening in Toronto of King's College, for which a charter had been obtained in 1827. Strachan was its president. Members of staff were appointed, headed by John McCaul as vice-president and professor of classics, logic, rhetoric, and belles-lettres. When classes began in June 1843 he resigned as principal of Upper Canada College and became, owing to Strachan's duties as bishop, the effective working head of King's College. With Strachan's resignation as president in 1848, McCaul assumed the post. During these years he took some part in the increasingly acrimonious debate over King's College; in particular, in 1845, under the pseudonym "A Graduate," he published a pamphlet, The university question considered, defending the college against the charges of Anglican exclusiveness.
It might have been expected that McCaul would join with Strachan in adamant opposition to Robert Baldwin*'s 1849 bill which remodelled King's College into the secular University of Toronto. In fact McCaul did sign a minority petition of protest (the majority of the college council supported the bill), but when the bill became law he remained at the university as president and as professor of classics. In 1853, by an act of the provincial legislature, the University of Toronto was reorganized to become solely an examining and degree-granting institution, with instruction in the arts and sciences assigned to the newly established University College. McCaul became president of University College, and remained in that post until his retirement in 1880. In 1853 he was also elected vice-chancellor of the university, but was defeated for re-election in 1855 by John Langton*.
During an academic career spanning some 40 years McCaul consciously sought to introduce and maintain the best standards of British universities in Canada's provincial society. On one level he was concerned with form and ceremony: in 1853 the newly arrived Daniel Wilson* saw him as "quite a magnificent fellow, having, in addition to his gown and square cap, his clerical bands and his scarlett hood as a LL.D. of Trinity College, Dublin." Wilson also found him to be "a bit of a martinet in all matters of College discipline. It is a high crime and misdemeanour to appear in College hours otherwise than in cap and gown." McCaul was especially effective at the annual convocations, which became prominent Toronto events under the influence of his dignified bearing, his ready eloquence, and his skill at finding apt quotations from the Greek and Roman classics. He was always turned to for the devising of academic documents and for framing appropriate mottoes.
McCaul was not a notable educational innovator – the circumstances of the time probably made such a role impossible in any event – but he did help bring about two changes of considerable importance. Undergraduates at King's College and University College, as in most colleges and universities, followed a prescribed course of study, with little or no choice of subjects. In the 1850s, however, University College began to permit students to select courses from among various "options" after they had fulfilled basic requirements; that is, they could pursue some degree of specialization in the areas of their preference. This change, in line with what was beginning to happen in some other colleges and universities, was heavily attacked, especially by Egerton Ryerson, but it survived. It led eventually, at the University of Toronto, to the system of "honour" and "pass" courses, which for over 75 years was a distinctive feature of the arts programme. Secondly, McCaul, despite his own background in classics, contributed to the enlargement of the curriculum of University College at its outset in 1853 by helping to secure the appointment of two professors in science, Edward John Chapman* and William Hincks*, one in English and history, Daniel Wilson, and one in modern languages, James Forneri.
McCaul also played some part in the cultural life of Toronto and of Canada. For a time he was president of the Canadian (later the Royal Canadian) Institute. He was also editor of The Maple Leaf; or Canadian Annual, a Literary Souvenir, and he wrote articles and reviews for various periodicals. He helped organize the Philharmonic Society in Toronto with John Ellis*, and served as its president both in the 1840s and in the 1870s when the orchestra was conducted by James Paton Clarke*; McCaul also composed several anthems and vocal musical works.
The duties of a college president left little time for research, but McCaul managed to continue the interest in epigraphy he had acquired in Dublin. In 1863 he published a work on Britanno-Roman inscriptions, and in 1869 one on Christian epitaphs of the first six centuries.
Although McCaul's powers had markedly declined even before his retirement, he played a valuable role at the University of Toronto at a crucial time. During nearly all his years there, the university and University College were the focus of sharp and often bitter controversy and attack. McCaul, who was not of a combative nature, took little direct and visible part in these controversies, in contrast for instance, to Daniel Wilson, but his support for the concept of one strong provincial university never wavered. Moreover, it was of inestimable value to the institution to have at its head a man of deep scholarship who strove constantly for high academic standards. Others, such as Wilson, Edward Blake*, and Adam Crooks, made it possible for the University of Toronto to survive during this difficult generation; McCaul helped it to survive with some scholarly distinction.
John McCaul was the author of Britanno-Roman inscriptions, with critical notes (Toronto and London, 1863); Christian epitaphs of the first six centuries (Toronto and London, 1869); Emigration to a better country: a sermon, preached in the cathedral church of St. James, Toronto, on Saint Patrick's day, 1842, before the societies of St. George, St. Patrick, & St. Andrew (Toronto, 1842); and "Love of God and of our neighbour": a sermon, preached in the cathedral church of St. James, Toronto, on Tuesday, March 17, 1840, before the societies of St. George, St. Patrick, & St. Andrew (Toronto, 1840). Under the pseudonym "A Graduate" he wrote The university question considered (Toronto, 1845) and he was co-author of Letters on King's College (Toronto, 1848) with John Macara. A list of papers written by McCaul appears in Morgan, Bibliotheca Canadensis, 254–55, and other works are listed in the British Museum general catalogue.
UTA, Daniel Wilson, Journal. Toronto Daily Mail, 18 April 1887. A history of Upper Canada College, 1829–1892; with contributions by old Upper Canada College boys, lists of head-boys, exhibitioners, university scholars and medallists, and a roll of the school, comp. George Dickson and G. M. Adam (Toronto, 1893). John King, McCaul, Croft, Forneri: personalities of early university days (Toronto, 1914). University College: a portrait, 1853–1953, ed. C. T. Bissell (Toronto, 1953). The University of Toronto and its colleges, 1827–1906, [ed. W. J. Alexander] (Toronto, 1906). Wallace, Hist. of Univ. of Toronto. T. A. Reed, "President McCaul's inscriptions," Univ. of Toronto Monthly (Toronto), 27 (1926–27): 61–62, 114–15, 158–59. William Wedd, "The Rev. John McCaul, LL.D.," Univ. of Toronto Monthly, 2 (1901–2): 2–5.
© 1982–2023 University of Toronto/Université Laval
Cite This Article
G. M. Craig, "McCAUL, JOHN," in Dictionary of Canadian Biography, vol. 11, University of Toronto/Université Laval, 2003–, accessed December 7, 2023, http://www.biographi.ca/en/bio/mccaul_john_11E.html.
The citation above shows the format for footnotes and endnotes according to the Chicago manual of style (16th edition). Information to be used in other citation formats:
| | |
| --- | --- |
| Permalink: | http://www.biographi.ca/en/bio/mccaul_john_11E.html |
| Author of Article: | G. M. Craig |
| Title of Article: | McCAUL, JOHN |
| Publication Name: | Dictionary of Canadian Biography, vol. 11 |
| Publisher: | University of Toronto/Université Laval |
| Year of publication: | 1982 |
| Year of revision: | 1982 |
| Access Date: | December 7, 2023 |