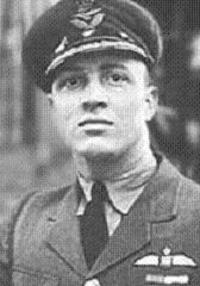 Source: Courtesy of Wikimedia Commons
McKEEVER, ANDREW EDWARD (Hank), bank teller and air force officer; b. 21 or 28 Aug. 1894 in Listowel, Ont., son of William McKeever, a grocer and butcher, and Bella Henderson; d. unmarried 25 Dec. 1919 in Toronto.
Educated in Listowel and at Toronto's Central Technical School, Andrew Edward McKeever worked as a teller until 1916. Some mix-up exists over his status in the armed forces during World War I prior to his joining the Royal Flying Corps. Apparently he was confused with his elder brother James Campbell, who joined the RFC as an observer after serving with the Canadian Expeditionary Force in France.
In October 1915 A. E. McKeever enlisted as a private in a militia unit in Toronto, the Queen's Own Rifles of Canada. Part-time militia service, which left him essentially a civilian, permitted him to apply for direct entry into the RFC; service in the CEF would have taken him to the Western Front and made transfer to the RFC very difficult unless he had been commissioned. McKeever remained in the Queen's Own Rifles until November 1916, when he was accepted into the RFC. He sailed for England on the 25th of that month and, on 5 December, was made a second lieutenant "on probation" (subject to qualifying as a pilot).
After training, he was promoted lieutenant on 19 April 1917 and posted to 11 Squadron on 16 May, just as it began flying Bristol Fighter 2As on long-range reconnaissances out of Le Hameau, near Arras, France. Subsequently the squadron moved to Bellevue, near Albert, and then to Le Quesnoye near Hesdin. It was the second RFC squadron to be equipped with F 2As, colloquially known as Brisfits. Handled appropriately, this manœuvrable fighter proved to be the only two-seater capable of holding its own against German single-Beaters in combat. As McKeever quickly demonstrated, the trick was to fly the Brisfit as if it were a single-seater and rely primarily on its fixed, forward-firing machine-gun, rather than use the aircraft as a firing platform for the observer positioned behind the pilot.
McKeever gained a well-deserved reputation as the RFC's outstanding pilot of two-seater fighters in World War I. He was nicknamed Hawkeye by his fellow pilots for his skill in spotting aircraft at great distances, and was labelled King of the Two-Seaters by the media for the successes he and his observers achieved. McKeever was credited with his first two victories on 26 June and he added 10 more over the next five weeks. Awarded the Military Cross on 17 September, he was cited for "his splendid dash and determination" and "exceptional fearlessness." But there were peculiarities to the reckoning of the scores of two-seater crews. According to the most authoritative work on the subject, "The overall claims made both by the pilot with the front gun and the gunner in the rear cockpit, tended to be credited to the pilot, whilst the observer/gunner was credited only with the number he actually claimed with his gun."
On 17 Oct. 1917, credited with a personal score of 12, McKeever received a bar to his MC; he was promoted captain on 26 October. The squadron had many Canadians on its rolls, but most frequently his observer was a British second lieutenant, L. E Powell. The two of them were together in an action on 30 November that brought McKeever the Distinguished Service Order and Powell the Distinguished Conduct Medal. While reconnoitring alone behind German lines during the British assault at Cambrai, they encountered an enemy formation of two two-seaters and seven single-seaters. They immediately attacked, and each of them apparently shot down two machines. This daring strike brought McKeever's total, in just five months, to 31 enemy aircraft: 18 destroyed and 13 driven down out of control, with between 4 and 7 of them actually being victims of his observers.
McKeever was posted back to England on 25 Jan. 1918 and was held there on instructional duty until the last days of the war. During that period the fledgling Canadian Air Force had been organized on 8 July and mobilized in England between 20 and 25 November. On 22 Jan. 1919, after a day's posting with the Western Ontario Regiment in the CEF, McKeever was seconded to the CAF, with the temporary rank of major. He was subsequently selected by William Avery Bishop* to command 1 Squadron. Despite the efforts of McKeever and others to bring organizational stability to the CAF, it never became firmly established, and at the end of May 1919 Canada's federal cabinet decided that it should be disbanded. In peacetime the government was simply unwilling to bear the cost of an air force, however small, that had been organized for war. Some officers chose to rejoin the Royal Air Force, others took their release. McKeever's secondment ended on 16 August and he returned to Listowel, intent on a career in civil aviation.
McKeever had just been appointed general manager of the airfield at Mineola, N.Y., when, on 3 September, he broke his leg in an automobile accident near Mitchell, Ont. The leg was improperly set in Stratford and he was subsequently taken to Toronto General Hospital, where it was reset on 22 December. Complications developed and on Christmas Day he died of cerebral thrombosis at the age of 25. Survived by his parents, two sisters, and four brothers, he was buried at Listowel.
AO, RG 22-267, no.7822; RG 80-2-0-402, no.25554; RG 80-8-0-703, no.7104. Can., Dept. of National Defence, National Defence Headquarters, Directorate of Hist. (Ottawa), Biog. file; Card index of Canadians in the British flying services, 1914–19; "Sketch histories of RFC, RNAS and RAF squadrons during the First World War." NA, RG 150, Acc. 1992–93/166. Banner (Listowel, Ont.), 21 Oct. 1987. Above the trenches: a complete record of the fighter aces and units of the British empire air forces, 1915–1920, comp. Christopher Shores et al. (London, 1990). Ronald Dodds, The brave young wings (Stittsville, Ont., 1980). London Gazette, 17 Sept., 27 Oct. 1917; 4 Feb., 5 July 1918. The official history of the Royal Canadian Air Force (3v. to date, [Toronto and Ottawa], 1980– ), vol.1 (S. F. Wise, Canadian airmen and the First World War, 1980).
© 1998–2023 University of Toronto/Université Laval
Image Gallery

Cite This Article
Brereton Greenhous, "McKEEVER, ANDREW EDWARD," in Dictionary of Canadian Biography, vol. 14, University of Toronto/Université Laval, 2003–, accessed November 28, 2023, http://www.biographi.ca/en/bio/mckeever_andrew_edward_14E.html.
The citation above shows the format for footnotes and endnotes according to the Chicago manual of style (16th edition). Information to be used in other citation formats:
| | |
| --- | --- |
| Permalink: | http://www.biographi.ca/en/bio/mckeever_andrew_edward_14E.html |
| Author of Article: | Brereton Greenhous |
| Title of Article: | McKEEVER, ANDREW EDWARD |
| Publication Name: | Dictionary of Canadian Biography, vol. 14 |
| Publisher: | University of Toronto/Université Laval |
| Year of publication: | 1998 |
| Year of revision: | 1998 |
| Access Date: | November 28, 2023 |