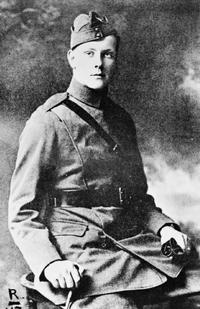 Source: Courtesy of Wikimedia Commons
McLEOD, ALAN ARNETT, air force officer; b. 20 April 1899 in Stonewall, Man., son of Dr Alexander Neil McLeod and Margaret Lyllian Arnett; d. 6 Nov. 1918 in Winnipeg.
According to the Stonewall Argus, in January 1909 nine-year-old Alan McLeod exhibited the same courage, kindness, and modesty that he would later display as a pilot with the Royal Flying Corps. He removed a trap from the foot of a stray dog, but did not seem to understand why others fussed over his exploit. Only four years later he accompanied a detachment from Stonewall on militia training with the 34th (Fort Garry) Horse.
When World War I broke out in 1914, 15-year-old McLeod wanted to enlist, but was unable to do so because of his age. At 17 he tried to join the cadet wing of the RFC in Toronto, and was told to wait until his next birthday. Finally, he received word to report for a medical examination on 23 April 1917. His last day of school fell on his birthday; his classmates and teachers gave him a rousing send-off.
After training at Long Branch and Camp Borden, Ont., McLeod received his wings by the end of July and was commissioned second lieutenant on 19 Aug. 1917. He embarked for England on 20 August and reported to 82 Squadron of the RFC at Waddington, Lincolnshire. He was disappointed to learn in November that he was not allowed to accompany his squadron to France. Combat would have to wait until he was 19.
He enjoyed a brief career as a night fighter pilot, defending London against German air raids. He really wanted to be at the front, however, and somehow managed to convince the authorities that he should not have to wait. He reported to 2 Squadron at Hesdigneul-Lès-Béthune, France, on 29 November. This was an unglamorous corps squadron, concentrating on day and night bombing, photography, and cooperation with the artillery. McLeod took to his duties with enthusiasm. He appears to have been popular because of his youth, his exuberance, and his proficiency as a pilot.
McLeod made his first flight over France on 30 Nov. 1917. On 19 December he and his observer, Lieutenant J. O. Comber, had a "Scrap with 8 huns [German Albatros scouts]," claiming that "1 spun away." Less than a month later, on 14 Jan. 1918, with Lieutenant Reginald Key as his observer, he attacked a kite balloon at Bauvin, sending it down in flames. Such an attack was considered a hazardous act for a fast, manœvrable fighter plane. In a lumbering machine such as an Armstrong Whitworth FK8 it was almost foolhardy. In addition to the balloon, Key destroyed an Albatros. Both men were mentioned in dispatches for this action.
On 27 March McLeod and his observer, Lieutenant Arthur Hammond, took off into low clouds with five other planes to assist the Allied armies by bombing and strafing enemy concentrations around Bray-sur-Somme. They put down at a British airfield after the members of the formation "lost each other," but resumed their mission alone after lunch. McLeod later wrote to his parents, "We went quite a piece over the line and were just going to drop my bombs . . . when all of a sudden a whole flock of Bosch came out of the clouds on us there must have been 8 or 10 anyway, I foolishly stayed to scrap [with] them." Initially they had some success, claiming three enemy shot down, but the numerical advantage and superior manœuvrability of the Fokker triplanes soon proved too much for them. Their FK8 was hit in a number of places and burst into flames from the fuel tank in front of the cockpit.
Had aircrew worn parachutes in those days, McLeod and Hammond could have chosen to jump. As it was, they had to ride the aircraft down from at least 2,000 feet as best they could. McLeod managed to side-slip steeply so that most of the flames missed them. When the fire came too close, he swung a leg out of the cockpit. With one foot on the lower left wing and the other on the rudder pedal, he brought the plane towards the Allied lines. Hammond lost the floor of his cockpit in the fire and had to sit on the coaming, with his feet "on the bracing wires at the side of the fuselage." All the while McLeod kept him in a position to return the enemy's fire. Despite being wounded six times, Hammond claimed to have shot down three pursuers. Crash-landing in no man's land within range of enemy fire, McLeod, already hit five times himself, was wounded again by a bomb that went off as he half dragged, half rolled Hammond away from danger. He managed to get him into a shell hole before collapsing from exhaustion and loss of blood.
It was some time before South African troops in the closest friendly trench could rescue the flyers and remove them to the reserve trenches. They then spent several hours there under enemy bombardment until stretcher-bearers took them to the rear under cover of darkness. McLeod ended up at Prince of Wales' Hospital in London. On 1 May 1918 it was announced that he would be awarded the Victoria Cross. Hammond won a bar to his Military Cross. Discounting his son's assurance that he was "fit as a fiddle," Dr McLeod journeyed to England, helped in the boy's convalescence, and accompanied him to Buckingham Palace on 4 September for the investiture of the decoration. He took him home at the end of that month.
Manitobans embraced their young hero enthusiastically and reacted with devastation when he contracted influenza and died on 6 November. Ironically, newspapers reported the armistice in Europe on the same day that they covered his funeral.
In his too brief existence, Alan McLeod made only one significant contribution, but what an achievement it was. Canada's youngest winner of the highest award for gallantry in the British empire was also one of the few members of an army cooperation squadron to win the Victoria Cross. McLeod must have been a good ambassador for his native land as well. His room-mates and favourite observers, Reginald Key and Arthur Hammond, immigrated to Canada, becoming citizens and serving in the Royal Canadian Air Force during World War II.
Can., Dept. of National Defence, National Defence Headquarters, Directorate of Hist. (Ottawa), Biog. file. Canadian War Museum Arch. (Ottawa), A. A. McLeod papers. Arthur Bishop, Canada's military heritage (3v., Toronto and Montreal, 1992), vol.1 (Courage in the air). Ronald Dodds, The brave young wings (Stittsville, Ont., 1980). G. A. Drew, Canada's fighting airmen (Toronto, 1930; repr. 1931). G. C. Machum, Canada's V.C.'s; the story of Canadians who have been awarded the Victoria Cross . . . (Toronto, 1956). The official history of the Royal Canadian Air Force (3v. to date, [Toronto and Ottawa], 1980– ), vol.1 (S. F. Wise, Canadian airmen and the First World War, 1980).
© 1998–2023 University of Toronto/Université Laval
Cite This Article
Carl A. Christie, "McLEOD, ALAN ARNETT," in Dictionary of Canadian Biography, vol. 14, University of Toronto/Université Laval, 2003–, accessed June 1, 2023, http://www.biographi.ca/en/bio/mcleod_alan_arnett_14E.html.
The citation above shows the format for footnotes and endnotes according to the Chicago manual of style (16th edition). Information to be used in other citation formats:
| | |
| --- | --- |
| Permalink: | http://www.biographi.ca/en/bio/mcleod_alan_arnett_14E.html |
| Author of Article: | Carl A. Christie |
| Title of Article: | McLEOD, ALAN ARNETT |
| Publication Name: | Dictionary of Canadian Biography, vol. 14 |
| Publisher: | University of Toronto/Université Laval |
| Year of publication: | 1998 |
| Year of revision: | 1998 |
| Access Date: | June 1, 2023 |