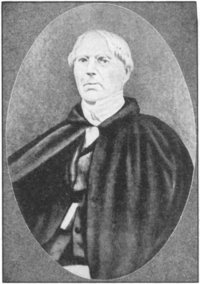 Source: Courtesy of Wikimedia Commons
McLEOD (MacLeod), NORMAN, Presbyterian clergyman; b. 17 Sept. 1780 at Point of Stoer, in the parish of Assynt, Sutherlandshire, Scotland; m. in 1812 Mary MacLeod, and they had ten children; d. 14 March 1866 at Waipu, New Zealand.
Norman McLeod received his early education at the local parish school of the Church of Scotland and for some years thereafter worked at fishing and farming. During this period he often experienced doubts about the true religious denomination for his salvation, and finally made a decision to follow the doctrine of Calvin. At age 27 he began studies for the ministry and entered King's College at the University of Aberdeen. He graduated in 1812 with the gold medal in moral philosophy. To complete his studies he registered at the University of Edinburgh but left before the end of his second term, having made a sharp break with the established Church of Scotland, caused partly by his deep opposition to its policy of patronage and to the lack of discipline in its clergy.
From 1814 to 1817 McLeod taught school at Ullapool, and, during the frequent absences of the local minister, read Scriptures and commented on them. Strongly outspoken in his criticism of the minister, and attracting large crowds to his own services, McLeod, who was not licensed by the Church of Scotland, soon came into conflict with the minister, and after two years found himself out of his teaching position at the church-controlled school. By this time McLeod had attracted a number of sympathizers who shared his criticisms of the established church. In order to support his family he returned to fishing and began to consider emigration. By July 1817 he had paid his debts and he then sailed from Loch Broom for Pictou, N.S. His wife and family soon followed.
Settling near Loch Broom in Pictou County, he was initially absorbed in the problems of pioneer life. However, he continued his preaching with messianic zeal and soon attracted a large number of followers, many of whom had come from the same region in Scotland. Unable to secure sufficient land so that he and his "Normanites" could live together and repelled by the rough frontier environment, McLeod decided to accept a call from a Scottish settlement in Ohio. A boat was built, dubbed the "Ark" by his critics, and a small group left to investigate the new location. En route, they stopped in St Ann's Harbour, Cape Breton, which they liked so well they decided to settle there. Returning to Pictou in the fall of 1819, they made preparations to bring their families; by April 1820 seven small boats had been built at Middle River. Despite storms the first group arrived safely on 20 May and eventually some 700 people set about clearing the forest and building their homes. So began the most theocratic community in the history of the province.
At St Ann's, McLeod's tremendous powers came into full flowering. Not only did he establish the first Calvinistic church in the district but he also secured a position as magistrate in 1823 and as a licensed teacher in 1827, though he had already started a school as early as 1822. In 1827 he was also ordained a minister of the Presbyterian Church by the Presbytery of Geneva in New York State. Now fully licensed, and independent of any Presbyterian body in Canada, McLeod, who could tolerate no restraint from other clergy, was in complete command at St Ann's. In addition to his schoolmaster's fees McLeod received the labour of every adult in his charge in clearing his land, planting and harvesting his crops, and building houses, barns, and ships.
The community grew and gradually prospered: "his congregation in St Ann's was the most temperate moral and orderly that ever existed in Cape Breton . . . ." Ruling in an autocratic fashion, McLeod led and exhorted his followers towards moral perfection. As the minister he could scold a person from the pulpit on Sunday for drunkenness; as a magistrate he could fine him on Monday. He even criticized his wife's bonnet during a Sunday sermon and quickly castigated anyone he suspected of moral laxity. On one occasion in his judicial capacity he ordered the tip of a boy's ear removed in punishment for a suspected crime. Some of his congregation eventually withdrew because of his autocratic manner. Not even the Presbyterian clergy in other parts of Cape Breton were spared from his censure and criticism. His preaching was described as "torrents of abuse against all religious bodies and individuals"; in 1843 he published a strongly worded tract entitled The present Church of Scotland, and a tint of Normanism, contending in a dialogue.
Partly because of the failure of the potato crop and the threat of famine during the late 1840s, he began to consider another move for the sake of his children, this time to Australia where his eldest son was already living. Such was his hold on his people that he convinced more than 800 to follow him, the first of six ships leaving in October 1851, the last in December 1859. After a brief period in Australia, the great majority eventually settled at Waipu, New Zealand, where once again McLeod was the dominant religious personality.
Sincere, courageous, and totally committed to his cause, McLeod could not be described as open-minded in religious matters. He died as he had lived, lamenting the world's madness.
Norman McLeod's correspondence of 1835–51, available in PANS, MG 1, 570C, is published as [Norman McLeod], Letters of Rev. Norman McLeod, 1835–51, ed. D. C. Harvey (PANS Bull., II, no.1, Halifax, 1939). Maritime Conference Archives of the United Church of Can., Pine Hill Divinity Hall (Halifax), L. D. Currie, "An epic of Cape Breton, or the story of Reverend Norman McLeod" (typescript). PANS, MG 1, 745 (Judge George G. Patterson papers), no. 58; G. G. Patterson, "History of Victoria County" (typescript, 1885); RG 1, 237, no. 117; RG 5, P, 84, poor relief, 10 March 1848; RG 14, 5–6 (Cape Breton Island, 1803–95). T. C. Haliburton, An historical and statistical account of Nova-Scotia (2v., Halifax, 1829; repr. Belleville, Ont., 1973). [Norman McLeod], The present Church of Scotland, and a tint of Normanism, contending in a dialogue ([Halifax, 1843]). Presbyterian Witness, 11, 25 Aug. 1866.
C. W. Dunn, Highland settler; a portrait of the Scottish Gael in Nova Scotia ([Toronto], 1953). Gordon Macdonald, The highlanders of Waipu, or echoes of 1745; a Scottish odyssey (Dunedin, N.Z., 1928). N. R. McKenzie, The Gael fares forth: the romantic story of Waipu and her sister settlements (London, 1935). F. [McG.] McPherson, Watchman against the world; the story of Norman McLeod and his people (London, 1962). John Murray, The history of the Presbyterian Church in Cape Breton (Truro, N.S., 1921). G. G. Patterson, More studies in Nova Scotian history (Halifax, 1941). George Patterson, A history of the county of Pictou, Nova Scotia (Montreal, 1877); Memoir of the Reverend James McGregor (Edinburgh and Philadelphia, 1859). N. C. Robinson, Lion of Scotland, being an account of Norman McLeod's forty years' search for a land where he and his followers could live as they wished . . . (London, [1952]). Mrs Charles Archibald, "Early Scottish settlers in Cape Breton," N.S.Hist. Soc., Coll., XVIII (1914), 69–100. A. J. Clark, "The Scottish Canadian pilgrims of the fifties," OH, XXVI (1930), 5–15. D. C. Harvey, "Educational experiments, 1825–32," Journal of Education (Halifax), 4th ser., VI (1935), 22–29. M. D. Morrison, "Migrations of Scotch settlers from St. Ann's, Nova Scotia, to New Zealand, 1851–1860," N.S. Hist. Soc., Coll., XXII (1933), 73–95. L. M. Toward, "The influence of Scottish clergy on early education in Cape Breton," N.S. Hist. Soc., Coll., XXIX (1951), 153–77.
© 1976–2023 University of Toronto/Université Laval
Image Gallery

Cite This Article
R. MacLean, "McLEOD, NORMAN," in Dictionary of Canadian Biography, vol. 9, University of Toronto/Université Laval, 2003–, accessed March 26, 2023, http://www.biographi.ca/en/bio/mcleod_norman_9E.html.
The citation above shows the format for footnotes and endnotes according to the Chicago manual of style (16th edition). Information to be used in other citation formats:
| | |
| --- | --- |
| Permalink: | http://www.biographi.ca/en/bio/mcleod_norman_9E.html |
| Author of Article: | R. MacLean |
| Title of Article: | McLEOD, NORMAN |
| Publication Name: | Dictionary of Canadian Biography, vol. 9 |
| Publisher: | University of Toronto/Université Laval |
| Year of publication: | 1976 |
| Year of revision: | 1976 |
| Access Date: | March 26, 2023 |